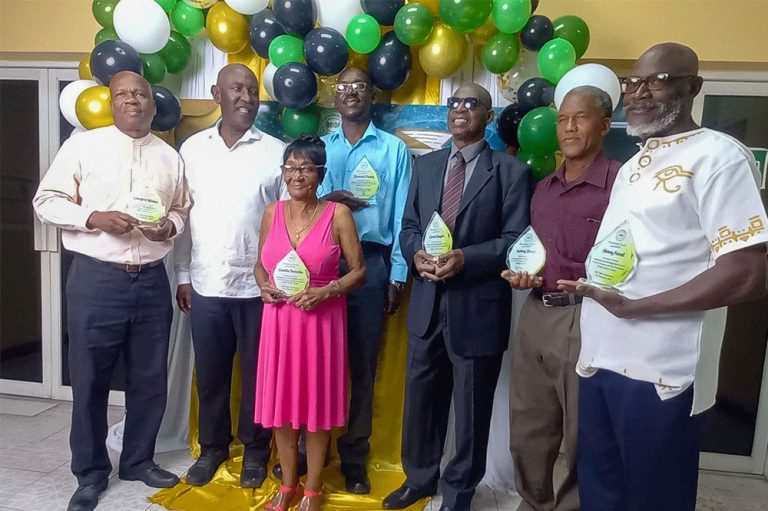 Public Service Union awards 12 past presidents
Twelve former presidents of the Public Service Union were honoured this week at an awards and appreciation event held to mark the union's 80th anniversary.
Arnhim Eustace, Sebastian "Bassy" Alexander, Leroy Ellis, Bernard Morgan, Careitha Turrentine, Conrad Sayers, Lanceford Weekes, Desmond Pompey, Harvey Farrell, Margaret London, Aubrey Burgin and Cools Vanloo were recognized by the Public Service Union (PSU) at a ceremony held at the Methodist Church Hall in Kingstown on February 27.
Describing them as "trail blazers" President Elroy Boucher thanked the past presidents, adding that the work is never over.
Boucher identified the need for training, negotiations over the collective bargaining agreements and a better relationship with the administrative arm of the civil service among the main challenges.
He expressed concern that freedom of association and right to protest were under threat, citing the period of the vaccine mandate. He was adamant that "…one does not need constitutional reform to repeal the existing legislation which puts unnecessary and unreasonable restraint on the public worker's rights to freedom of speech, assembly and association."
Boucher noted that when the Unity Labour Party (ULP) took office, the Public Service Order Act was repealed, but now, there is a struggle in which the Public Order Act is being "held over their heads as it relates to the issue of the right to assemble peacefully amongst the right to protest" which he said was a threat to democracy.
The PSU president also acknowledged the struggle to increase the membership of the union and called on public servants to join. He said that moving forward the union needs new energy and must adapt and evolve.
The ceremony was also addressed by Prime Minister Dr Ralph Gonsalves and Leader of the Opposition Dr Godwin Friday.
The theme of the 80th anniversary celebrations was "Navigating the way forward – 80 years and counting".
REALTED ARTICLE: Public Service Union marks its 80th anniversary