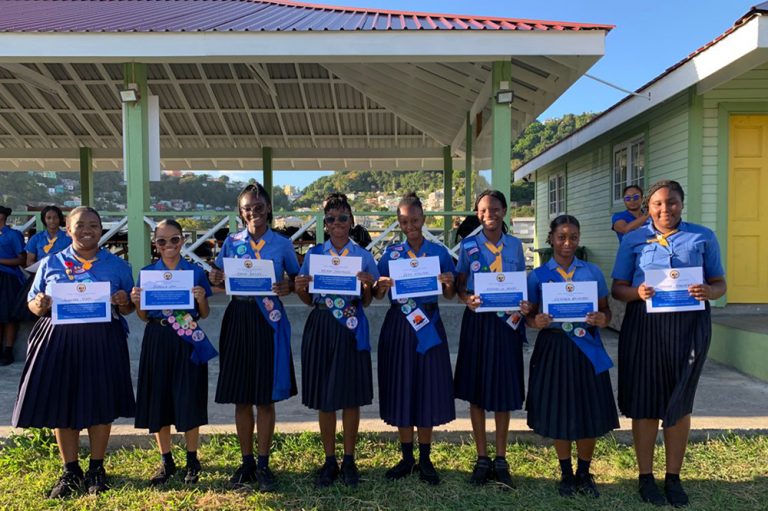 O'rhanna Brewster and Kuba Francis top Girl Guides competitions
In the lead up to World Thinking Day 2023, the No.1 Kingstown Girl Guides Company hosted its annual inter-patrol debating and Reading competitions at the St. Vincent Girls' High School on Friday, February 3.
The theme for this year's World Thinking Day activities is "Our World, Our Peaceful Future: The Environment and Peace".
In the debating competition, the statement for debate was "Global warming is a myth and Girl Guides all over the world should focus less on climate change advocacy and campaigns for climate resilience".
A release from the Girl Guides Association said that all contenders took an opposing view to the statement. However, O'rhanna Brewster of the Starfish Patrol came out winner with Leah Nanton from the Dragonfly Patrol in second place and Annaliese Mapp of the Daisy Patrol in 3rd place.
The other contenders included Isabella Sam representing the Butterfly Patrol; Kiana Bailey representing the Daffodils Patrol; Ariann Constance representing the Daisy Patrol; Ananda-Le Henry representing the Parrot Patrol; and Leanique Balkaran representing the Rose Patrol.
There were also eight contenders in the Reading competition which was won by Kuba Francis.
The passage cantered on bringing balance to development with limits on deforestation. Francis of the Rose Patrol placed 1st, with Tyler Matthias of the Daisy Patrol placing second and Raine Jack of the Starfish Patrol in the third place.
The other competing Girl Guides were Osanna Sprott from the Bumblebee Patrol; Samara Haynes of the Butterfly Patrol; Miah Scott of the Daisy Patrol; Keveisha Simmons of the Dragonfly Patrol; and Juliandra Sterling of the Parrot Patrol.
All across the globe, 10 million members in the 152 countries of the World Association of Girl Guides and Girl Scouts will work together to create a more peaceful and secure future for citizens everywhere. Activities for World Thinking Day 2023 will build an understanding of the role climate change plays in disrupting global peace and security and help members to learn from the environment to create a balanced and peaceful world.
RELATED ARTICLE: Thirty more Girl Guides enrolled in SVG Girl Guides Association