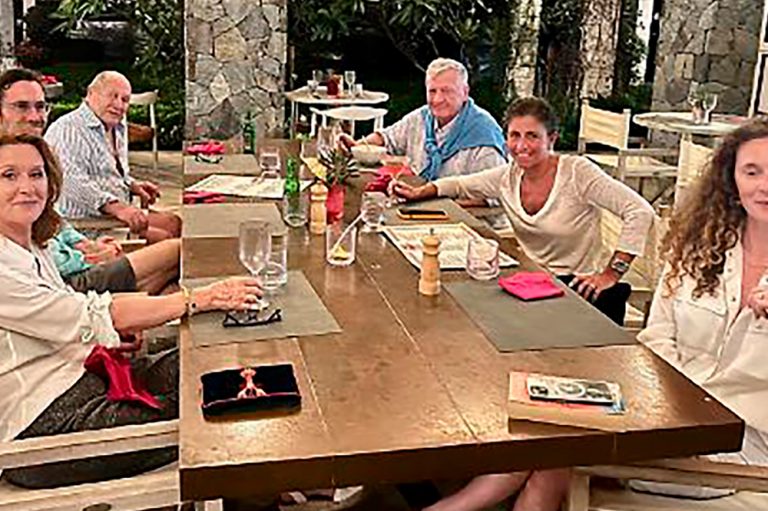 Couple to set up charity after falling in love with tragic dog in Canouan
A couple is setting up a charity to help dogs in the South Caribbean following the death of a stray dog they hoped to bring to the UK.
Colette and Tommy Moran, from Peppard, were visiting Canouan, a small island in St Vincent and the Grenadines, earlier this month when they came across the malnourished and sick dog, which they named Vincent.
They eventually found a vet to help him but the animal died before they could start organising for him to be flown to Britain.
Now the couple and their daughter, Jess Koch Moran and her husband Kai, who had accompanied them, plan to establish a charity on the island to help other dogs.
The family is currently sending money to support monthly clinics for dogs whose owners can't afford veterinary fees to be examined and treated, and for stray dogs to be adopted.
They first came across Vincent while on a walking tour in Charlestown and they stopped at a café on the beach next to the Soho House Beach Club, where they were staying.
They were ordering when the dog came up and begged them for food, so they ordered a sausage for him.
Colette Moran said: "His condition was one of those harrowing images you carry with you for the rest of your days and I felt a sense of guilt when we thought of our own dogs at home, living like royalty in comparison.
"He was skeletal, had pus seeping from his nose and eyes, one eye completely blocked — extremely sick, yet was the sweetest, gentlest and most affectionate little boy with a wagging tail."
She said she felt it was fate meeting Vincent as they had been due to stop earlier at a bakery but the owners were asleep.
The family spoke to the woman who owns the café who said the dog had been showing up since November when he looked healthier but was still malnourished. She would look out for him and give him food and Vincent would sleep close by the café most nights.
But she was not there for most of December and on her return she found the dog's health had deteriorated.
Colette Moran, who is the director of Alchemy By Effect Doctors in Henley, believes that Vincent was abandoned rather than born a stray because of how affectionate he was.
She said: "He had some affectionate qualities that it's difficult to believe any true stray would develop. He would rest his paw on your leg or foot to ask for more head rubs and bury his head into the bend of your knee.
"We learnt from Nicola [the café owner] that dog abandonment is common. The turnaround of workers on the island is quick and they bring their dogs and then depart for work elsewhere, leaving their dogs behind to fend for themselves and breed."
The day after visiting the café she discovered there are no animal welfare organisations or vets on the island, only the equivalent of the RSPCA on the island of St Vincent.
Mrs Koch Moran contacted the organisation via Facebook but it said there was nothing it could do.
Mrs Moran said: "Families willing to adopt in St Vincent and the Grenadines are now saturated and the VSPCA receives very limited funding, which it says is spent solely on transporting dogs for adoption from the island to the US. The VSPCA later advised us that the dog should be euthanised, which came as a shock."
The family contacted an animal welfare organisation on Mayreau, another small island which provided a volunteer vet from the UK to examine Vincent and supplied the medicine he prescribed in return for a donation.
Mrs Moran said: "The vet's forecast wasn't too promising and he didn't expect Vincent to respond to the medicines as he was very poorly.
"At this point we really wanted Vincent back in Peppard, safely adopted.
"We knew if he was to have a chance of survival, he needed a veterinary space on the main island before he could travel to the UK."
The family flew home a few days later determined to secure some help for Vincent quickly, especially as they felt the attention they gave Vincent wasn't welcomed by residents of Canouan.
Mrs Moran said: "His presence at the café was already costing Nicola trade as locals were disgusted by his state. In those last few days we overheard comments from locals threatening to kill him. One evening we found people lurking round him, passing comments like 'tomorrow he'll be gone' and 'six feet under'.
"One afternoon, he was tied up on a short string out of sight only for him to recognise our voices and bark so that we would find him. Otherwise he would probably have starved to death." They finally found help for Vincent, thanks to Dr Eric Audain, a vet who agreed to board Vincent on the main island for his recovery. He visited Canouan to assess the dog's condition and run a free clinic for others.
Beforehand, Vincent spent two days at the Sandy Lane Yacht Club, thanks to David and Mandy Gaynor, from Harpsden, who are friends of the Morans and were staying there.
He was diagnosed with anaemia, pneumonia, a urinary tract infection, mange and fungus, internal parasite infestation, conjunctivitis and ulcer of the cornea.
He was undergoing treatment when the Morans received a call to say he had passed away.
Mrs Moran said: "We are so devastated. We were in tears the whole day. I don't know what it was about him but he just captured our hearts completely.
"Although it is too late for Vincent, there are so many other dogs that Eric wants to help. He is so fantastic, so dedicated and so concerned about the well-being of these animals.
"We feel like we are still supposed to start something and give hope to other animals on the islands."
The family plan to establish a registered charity and in the meantime, have set up a Just Giving page to help Dr Audain's clinic.
To make a donation, visit https://gofund.me/e8dbe38a
The Facebook and Instagram pages can be found by searching for Vincent's Animal Welfare Fund. (Henley Standard)
RELATED ARTICLE: Vincentian changing lives with Nottingham-based charity