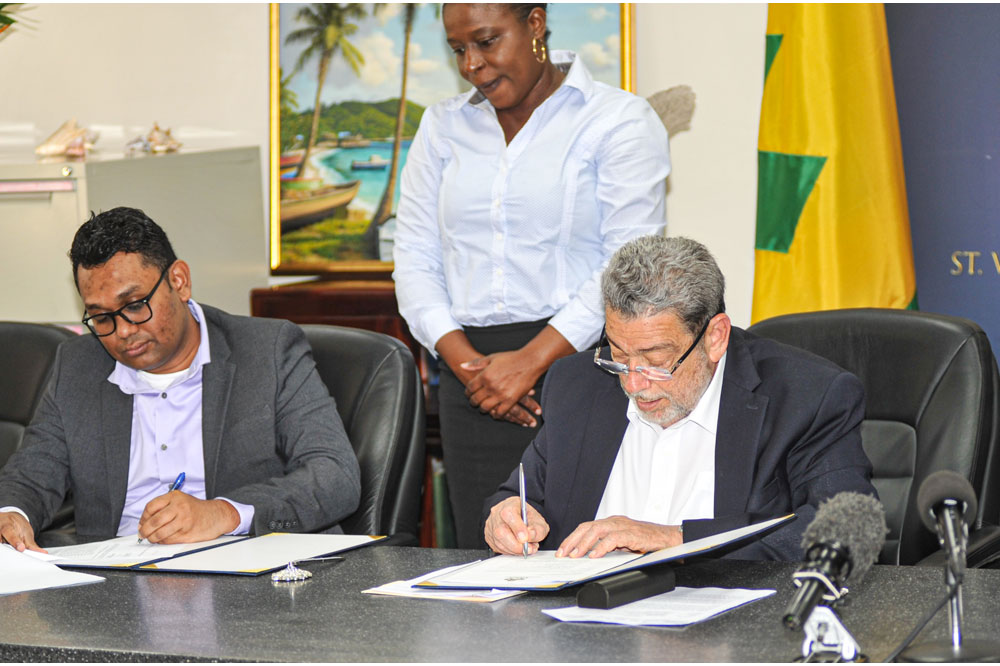 Guyana housing agreement on 'reasonable terms'- PM Gonsalves (+video)
Plans are advancing on the construction of 50 pre-fabricated houses sourced from Guyana, following the official signing of a EC $6 million loan agreement with the Demerara Bank Ltd, Guyana, and the government of St. Vincent and the Grenadines (SVG).
Prime Minister, Dr. Ralph Gonsalves described the loan repayment terms as "reasonable" while speaking at the signing ceremony on Friday, January 20 at cabinet room.
"The sum is $2.2 million US, about $6 million EC. The terms are quite reasonable. Seven years, the life of the loan repayment period, five per cent interest, and given the elevation of interest rates globally and regionally, it's a good interest rate…"
He said the agreement was a "win-win situation" for both the SVG government and Demerara Bank Ltd. adding there is a possibility that prices could be reduced.
"I wouldn't be surprised if the prices quoted first are reduced…we are getting reasonable terms to rebuild homes destroyed by La Soufriere…workers in SVG going to get a transfer of skills because Duravilla is going to send persons here to show them in respect of the assemblage of these houses…"
Prime Minister Gonsalves said he has been in continuous discussions with the President of Guyana, Mohamed Irfaan Ali, in relation to the agreement. His comments about the housing project being evidence of regional integration at work were echoed by the general manager of Demerara Bank Ltd Guyana, Dowlat Parbhu.
"Guyana is on a path of development, new found oil, there is so much new niches that is coming so fast, we need to train our people… I think it is a starting point for many such collaborations in the future," Parbhu said.
Minister of Transport and Works, Montgomery Daniel disclosed that of the more than 1,300 homes in the North Windward area damaged by the eruption, there are still "one or two persons" who are still in alternate accommodations awaiting re-homing.
Minister Daniel said areas for construction have been identified in Orange Hill, Sandy Bay and Langley Park as well as some lots at Colonaire in the North Windward, and on the Leeward side, Cumberland has been earmarked for housing construction.
The prefabricated wooden houses are expected to arrive in SVG by March.
RELATED ARTICLE: Orange Hill residents happy to spend first Christmas at new home (+ video)