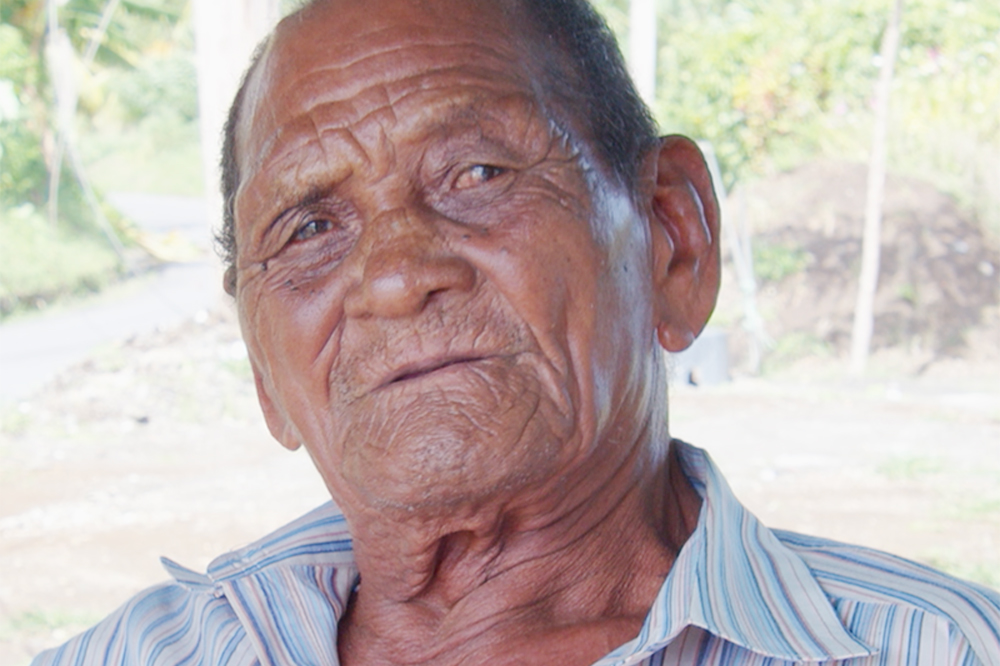 Front Page
December 23, 2022
Orange Hill residents happy to spend first Christmas at new home (+ video)
Most residents at the new housing settlement in Orange Hill are settling into their new homes well and are looking forward to spending their first Christmas there.
But, there are one or two who wished they were able to remain at their original location.
On Thursday, September 1, 27 families from the volcanic red zone who were displaced by the April 2021 volcanic eruptions were handed keys to new houses at a ceremony at the new housing settlement.
Having spent months in shelters before the all clear was given for them to return home, many had nowhere to go due to the extent of the damage to their houses; and also because some of those homes were located in vulnerable areas.
SEARCHLIGHT visited the new development on Wednesday, December 21 to see how the new homeowners had settled down and preparing to spend the first Christmas in their new dwellings.
Dogs roamed freely, persons tended their gardens and cleaned their yards while music could be heard emanating from some homes as children milled about.
Alfred Lavia, one of the new homeowners has been living at the behest of natural disasters from La Soufriere volcano to raging rivers all his life.
The man who now occupies house number one said he previously lived next to a river in Overland Hill and when it rained at nights he would monitor to see if the water would start rushing into his yard.
"From the time I came here, I feel so nice because even though I dey lay down inside and rain ah fall I don't even know," Lavia said.
"Everybody who is living here in the new house, they feel so nice because the place is nice, no noise, no botheration. We don't hell one another, we don't damn one another".
He is hoping that in the event of any other disasters he does not have to move as he has been doing since around 1971 as a resident of Overland and Sandy Bay.
He explained that in 1971 when the volcano started acting up he moved to Rose Place, then to Sion Hill, then to Calliaqua and later, Indian Bay. In 1979 he moved from Sandy Bay with wife Isabella Francois (whom he buried last week Saturday after 50 years of being together), to the Cane End Government School.
In 2021 he went to the Belair Government School then to Edinboro, and eventually to Buccament.
Lavia said he returned to Overland on December 17, 2021 after fleeing in April 2021.
"It is so quiet. I feel so nice living here," he stressed, finally able to rest easy and not thinking about the possibility of being swept away by a raging river.
"Look," he pointed, "them come put down Christmas lights. When you see I put it on little later like 6'o' clock it looking so nice, people ah come here and take snap of it," the elderly man about his new home in which six persons reside.
He said since he moved to Orange Hill, persons have told him he is lucky to have moved from Overland as his entire yard has been overtaken by the river.
Lavia thanked the government for relocating them as he would not have been able to afford relocation on his own because of his age and inability to work.
Lavia's neighbour, Wilben Baptiste said he was relocated from Overland as his home is close to a river and is in the way of a new bridge that is being constructed.
"I feel more comfortable and happy here. I feel nice here," said Baptiste who shares the home with his 12-year-old daughter.
"Lovely move," the farmer said of the relocation while stressing that his mind is at ease now because he had been living next to the river.
Baptiste too would never want to have to return to his former location.
His daughter, Karen said she likes the new location where she is comfortable, noting that she wasn't really scared at their Overland location.
The grade six student said she feels safe and would like to thank those who are responsible for the move.
Shareena Nero said she relocated from Sandy but was staying in Mesopotamia before she settled at Orange Hill. She said she and her family members are "very comfortable."
Nero's home in Sandy Bay was completely washed away during the volcanic eruption and the family of five lost everything.
"The river always come down but we have never experienced anything like that before," Nero said adding that the last hurricane which struck the area caused water to circle the house but did not do any damage to their home though there was a lot of debris.
"But this time the volcanic ash and everything, it just took the house," Nero said while noting that they were in Mesopotamia when that happened.
"I cried, I couldn't say anything, I just put my hand on my mouth…and the water, the feeling I was feeling inside was coming out in the tears."
They lost everything except for a few items of clothing.
"This is much better…though I miss Sandy Bay, I love Sandy Bay where I was living round there," Nero said explaining that she had access to all the amenities she needed, was close a police station and was close to the road.
She is located close to the road at her Orange Hill location and her Sandy Bay neighbour, Monica Cordice, is still her neighbour at the new housing settlement.
Nero, a stay at home mom said she is "thankful."
Oneka Jacobs another resident said she lived in Magum next to a river and a part of her home was already "breaking away" before the violent eruptions of 2021 which did further damage.
Four persons occupied the old home and also the new one, and she finds the new location "alright" and "satisfying".
The unemployed mother said she was in Bequia at the time of the eruption but could see on her return that her new home is better than the old one.
A few residents preferred not to talk to SEARCHLIGHT, while a woman said she prefers her new home because she has better neighbours who keep less noise.
Meanwhile, the Mustique Charitable Trust and the government are building more homes in the area for displaced families. An additional 41 homes are expected to be handed over in April 2023.