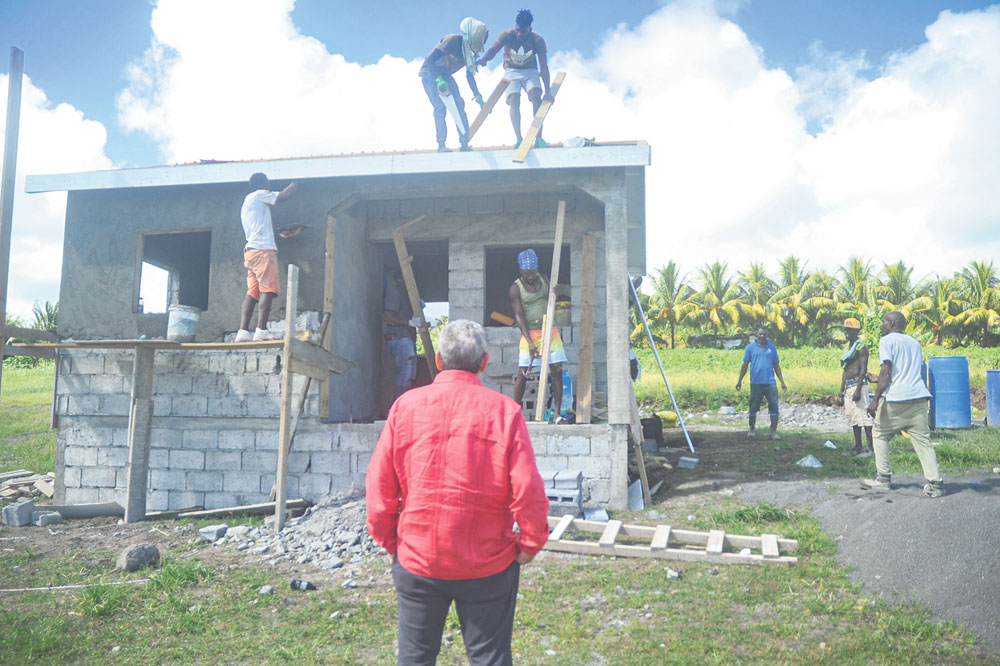 Orange Hill houses for displaced residents to be finished by March
Parliamentary Representative for the North Windward Constituency, Montgomery Daniel is thankful for the work completed to date on 21 houses currently under construction at Orange Hill despite the many challenges encountered. The completion date for the construction of the one, two, and three bedroom houses is March 31, 2023. These houses will be occupied by another set of families from Sandy Bay who were severely impacted by the April, 2021 volcanic eruptions and other disasters.
"As the representative I am indeed happy as to where they are. Yes, much more could have been done but I am indeed thankful," Daniel said on Monday, January 16 on a visit to the site.
The visiting party was led by Prime Minister, Dr. Ralph Gonsalves who went to the housing project to get a first hand look at the progress of construction work.
There, he spoke with workers and learnt that some of the houses were between 85 – 90 percent completed, while others are about 40 – 70 percent completed; a few others are at various other stages of construction.
The houses are being constructed under an agreement between the Mustique Charitable Trust and the Government of St. Vincent and the Grenadines. Under this arrangement, a total of 41 homes are being constructed, with a contribution of $1.5 million dollars from the Mustique Charitable Trust.
The remaining 20 houses are to be built on lands previously owned by Daniel, opposite the Sandy Bay Government School where the Parliamentary Representative lived.
This property will be retrofitted and converted into a health facility to serve the residents of Sandy Bay.
Daniel told SEARCHLIGHT that construction work on the houses at Sandy Bay will commence soon.
When completed, the three housing sites – two at Orange Hill and one at Sandy Bay will house a total of 68 families.
RELATED ARTICLE: Orange Hill residents happy to spend first Christmas at new home (+ video)