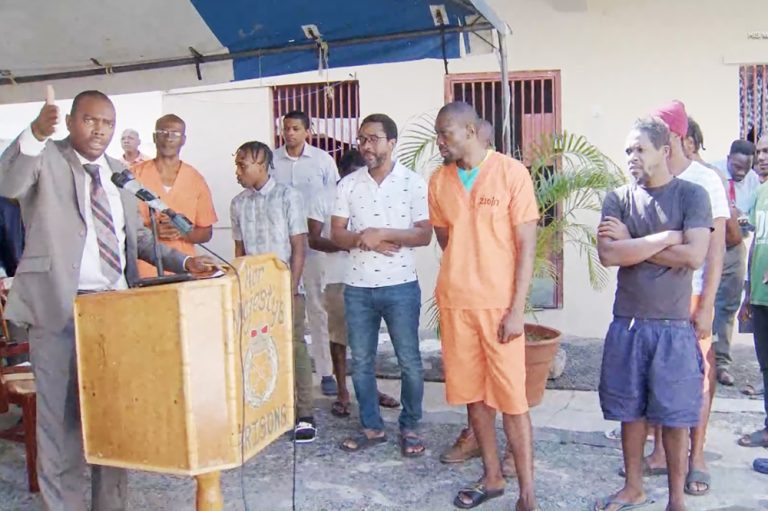 Front Page
December 13, 2022
Prison inmates to be baptised after saying 'yes to Jesus'
Inmates of His Majesty's Prison (HMP)- the Female Prison, Kingstown prison and Belle Isle – participated in a praise and worship session to mark the start of the Prison Week of Activities, where more than a dozen inmates answered the call to give their lives to the Lord.
They will later be baptized.
The two-hour service, held at the prison in Kingstown on Sunday, December 11 and carried live on Facebook, saw inmates, both young and old, come forward to dedicate their lives to Jesus Christ, when the call was made by Pastor Shane Franklyn.
"We would get your names, and of course we would talk with the authorities here and at a subsequent and appropriate time and with all the protocols, to give you the opportunity to give your heart over to Jesus in baptism," the pastor said.
" The church must partner with the prison because we want change for our community and our society," an impassioned Franklyn told inmates.
In his sermon, pastor Franklyn reminded inmates that although they are detained under a custodial sentence, prison was not their "final destination" and he urged them to take advantage of the opportunities for rehabilitation.
"There is still hope for all of you and there is still a place in the society where you can make your contribution. These opportunities are provided with the intention to give you a chance to experience change so that the prison officers can give you a good recommendation to go back into society."
Superintendent of Prisons, Timothy Hazelwood, in his address, reminded the public that although inmates were convicted criminals, they deserve to be treated with dignity and respect as they served their sentences.
"…we recognize that the inmates that are behind these walls are also human, they have flesh, they have blood, they have a spirit, they have a soul. They have mothers, fathers, brothers and sisters and we take the opportunity to let them know that we care for them, as we care for their families and their friends. So as we celebrate this week of different activities, I pray and ask God's blessings on each inmate today that when the seed is sowed that you still have a chance to give your life to Christ."
The session was led by the Sheba Evangelical Assembly and featured scripture readings and singing from inmates, both recently convicted and long-serving.
The week of activities continued yesterday, Monday, December 12 with a game competition and today, December 13 and tomorrow there will be a Family Day and Health Fair at the Belle Isle and Kingstown prisons.
The prison will host an exhibition on Friday, December 16 in Kingstown and the final event on the Prison Week calendar is the usual concert which is slated for December 18 in Kingstown.
RELATED ARTICLE: Inmates will be allowed snacks and fast-food items from their relatives and friends.