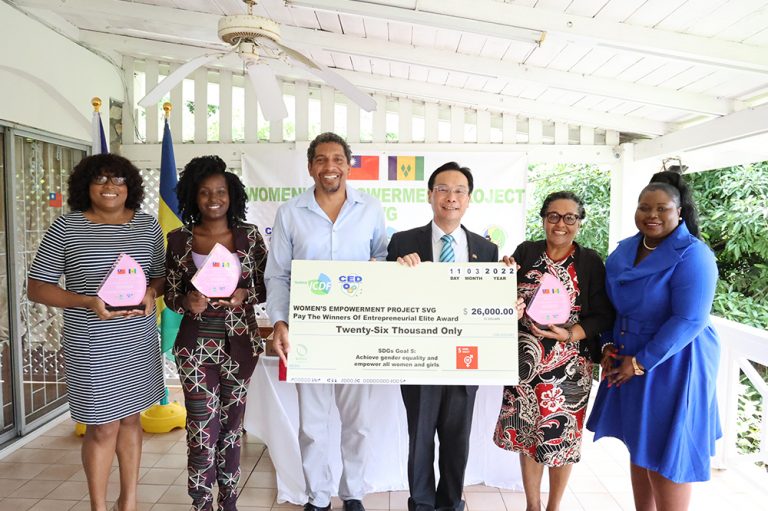 Winners announced in Taiwan funded Business Plan project
The Embassy of Taiwan and the Centre for Enterprise Development have announced the three winners of the Entrepreneur Elite (Business Plan) Competition which marked the end of the second cohort of the Women's Empowerment Project –SVG (WEP-SVG).
The three winners are Ranique John owner of 'My Crown of Curls'; Samantha Robinson of 'Samantha Paperwork Designs'; and Avanell DaSilva of 'Ambrosia Foods' who emerged winners after 10 finalists pitched before seven judges on September 23, vying for the chance to be among the three to win the grand prizes.
They were recognized at a prize-giving ceremony at the Embassy of the Republic of China (Taiwan) on 3 November.
Each winner received $26,000 and an award.
Congratulating the winners, Ambassador of Taiwan to St Vincent and the Grenadines (SVG), Peter Sha Li Lan said his government launched the Women's Empowerment Project (WEP– SVG) at a critical time when the country's business community was deeply impacted by the COVID-19 pandemic, the volcanic eruptions and more recently, the Ukraine and Russia conflict, a release from the CED states.
He said they are also happy to help the women in SVG rejuvenate themselves and their businesses through the project.
Also speaking at the prize-giving ceremony was Minister of Foreign Affairs, Foreign Trade, Regional Integration and the Diaspora, Keisal Peters, who lauded opportunities like the WEP-SVG that help to make women.
"It gives us the opportunity to take our products and services out there," Minister Peters said.
"I just want you to know that I will be paying close attention to your products, because we have a lot of things in store at the Ministry of Foreign Trade where we would be looking at implementing a very robust trade policy…We are going to be working along with our producers and our businesspeople, and I will be taking interest in what you will be doing."
Peters also praised the government of Taiwan for demonstrating its continued commitment to SVG.
The WEP – SVG is being executed by the Centre for Enterprise Development Inc. (CED), a unit in the Ministry of Finance, Economic Planning and Information Technology headed by Camillo Gonsalves.
Expressing gratitude to Taiwan, Gonsalves said one of the central pillars of the government's policy for economic development is to empower entrepreneurs and small businesses. However, he noted that the government cannot do so by itself.
"In no way, shape or form do we think we can do it alone. We have a role to play, but a dynamic private sector, led by dynamic entrepreneurs and small businesses will be the engine for growth and development in St. Vincent and the Grenadines for years to come," Minister Gonsalves said.
The WEP began in August last year and will conclude at the end of December, 2022. Currently there are 31 women participating in the third cohort of the project.
RELATED ARTICLE: Taiwan provides EC$96,000 in COVID relief grants to local female entrepreneurs