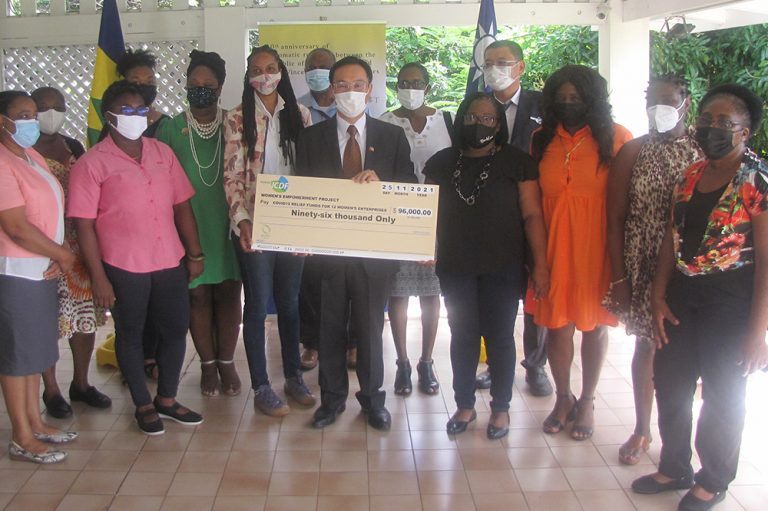 Taiwan provides EC$96,000 in COVID relief grants to local female entrepreneurs
Twelve businesses owned by women across St. Vincent and the Grenadines(SVG), have received COVID relief grants totalling EC$96,000 from the government of the Republic of China on Taiwan.
The grants were awarded to 12 of the 24 entrepreneurs who participated in this phase of the Women's Empowerment Project funded by Taiwan through the Centre for Enterprise Development Inc (CED). Each received EC$8,000. The project is an initiative entitled 'Assisting the Economic Empowerment of Women in Latin America and the Caribbean in the Post-Pandemic of COVID-19' with the objective of boosting the country's economy due to the impact of the pandemic, and maintaining social stability by strengthening women's economic empowerment through employment and entrepreneurship.
Under the project, the women entrepreneurs selected by the CED participated in a series of business management training conducted by the Taiwan Technical Mission supported by CED between September and October.
Head of the Embassy of the Republic of China (Taiwan), Ambassador Peter Sha-Li Lan, presented grants to the businesses at the Embassy on November 25. The grants will be used to purchase equipment and supplies for the businesses to improve their operations.
Ambassador Lan, in his remarks, explained overall goal of the Women's Empowerment Project, and praised the joint effort of the Taiwan Technical Mission and the CED for implementing the project, and congratulated the recipients.
Fashion designer Peta Odini Sutherland, who was among award recipients, expressed gratitude to Taiwan and the CED, stating that this was the first time she had been engaged in any major business training that will benefit her business.
"The financial aspect with regards to receiving funding, I honestly heard it bandied about but I didn't realise it could be of this magnitude which was probably for the best, so it didn't distract from the learning. But this is also so timely as I keep putting off plans to kick start new work because it is sometimes so difficult to find the necessary finances to do anything significant especially now during these times."
Sutherland intends to make better use of the resources available from the CED.
"To be honest, before I really did not have a full understanding of all of the work you guys did, and so going forward I plan on being as much of a regular as possible as I work on continuing to expand the footprint of my company. Thank you once again for the opportunity to be a part of this project, the information was really timely and although last week I didn't think I would make it with those four days of 5-9 sessions after a long day at work, I am happy that I endured and made it to the end."