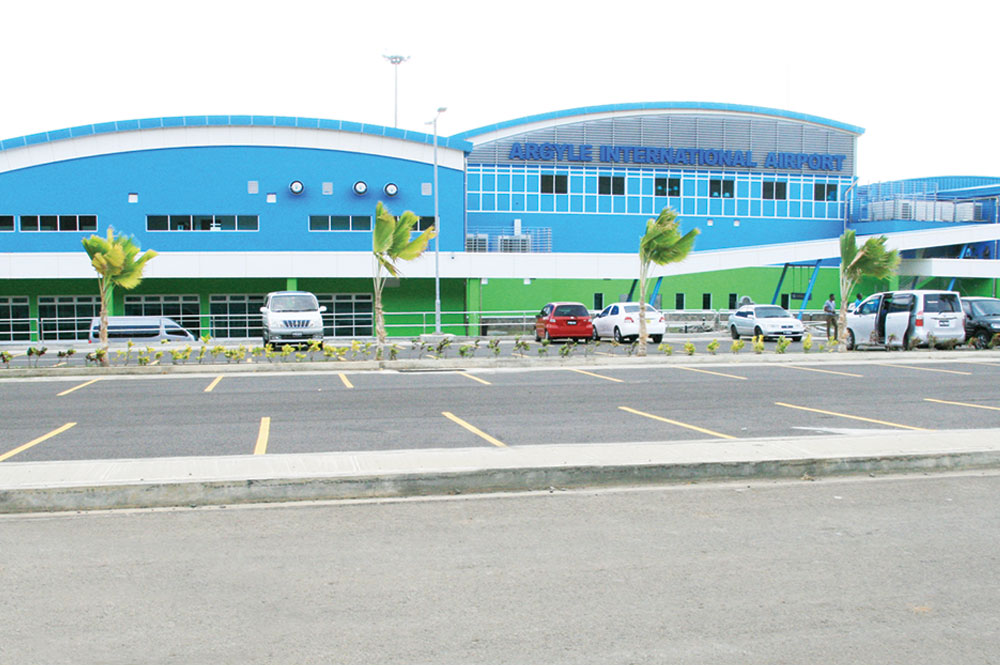 Workers at Argyle International Airport will shut down operations if issues not addressed – Union
Workers at the Argyle International Airport (AIA) are prepared to take industrial action and shut down operations at the airport if management does not address issues being faced by staff.
"I'm putting this out to the media, to the public because on the 29th of this month, we should commence negotiations on the collective agreement but if these issues are not addressed, there will be industrial action at the AIA.
"We will shut down the airport at certain points in time and the public is going to be affected," Elroy Boucher, the president of the Public Service Union (PSU) said at a press conference on Tuesday.
The PSU is the union representing workers at the airport.
Boucher said a Collective Bargaining Agreement was submitted since September 2020 for negotiation on behalf of workers, but there has since been no response to the call for negotiation.
He added that there are a number of issues affecting workers that were brought to the attention of the management of the AIA since 2017, with the Union requesting dialogue, in an effort to address them.
The PSU president said however, that the Union's request was met with resistance.
"The management of AIA refused to meet with the Union over a two-year period to have these issues addressed. And while we were waiting for the collective agreement, we discovered the management were changing the terms and conditions of the workers, without consultation, without communicating with the body that is charged with the responsibility of representing these workers," he said.
On August 11, 2022, the AIA issued a press release assuring that it is in active discussions with the PSU and giving a chronology of communication between the AIA and the PSU.
Some of the issues the Union is seeking to have addressed include grievances related to sick leave, compassionate leave and raise in pay.
Boucher said workers are currently given 14 days sick-leave inclusive of uncertified leave.
He noted that this 14-day period is apparently in keeping with the Wages Regulations, which speaks to security guards and not aviation security officers.
"Furthermore, the aviation security officers, when they were at ET Joshua, they were eligible for sick leave of up to three months. They moved from ET Joshua, which is a regional airport to an international airport and the result was 14 days sick leave, inclusive of uncertified leave. So that presented a problem for the workers because uncertified leave speaks to the days when someone calls in sick and that illness may last a day or two," the president explained.
It is standard practice in St Vincent and the Grenadines that after two consecutive days at home, a worker must present a sick leave slip from a medical doctor on the third day.
But Boucher claims that AIA management has "lumped all of them together" so that when workers become sick and submitted their leave forms from a doctor, they would notice that their leave is literally halved.
"…And the AIA decided that they will take it out from their vacation or from their salary and this has been going on for some time," he said.
Boucher also mentioned the recently implemented policy for COVID leave, which makes it possible for persons who contracted the virus to access "a special sick leave", which cannot be taken from vacation days, or result in a docking of pay.
"What the AIA did, the management did, all of these COVID leave, they took them from the very 14 days so when people became sick other than COVID, they have no sick leave left," he said, adding that workers would have no choice but to decide whether those days would come from their vacation or salary.
An AIA worker is apparently entitled to 18 vacation days annually.
Boucher noted that "when it comes from their vacation, which is 18 days per year, you hardly have any vacation to go on. That creates a lot of stress because after working a whole year, workers need to take time out to rest their bodies".
The PSU president said the Union met recently with management to have the matter addressed, through the intervention of the AIA Board's new chairman, Ken Young.
Prior to this recent meeting, Boucher said management had refused to engage with the Union.
As it relates to compassionate leave, Boucher noted that workers must submit death certificates in order to access the three-day leave from work.
And while it is seemingly a normal request, he said it is the norm that informing management of the relative's death would be sufficient.
"Nobody takes it that you're lying or you're just doing this to get away with some days. It's a small country. Everybody literally knows everybody.The insistence on the management to produce a death certificate became an arduous one on many of the workers," Boucher said.
He referenced one worker who was refused compassionate leave after his stepfather, who had raised him from a young age, died.
The PSU representative also listed several other issues, one of which was that staff had not gotten an increase in salary since operations at AIA began in 2017.
Boucher told media that the PSU has given the AIA management ample time to address issues, so much so that the workers they represent felt that enough was not being done on their behalf.
"…We have been patient simply because the airport at the time was new. We wanted to give time so that all the teething problems can be dealt with and we didn't want to create any issues, given that we were just moving to an international airport. That time has since gone," he said.
The Union's president is of the view that management has "taken advantage of the fact that we were looking at the national interest by giving them time to settle themselves".
He noted that industrial action is usually a last resort, and that workers have wanted to take this route for quite some time.
"We have literally felt their fury…they wanted to shut down operations long time but we asked them to be patient with us so that we give the new chairman of the board of directors, Mr Ken Young, enough time to have the problems addressed," Boucher said, adding that if the issues are not addressed to the Union's and workers' satisfaction, then they will take industrial action and shut down airport operations.