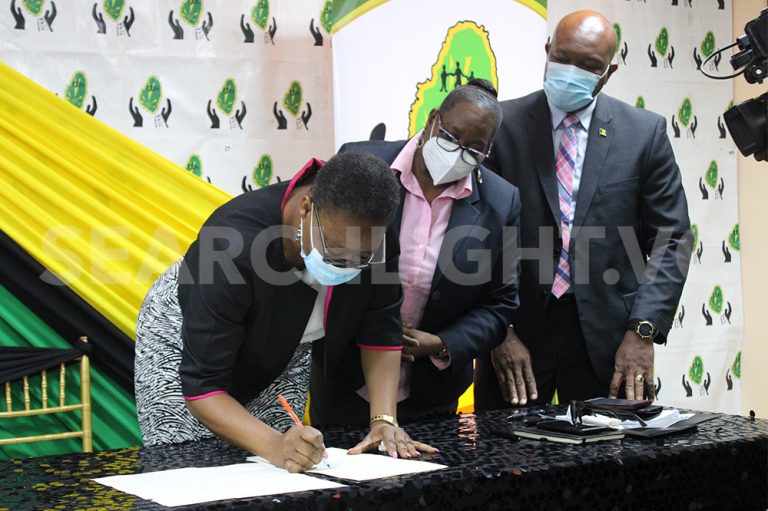 A share of EC$1.5 million can now be accessed by fisherfolk
Local fisherfolk can now access a share of EC$1.5 million to invest in bigger vessels, as efforts continue to expand the local fisheries sector. 
The Ministry of Agriculture, alongside other stakeholders signed a Memorandum of Understanding this week with the Kingstown Co-operative Credit Union, officially marking the beginning of a partnership for a fleet expansion programme. 
The programme is expected to run for the period 2022 to 2028. 
"Many citizens and businesses were adversely impacted and from our vantage point, it was evidenced by the necessary implementation of a moratorium programme for our membership to the value of some $16 million. It is now imperative that we return to some sense of normalcy for the sake of our nation's economic viability," Cynthia Hope-Browne, director on the KCCU Board said at the signing ceremony, which took place on Tuesday. 
Hope-Browne added that the financial institution was "cognisant that our participation within this collaborative effort will propel the small business sector by giving a much needed injection of capital into ventures within the fisheries sector". 
The KCCU director also expressed the belief that the programme will fuel economic growth with added benefits of employment creation and poverty reduction.
 
The fleet expansion programme has an initial investment of EC$1.5 million, which is expected to form part of a revolving fund. 
Hope-Browne explained that a five-year loan term will be offered to fisherfolk, and the intention is that once loans are repaid, another batch of fishers will be able to access the programme. 
Loans at KCCU under this programme will range from from $50,000 and up to $300,000. 
"I was sent to meet with KCCU by the Cabinet because the government recognised that if the government invested alone, we would not be able to create that enabling business environment needed for the industry to thrive," the minister of agriculture and fisheries Saboto Caesar, said at this week's event. 
And he encouraged all persons in the fisheries sector to make use of the opportunity being presented. 
Caesar also made mention of $4 million coming from the government of Venezuela to participate in a fleet expansion programme. 
"We are going to see how we can dovetail what can be dovetailed, because if we have something that is well established, well structured, well planned and well conceived and is being advanced, there will definitely be possibilities for synergies…" he said. 
The minister noted that there are concerns that the focus will be only on smaller vessels. 
But Caesar assured that between KCCU and the $4 million facility, fishers will be able to buy boats ranging from $40,000 to $800,000. 
"…And that is confirmation, that is affirmation that we are now the best positioned in the Southern Caribbean to fully explore the possibilities and opportunities that will continue to present themselves as it pertains to issues touching and concerning the blue economy," he said. 
Stakeholders have described the venture as being timely, with the potential for a wealth of opportunities.
President of the National Fisherfolk Organisation (NFO), Winsbert Harry,encouraged fishers to take part in the fleet expansion programme. 
Harry, who derives his main income through fishing, said he will be making use of the facility, as he believes it to be a good opportunity, particularly for fishermen to upgrade their businesses. 
"It could also develop a young fisher who is just getting involved in the industry as well to upgrade his skills because what we are noticing within the fishing industry is that we are seeing a lot of people who ply their trade but not own their own vessel," he pointed out.
 
The NFO president added that, "this is a great initiative that fishers should get up off their backs and run and take this opportunity to own a boat, so they could own their own income so they can sustain our fishing industry, their families and to develop". 
Harry further noted that small boats are important in supplying the local market. 
He said however that investing in bigger boats will increase their capacity to "bring better quality fish to our shores so that we can meet the international market and that our life could continue going forward". 
Manager of the Bequia Seafood Company Limited, Eardley Simmons also delivered brief remarks at this week's event. 
He described the venture as a passion of his, as the success of any fisheries centre is dependent on the volume of fish being landed by fisherfolk. 
Simmons said he was happy to see the fleet expansion programme being launched and like other speakers on that day, he also encouraged fisherfolk to make use of the opportunity. 
"My vision is for us to see 40, 50 fishing boats in a fleet in St Vincent and the Grenadines. It can be a very profitable investment for anyone who wants to get into it and you don't have to be a fisherman, you can be an investor. I encourage you, anyone of you here, to seriously contemplate investing in fishing and particularly in tuna fishing, there are opportunities in bottomline fishing…" he concluded.