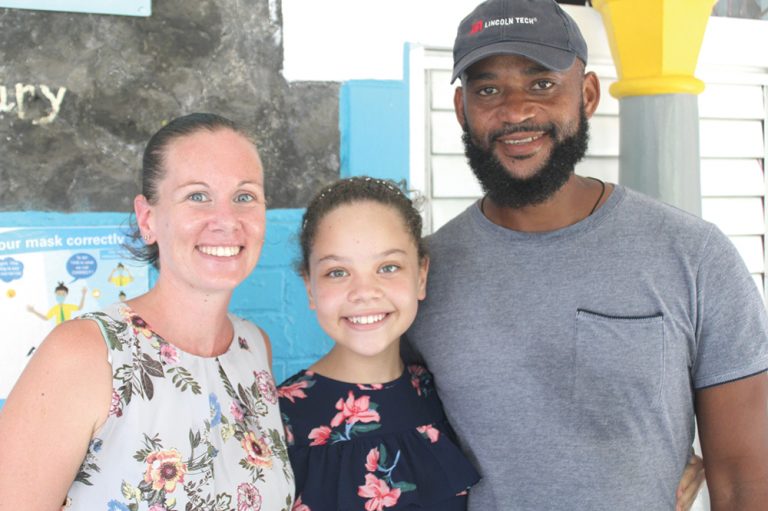 Tegan plans to get into science and health as a career
SCIENCE AND LEARNING enthusiast Tegan Deane from the St Mary's Roman Catholic School joined the top performers in this year's Caribbean Primary Exit Assessment (CPEA) placing ninth overall and fifth for girls.
The 11-year-old who is originally from Scotland but resides at Acres confessed that she is really happy with the results, and had been nervous about them.
Social studies posed the greatest challenge to the young student, while she considered Science to be the easiest.
It's no surprise then, that the student has intentions to do "anything to do with Science and Health" as a career when she gets older.
"…There's new things to learn about it every day and it really helps people," Deane reasoned.
A celebratory dinner and pool day are in the plans following the release of the grades.
Tegan's father, Kevin Deane; her mother, Jennifer Deane, and her younger brother were with her when she collected her results at the St Mary's RC School yesterday, September 2.
Her father explained that a celebratory trip to America had been in the works because Tegan is being mentored by his brother who is a doctor in New York. However, Covid-19 is causing a delay.
The parents responded that they were feeling very proud of their daughter.
"…We're from Scotland, so we came home in 2019, that's why she struggled with social studies, learning all the history, the politicians; so it's been kind of a struggle for her but she's done really well," Tegan's father said.
Her mother revealed that Tegan has always been interested in studying and learning.
"Tegan's always been good at studying herself, she's never really needed a push to go study and she's like a sponge, she just soaks everything up. She wants to know more than what the answer is, like why is it that answer," she said.
The 11-year-old noted that she had encouragement from teachers and her parents as well in terms of what had helped her to do her best.
"The school, they had a lot of after-school programs on to help kids who may have been struggling in Science or Maths, and she just wanted to be part of all of the classes even though Maths is one of her strong subjects. She still wanted to be part of it…," her father recalled.
He agreed with his wife that Tegan did not need to be told when to put down her electronic devices, or, on the other side of things, when she's overstudying.
"…She's very mature like that, so we've been very lucky and very fortunate to have someone like her, so we're very happy," he concluded.