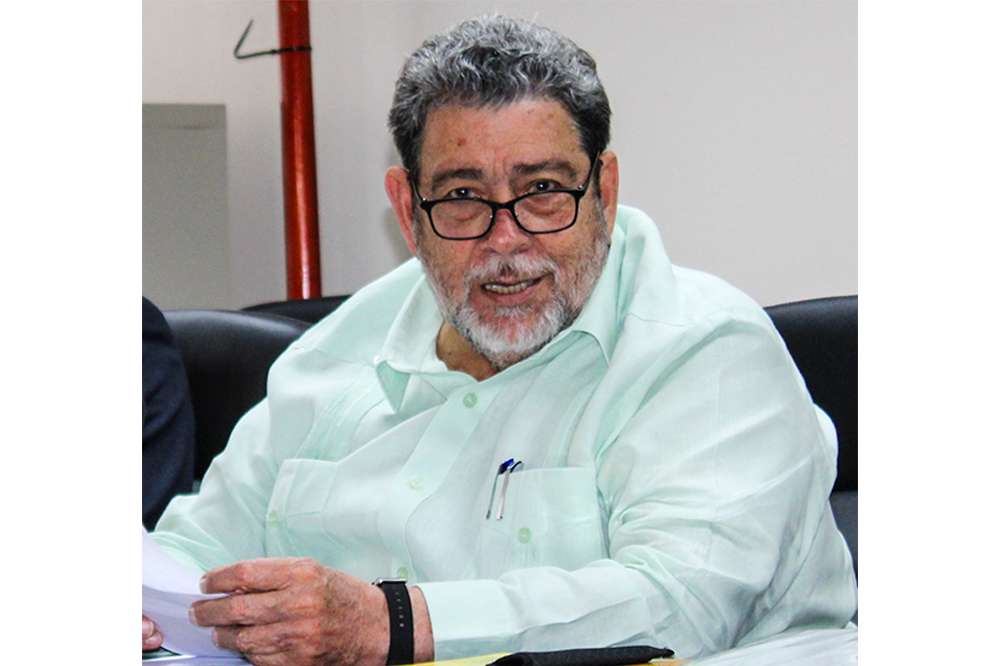 Red zone will not be abandoned: PM Gonsalves
As the Soufriere volcano continues to erupt, there are conversations taking place about future life in the red zone, particularly villages above the rabacca dry river, which have so far borne the brunt of the volcano's fury.
And, among the suggestions which have emerged publicly, is that the Government should take the tough decision to have residents relocate, and even to start life again in another country in the region.
However, Prime Minister Dr. Ralph Gonsalves has made it clear that he has no intentions to declare the red zone a disaster area, and allow residents to go back only to farm and raise animals.
He said on radio last weekend that this proposition "just doesn't make sense for many practical reasons" ,but the main one is grounded in the nation's history.
"…As far as I am concerned, as far as the ULP is concerned, north of the dry river- that's the soul of this nation –the Garifuna and Callinago- and all what they represent.
"Similarly, places like Rose Bank and Petit Bordel and Fitz Hughes and Chateaubelair with Garifuna people…"
The Prime Minister pointed out that, as happened during previous eruptions, people will move out of danger to safer areas and may decide to stay, but others will return to their homes.
He made reference to Rose Bank which was settled following the 1902 eruptions, and also areas of Walveroo, Glen and Sharpes where people "came down and stayed down, but some went back", adding that he expects a similar pattern, following the eruptions that are currently taking place.
"…and we will address that migration pattern with all the consequences for health and education and so on and so forth, but don't ask me to say that people- that we must not go back and rebuild north windward, and particularly over the rabacca river, and Chateaubelair, Fitzhughes, Richmond- don't ask me not to rebuild that because they will be rebuilt," he stated emphatically.
Both the road infrastructure and buildings were severely damaged, and agriculture wiped out in much of north windward; many animals were let loose to give them a chance of survival, but no lives have been lost; however the destruction will not sway the Prime Minister's resolve to rebuild.
"So long as God gives me strength and I am where I am, I will make every effort so to do, I just want to make that point absolutely clear" he stressed.
He also observed that the "bulk of the people up there" want to return, hence, he has extended an invitation stating: "If you want to partner with me and the government to build back up there better, I'm here willing to partner with anybody. "