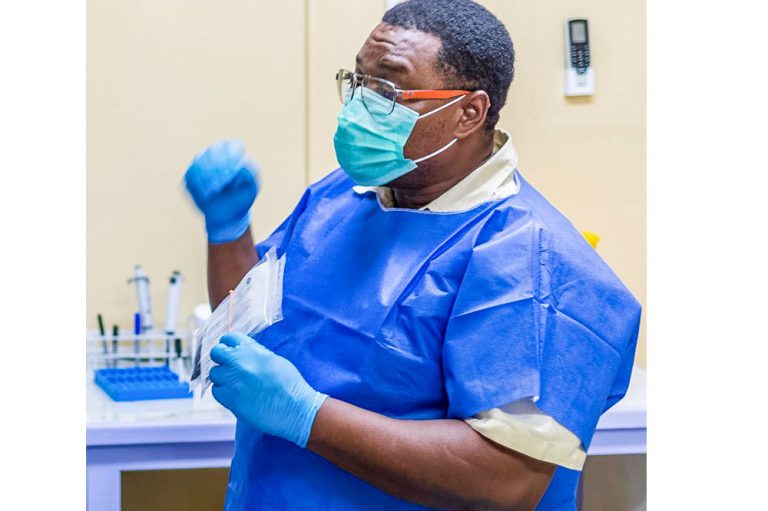 COVID-19 test backlog cleared – Chief technologist
The state's Covid-19 testing laboratory has caught up with the backlog of samples waiting to be tested after conducting an intervention into their process.
Chief Laboratory Technologist, Elliot Samuel commented on this during a virtual press conference hosted by the Ministry of Health on Wednesday, January 13.
Samuel disclosed that when the Molecular Laboratory was established in April 2020, their diagnostic capacity "hovered around processing about 300 samples a day and we are now doing on many instances, around 500 samples per day."
These samples are taken from persons who are undergoing exit screening for travel, entry screening, and who are public health cases "in terms of the suspect cases and the contact tracing."
Recently there have been delays in being able to give persons test results within 24 to 48 hours. Samuel said the number of samples being delivered to the lab far exceeds the capacity for them to turn results out.
Nevertheless, Samuel announced, "I am happy to say that having done some much needed intervention and re-looking and revisiting our process, I can say that we have caught up with the backlog and as of today, we are closer to processing all of the samples that we have in lab."
At beginning of this week, the lab had 921 test results pending, but by the time Samuel spoke on Wednesday, this number had been brought down to 394 samples.
"The staff, as we speak, are at the laboratory processing all of those samples, including all the samples that were collected yesterday, so by the end of today, I think that we can say that we have caught up on the backlog," the technologist assured.
This will leave them room to focus on the samples coming in on a daily basis, he said.
He further assured that in 2020, reagents and supplies sufficient to do 35,000 tests had been procured, and new reagents, supplies and consumables have since been ordered to do an additional 20,000 to 25,000 tests.
These reagents and what he described as "critical supplies" should arrive in St Vincent and the Grenadines in about one week's time.
Samuel said while they have their challenges, "we have been lucky enough to have suppliers who can meet our demand."
He concluded that the laboratory has not arrived at the point where he could say that they are short on laboratory supplies.
However, in the same breath, he did note that because of the increase in demand where it concerns public health cases, persons doing exit screening are urged to make their application to the Coronavirus Task Force early, so that the lab could have their samples 72 hours before they wish to travel.
"I don't want to say that we will not get you a result, but it's going to be increasingly difficult if you are getting your sample taken less than 72 hours," he explained.