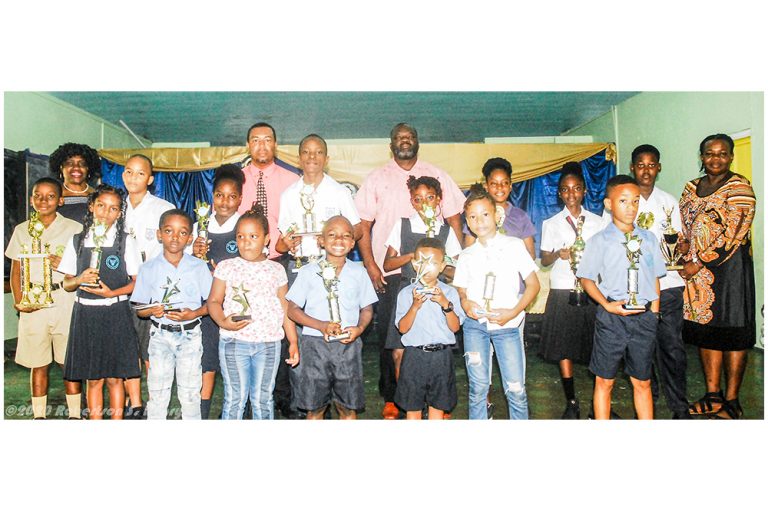 Belair Gov't School PTA rewards most outstanding students
On Friday December 11, a small and significant ceremony was held at the assembly hall of the Belair Government School, when the most outstanding students were rewarded by the school's Parent Teacher Association (PTA).
The executive of the PTA awarded the students for their hard work with trophies, gift vouchers and cash.
Joseph Bascombe, president of the PTA said the awards were delayed from July 2020 due to Covid -19 concerns.
The PTA president, who is also a member of the Royal St Vincent and the Grenadines Police Force said the PTA awards outstanding students from Grade K to Grade 6. This initiative was first introduced in March 2018 at the PTA's first executive meeting under Bascombe's leadership.
He boasted that the awards ceremony is probably the only one of its kind in St Vincent and the Grenadines.
The awardees for the PTA's Most Outstanding Students Awards 2020 were:
Grade K- Chance Franklyn, Zaharie Frederick and Dishanna Williams; Grade 1- Dre- D Chance; Grade 2 – Chase Franklyn and Leanna Weekes; Grade 3 – Michaela Audain; Grade 4 – Patrice John; Grade 5 – Kara Samuel; Grade 6 – Samuel Wright (Most Responsible Student)
Ten trophies were awarded this year, up from last year's nine, and were sponsored by FLOW SVG Limited. Bascombe said plans are already in place for the 2021 awards, and it is expected that there would be 11 recipients because of the addition of an extra Grade 1 class.
With a smile on his face and laughter from the audience, the president said: "It seems as if the principal is adding a class every year!"
Trophies were chosen as awards because they serve "as a physical reminder of what … [the children] are capable of achieving. Trophies can also be viewed by their visiting friends and families," Bascombe said.
The day before the ceremony, the entire student population was treated by the PTA with cakes and popsicles for the school's annual class feed.
In attendance at the awards ceremony were minister of education Curtis King – himself a past student of the Belair Government School, and Kay Martin-Jack, senior education officer.
Bascombe, who is also a past student of the school further stated said that when he was elected PTA president, he decided that the Belair Government School PTA was not going to be an ordinary PTA. His children also graduated from the school.
Bascombe is also the public relations officer of the Tiny Tots Pre-School in Stubbs, and called on his fellow police officers to get involved in community oriented work.(contributed by Robertson Henry)