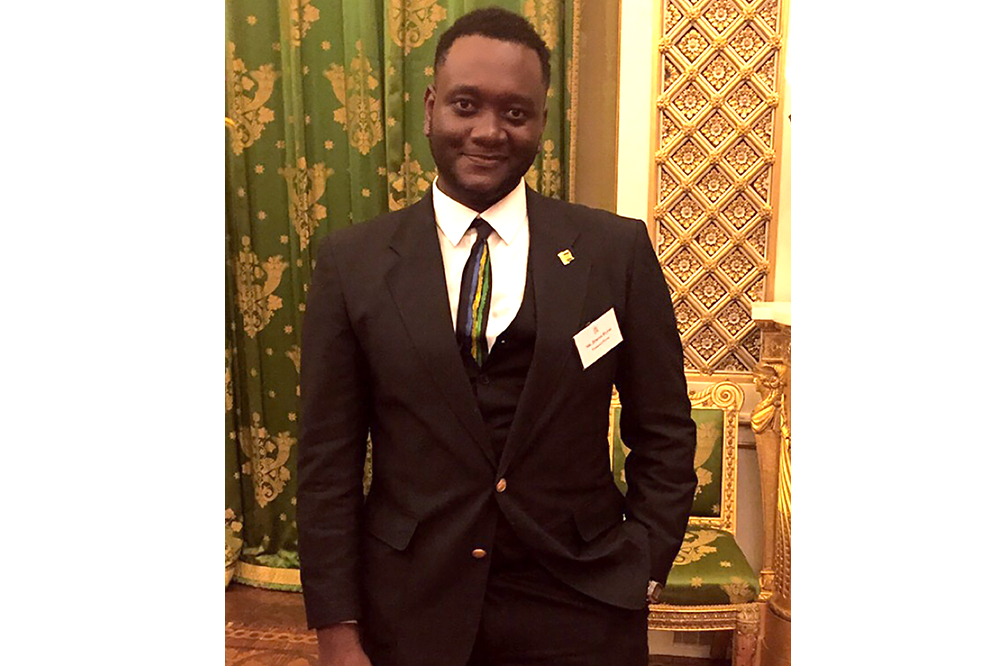 Vincy designer's work on show at Buckingham Palace
In February, 2018 when, for the very first time, local fashion designer Jeremy Payne of the brand 'Fashion is Payne' touched down in London, his life was about to change.Jeremy had been invited by Eco-Age to participate in a new and revolutionary event dubbed the 'Commonwealth Fashion Exchange' (CFE). Having already created a piece for this auspicious event, the first thing on his agenda upon his arrival was to make himself ready to attend the opening which was held at Buckingham Palace.For 10 days, the local designer was completely awed.
The impressions of the magnitude of his involvement began with the opening ceremony. He explained, "It was great to be in the same room as HRH Kate Middleton, the Duchess of Cambridge; and HRH Sophie, Countess of Wessex, who were the co-hosts. HRH Princess Beatrice of York, supermodel Naomi Campbell, and Anna Wintour, Editor-in-Chief of Vogue magazine were also there, among so many others."
AIMS OF THE CFEThe Commonwealth Fashion Exchange, which was held in February 2018, was set to coincide with the London Fashion Week. According to Eco-Age, the exchange aimed "to create partnerships between established and emerging talent from across the 53 member countries, in the lead up to the Commonwealth Heads of Government Meeting in London this April."
Each participant was specifically selected. Their participation afforded the celebration of "creativity, sustainable production and manufacturing, trade links and ethical supply chains across the fashion industry, from business and design to textile and fabric design and manufacturing."
A statement made by Commonwealth Secretary-General, the Right Honourable Patricia Scotland QC further explains, "The modern Commonwealth is young and creative.
It represents a third of the world's population, 60% of whom are under the age of 30.
So fashion, alongside music and sport, represents a powerful common language and platform through which to influence young people around key issues. The Fashion Exchange has collaboration and partnership at its heart, forging new networks and making the Commonwealth Summit themes of prosperity, sustainability and fairness very real and tangible."
Additionally, the CFE will provide global-audience access to the looks created and the stories of collaborations through a dedicated platform on Google Arts and Culture.
JEREMY'S CREATIONIn keeping with the objective of the initiative, Jeremy created a dress of hemp organic cotton spandex jersey, a fabric that fits perfectly into our tropical climate.
He firstly tie-dyed the fabric using organic turmeric, locally grown and refined and called 'saffron'.
This produced a beautiful yellow-gold tinge. Secondly, he hand-painted symbols of our petroglyphs found in different locations around St Vincent and on Bequia.
He gave his reasoning for this as, "These carvings help to connect us to our local indigenous ancestors who created them."
Finally, to complete his look, Jeremy collaborated with St Lucian jewelry designer, Nadia Jabour to create a necklace and hand-piece made from copper wire and carved coconut shells. This display stood proudly and prominently at Buckingham Palace for the duration of the exhibition, showcasing not only Jeremy Payne and 'Fashion Is PAYNE' but also St Vincent and the Grenadines.Jeremy Payne is a young multidisciplinary artist and designer. His Fine Arts roots are evident in his paintings and mixed media work.
He started designing in 2008, and by 2011 his 'Fashion Is PAYNE' was established as a womenswear and menswear brand, creating clothing and accessories geared towards the urban-islander.
The 'PAYNE' aesthetic explores the emotions and lifestyles of the bustling city and the exotic tropics.
It produces clean, contemporary cuts with attention to detail and surface embellishments, contrasted with a laid-back simplicity and comfort.Through his Buckingham Palace Commonwealth Fashion Exchange experience, Jeremy Payne is now prominently poised to pursue even greater avenues for his talents.