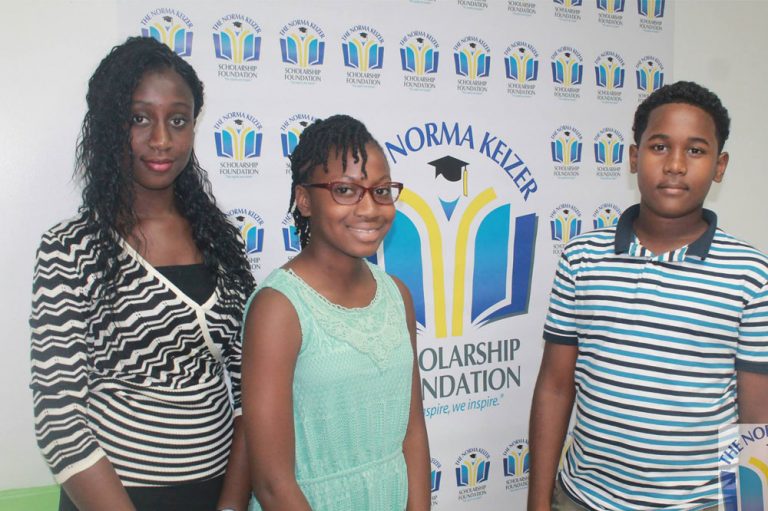 Eight more students benefit from NKSF
Since 2015, the Norma Keizer Scholarship Foundation (NKSF), through fund-raising and generous donations, has been helping to ease the financial burden of students in St Vincent and the Grenadines (SVG).
This year is no different, as eight students were awarded secondary school scholarships and bursaries and one student was the recipient of a university bursary, at a ceremony held last Friday at the conference room of the Co-operative Credit Union League.
Dr Walford Thompson, senior pastor at the Arnos Vale Covenant Assembly, used the occasion to share anecdotes about his experiences growing up on a farm and achieving academic success at the St Vincent Grammar School, before moving on to become a teacher, doctor and later a pastor.
"When I went to Grammar School, I'm not sure I went with any goal in mind," he told students. "I did waste some of my time, but when I did catch afire, I studied hard."
The pastor said that his story was an indication that an individual can become anything they put their mind to, through the grace of God and hard work.
Furthermore he encouraged students to apply themselves in order to accomplish their goals.
"This is a great opportunity that you have been given. Make good use of it and do not forget the foundation. We tend to forget where we come from when we arrive where we want to get to," Thompson said.
The Embassy of the Republic of China on Taiwan came on board with the Foundation two years ago to provide more funding opportunities for deserving students.
And Taiwanese Ambassador Baushuan Ger said that education is key for national development in countries like St Vincent and the Grenadines.
"Our future relies heavily and almost entirely on the quality of young people," Ger said. "I hope you will use money wisely and make the best investment on yourself".
Two students, Olney King from the Spring Village Methodist School and Jolece Yammie from the Calder Primary School, received 2017 scholarships from the NKSF.
The third scholarship recipient, Aijalon Walters from the Barrouallie Government School, received her scholarship through donations from the Findlay family (Sylvia, Ethel, Joycelyn and Faylene) of Barrouallie.
Devon Alexander Jr and Jahryd Edwards from Tourama Government School, Kerene Cozier from the Bequia Anglican Primary School, Jhamari John from the Langley Park Government School and Jamal Williams from the Questelles Government School all received bursaries from the NKSF, valued at $400.
Cherise King, who is reading for a degree in International Relations at the University of the West Indies, St Augustine campus, is the recurring recipient of the Jenny Jacobs university bursary, valued at $5,000.
The NKSF, from its inception, has disbursed over $17,000 to 13 students. The scholarships are valid for seven years and value $1,400 for the first three years and $1,600 for the remaining five years.(BK)