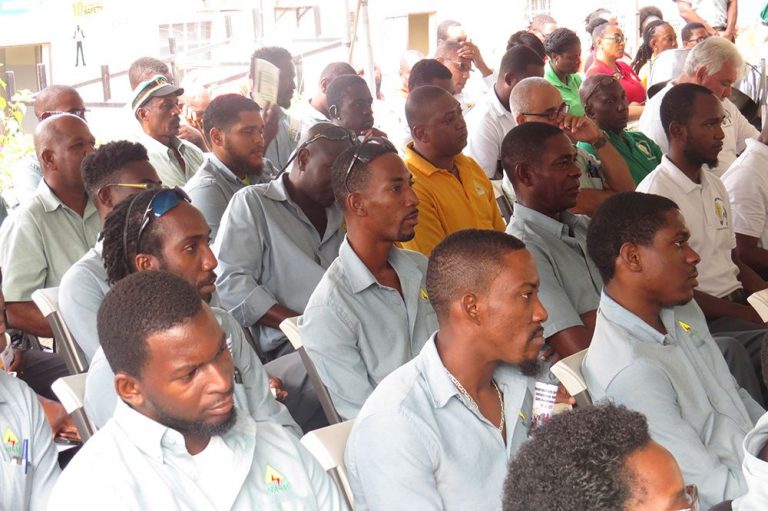 VINLEC re-energizing commitment to safety
St Vincent Electricity Services Limited (VINLEC) is hosting a series of activities during the month of May in observance of Environmental, Health and Safety Awareness month. The main objective of the month is to heighten awareness among employees on matters relating to Environmental Sustainability, Safety and Health and Wellness.
An official ceremony to signal the start of the month was held on Tuesday, May 2, at the Cane Hall Engineering Complex. The event heard remarks from Environmental, Health and Safety officer Anthony Patterson and chairperson of VINLEC's Board of Directors René Baptiste. Patterson outlined the company's Safety Policy, noting that in order to have exemplary safety records, there must commitment both at the individual and team levels. He said safety is about people and personal well-being.
Chairperson Baptiste used the opportunity to commend VINLEC's work in Environmental, Health and Safety and noted that the company is a pioneer in this field. She complimented the company's management for its consistent effort in ensuring that staff is kept abreast with emerging issues in Occupational Health and Safety. According to Baptiste, safety in the organization is critical at all stages, namely, personal, team, management and at the board level. She encouraged the staff to support and participate in the activities for the month.
In addressing the gathering, chief executive officer Thornley Myers reiterated that for the company to have a sound safety record, there must be a commitment by employees at all levels throughout the organization. He called on employees to work towards shifting the culture of safety in a manner that enhances the company.
Myers said that the term "safety culture" should not just be a statement, but that it should be evident in all that is done. He noted that there are a number of key steps to creating an effective safety culture, including management commitment, employee engagement, reporting systems, safety rules and procedures, training and safety communication. The CEO said that EHS is a priority for the company and noted that VINLEC will provide the necessary resources to ensure employees execute their duties in a safe work environment.
There were cultural performances by the company's choir, VINCOICES, as well as the VINPAN group.
The discussion on the Environmental, Health and Safety Awareness continued throughout VINLEC on Tuesday afternoon at Safety Stand-Down sessions across the company. The discussions were held at 17 different locations and the focus was on how the employees and the company can work together to improve the safety practices in every area of work.
A number of activities are listed on the calendar, including a department public speaking competition, National Occupational Safety and Health Bill presentation, Health and Wellness Day and Safety competitions. The theme for the month is "Re-energizing Our Commitment to Safety."