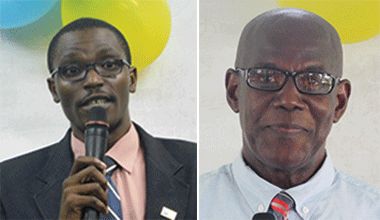 More must be done to combat cyberbullying
"Whether it is the sharing of humiliating photos or 100 hateful texts, cyberbullying is toxic!"
Head of the Royal St Vincent and the Grenadines Police Force's (SVGPF) Information Technology Unit Sergeant Emel Jacobs expressed this during a forum last Friday at the Division of Technical and Vocation Education of the SVG Community College, held to discuss the recently passed Cybercrime Act.{{more}}
According to Jacobs, the National Crime Prevention Council defines cyberbullying, or online bullying, as when a teen or adult uses the Internet to send or post texts or images intended to hurt or embarrass other persons.
He stressed that the key element of cyberbullying is the intention to hurt.
The head of the IT Department stated that cyberbullying usually takes the form of continuous acts over a period of time and also destroys the reputation, happiness and self-worth of too many youths. He further stated that the bullying is so stressful, it could affect a person's mental health.
Jacobs added that because this form of bullying is delivered through electronic means, the audience is vast and it could occur at any time, unlike face-to-face bullying where the victim may be able to escape the situation.
Further, because of the important role social media plays in the life youths nowadays, coupled with the speed with which information is spread, Jacobs said that cyberbullying has involved a vast number of teens, whether as victim, bully or silent observer.
He suggested that the topic be taught in schools, as students affected by cyberbullying suffer the same effects as real life bullying, such as a drop in their grades, low self-esteem and depression.
According to Jacobs, when cyberbullying is reported to the police and the culprits are apprehended, they usually express the view that what they did was "not a big deal", with no consequences for their actions; while others think they would never get caught.
However, according to the Cybercrime Act, persons who commit these offences are liable to pay up to EC$150,000 and spend up to three years in prison.
"If cyberbullies think that they cannot be caught, yes, they can be caught, once the necessary are put in place for investigators, we will investigate and yes, you can be caught," Jacobs added.
Moreover, the head of the RSVGPF IT Department also suggested that Police Force, the church and schools must come together and educate parents and children about where and how cyberbullying occurs, as well as consequences and guidelines for perpetrators, in order to curb these types of offence.
Pastor Sonny Williams, during his presentation at the forum, said the church condemns all forms of bullying, which includes cyberbullying.
However, while he condemned bullying, Williams stated that "an eye for an eye" is not an appropriate response.
Williams noted that each person must be treated as if they are made in God's image and so, must be given absolute dignity as a human being.
"You see bullies are kind of looking for a kind of response; when you do that, that's how they feel empowered," he said.
Williams pointed out that retaliating against a bully can also turn a person into a bully and encouraged persons to turn the other cheek, although it may be difficult.
According to him, pastors should be trained to combat cyberbullying and other organizations should collaborate with the church in this fight.
"We must empower ourselves; we must get acquainted with the issues of cyberbullying and then respond appropriately," Williams added. (AS)