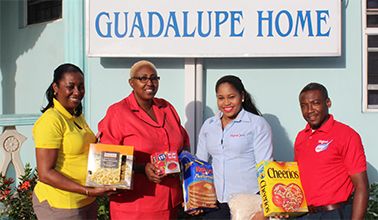 Digicel visits Our Lady of Guadalupe Home
The Catholic institution, the Our Lady of Guadalupe Home in Mesopotamia, received a much welcomed visit on Wednesday, January 7 from Digicel.{{more}}
The visiting delegation, which was led by marketing manager at Digicel Juno DeRoche, went to the girls' home specifically to make a donation of foodstuff to the home, which caters to empowering teenage girls at risk.
Administrator at the home Salene Dopwell said that the home, which has a capacity to house 16 girls, currently houses 13 and they are very grateful for the donation, which will go a long way in the feeding programme at the home.
"I am happy, overwhelmed, because this has come at a good time. We are trying to put the home on the map so we can get help, so I thank Digicel very much for their generous contribution and we hope they can continue to support us and also recommend us to others because we are looking after the girls of St Vincent and the Grenadines."
Dopwell said that the girls (age 12 to 18) are sent to the home through social services and the court.
While residing at the home, the girls, who attend various schools, are taught anger management and personal care and are provided with counsellors and remedial help.
Digicel's DeRoche said that the company is always looking at ways in which they can improve the lives of persons in the communities in which they operate.
"We are glad that we can donate to this institution, as we realize that here, they are making an effort to improve the lives of these girls who have been through one struggle or the other. We, at Digicel, pride ourselves on giving support to organizations that see it fit to make a difference," said DeRoche.