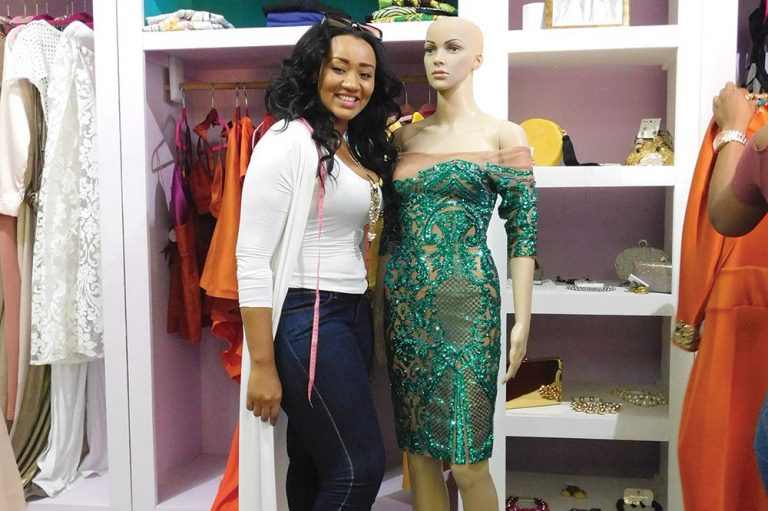 Local Vibes
December 12, 2017
Designer launches 2018 collection at Poshelle store
The 2018 collection by designer Lisa Cordice was officially launched last Friday at the Poshelle store.
The line, called 'Dress Up,' has been greeted with enthusiam by the public, as SEARCHLIGHT observed patrons grabbing their desired pieces off the hangers at the store, located upstairs the Y De Lima building in Kingstown.
Other patrons walked in to ask for pieces, only to learn that the items had already been sold.
Cordice said in this new line of clothing, she incorporated quite a bit of sequins into her design.
"It was inspired by the childhood game 'dress up', where little girls would dress as who ever they saw themselves as."
She said she chose to launch the 'Dress Up' line in December, because of the many events at this time which would require high-class fashion.
Her new line, however, also features colourful night-time to daytime pieces, for which she said colour was her inspiration.
"It took me a while to figure out what my own signature was, but I think my brand fuses artistry and practicality. So it's wearable, but it still has the flair, so it always has the impact," the designer said.
She explained that she also does special order designs and has made bridal gowns, which she likes to do, but they are not the main focus of the brand.
Cordice emphasized that she caters to women of all types.
"Women of all shapes, sizes and ages, I try to cater to them all because I truly believe that sexy and beauty has no size limit."
Her sizing charts are labelled 'Dainty', 'Foxy', 'Sexy' and 'Gorgeous'.
Cordice said it is her intention to extend Poshelle's reach to customers in the Caribbean and subsequently the international market.
"I have a lot of inspirational women in my life and I just want my brand to be an inspiration as well. To encourage them to never stop dreaming and never stop reaching for their goals and they should look fabulous doing it," the designer said.
The Poshelle brand, which was launched in 2010, caters to a range of clients, including the party girl, the 'It' girl and the conservative girl.(CB)