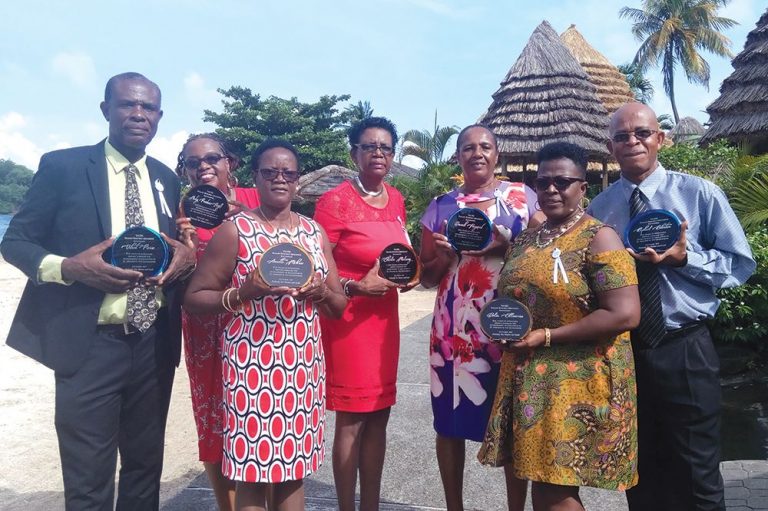 Local Vibes
October 13, 2017
Past primary school principals honoured for years of service
Thirteen past primary school principals were honoured at the Primary Principals Association Awards Luncheon, held at the Young Island Resort on Tuesday.
President of the Association, Joy Matthews, in her address, referred to the awardees as some of this country's greatest, whose contribution to nation building spans 424 years collectively.
"Today's session is to let you know that your contribution to national development and to educating our nation has not gone unnoticed," Matthews said.
Primary school principals who retired in 2015 and 2016 were honoured.
The 2015 retirees are: Venda Dembar-Smith, Erline James, Sherlin Maloney, Annette Mckree and Vibert Pierre, while those who retired in 2016 are: Kenneth Burgin, Gillian Dougan, Deanah Haywood, Godfrey James, Delia Ollivierre, Madge Providence-Hazell, Raphael Robertson and Carol Wilson-Ross.
Minister of Education St Clair Jimmy Prince, in his remarks, said life does not end at 55-60 years of age.
"It is an honour to be among teachers, especially those who have given great service and are taking their exit from this noble profession."
The minister said the experiences of the teachers can help them to continue to impact national development positively and he urged the retirees to see themselves as contributors.
"You aren't just any retiree; you are a retiree who has been interacting with people on a one-on-one basis for 30 years. Who else but the teacher?
"…That's how you should see yourself, not that you taught and that you went home."
The education minister noted that there were only two male principals in the group and expressed his concern about the limited male influence in the school system.
"I am thinking as a Ministry of Education, what can we do to encourage our men to become teachers?"
The atmosphere at the luncheon was relaxing and sometimes jovial, and SEARCHLIGHT got to see usually stern persons enjoying the ambience and company of colleagues, most of whom they do not see often.
The event was also attended by Ministry of Education officials and some active primary school principals.(CB)