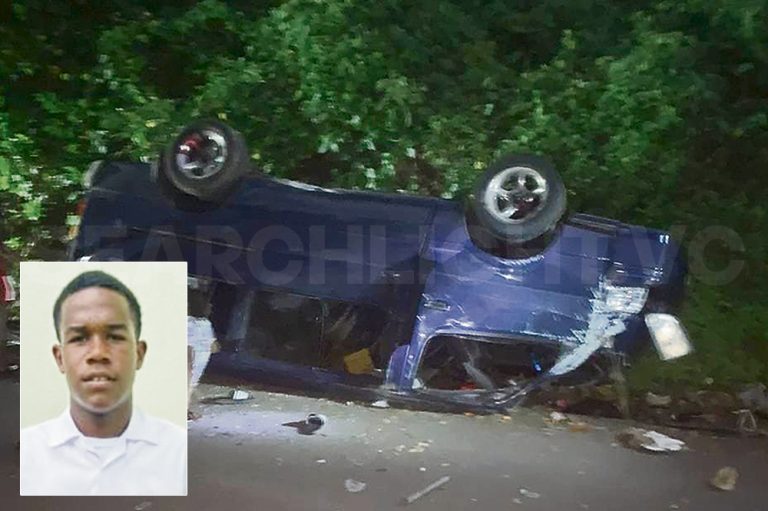 Mother of boy injured in van accident urges drivers to be more cautious
The parent of a student who was in a passenger van when it overturned last Thursday, March 2, is calling on drivers of these vehicles to drive with more care.
"These drivers need to be more cautious because they are carrying people in their vans. We are only humans and they can't give us back our life when we die," Kay Ballantyne- Bowens told SEARCHLIGHT.
Bowens' son, Kyle Bowens was a passenger in the 18 seater passenger van which overturned at Savannah Gutter, an area between Orange Hill and Tourama.
Bowens is a fifth form student of the North Union Secondary School and on the day of the accident, he and other students were returning home after a sporting event at the school.
After the accident, Bowens and other passengers were treated at the Modern Medical and Diagnostic Centre at Georgetown, and discharged.
However, on Monday, March 6, his mother told SEARCHLIGHT that the 17 year old student is still experiencing pain and discomfort.
"Just after the accident, he had no pain in the neck, but now he has neck pain and the doctor recommended a neck brace and I bought it for him," she said.
"He also has bruises on his shoulders, and he is saying they are itching him very badly."
Bowen also received minor injuries to his head and feet.
The concerned mother said that based on reports she received, the van was alleged to be travelling at some speed while it was on the road last Thursday evening.
She also claimed that some students in the van were shouting to the driver to 'slow down' but their cries went unheeded.
The van, HR981 is the same vehicle which was seen on video taking a corner at North Union on two wheels.
The owner of the van, PC Jayron Hull of Green Hill was driving the van on January 26 when the video was taken.
The police officer was subsequently charged with dangerous driving and had his license suspended.
Hull was reportedly the conductor of the van when it overturned last week.