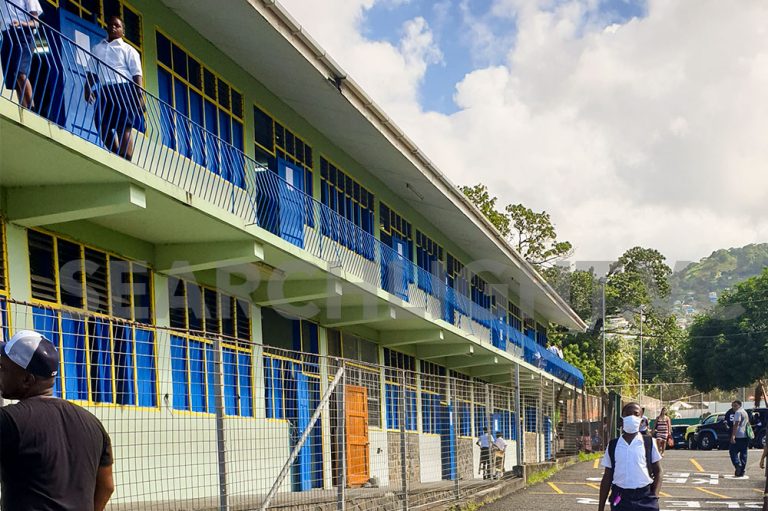 Front Page
February 21, 2023
KPS teacher stays off job because of threat on the restroom wall
A grade six teacher at the Kingstown Preparatory School (KPS) has refused to return to teaching her Caribbean Primary Exit Assessment (CPEA) classes, saying she fears for her life.
In a February 7, post in the KPS Room 27 WhatsApp group, which was created to interact with parents of CPEA students, the teacher said a threat was issued to her through writing on one of the walls of the girls' restroom and she was not taking the words lightly.
The message in the chat group stated, "Good morning parents, a threat on my life was discovered in the girls' bathroom yesterday…words to the effect that I should die or be murdered.
"I am taking this very seriously because we are living in different times. Some students at KPS live in less than desirable communities and I am not taking any chances with my precious life.
"I will not be at school until this matter is thoroughly and satisfactorily resolved. Please encourage your son/daughter to behave well and do the work assigned daily. Thank you."
The school is secured by auxiliary police officers, and officials at the institution took several days before finding a replacement for the teacher who was preparing CPEA students for the annual language arts examinations scheduled for May this year.
During the wait parents were upset about the absence of a teacher and voiced concerns in the chat group.
And while a replacement is now in place, the adaptation to a new teaching style by students who are a little over two months away from the transition exam, was an issue for some parents.
When contacted, a senior Ministry of Education (MOE) official said the issue was brought to the ministry's attention on Tuesday afternoon, February 14, 2023.
"We have taken it very seriously. I have asked that the MOE reach out to the teacher and offer our support and do a thorough investigation. I have asked to be kept informed on developments.
I know that the principal told the senior education officer (SEO) that the matter is settled, but I have asked that a report be submitted and the view of the teacher on the settlement that has been arrived at.
"I recommend that if the teacher wishes to have leave away from the environment while she deals with the situation that such leave (not indefinite) be granted," the official said.
A few years ago, a lower grade student at the KPS said an upper grade student brandished a firearm at him while he was using the boys' bathroom.
While the matter was reported to the school's management it was not reported to the police.
RELATED ARTICLE: Strong odour of paint forces Kingstown Preparatory School to send some pupils home (+video)