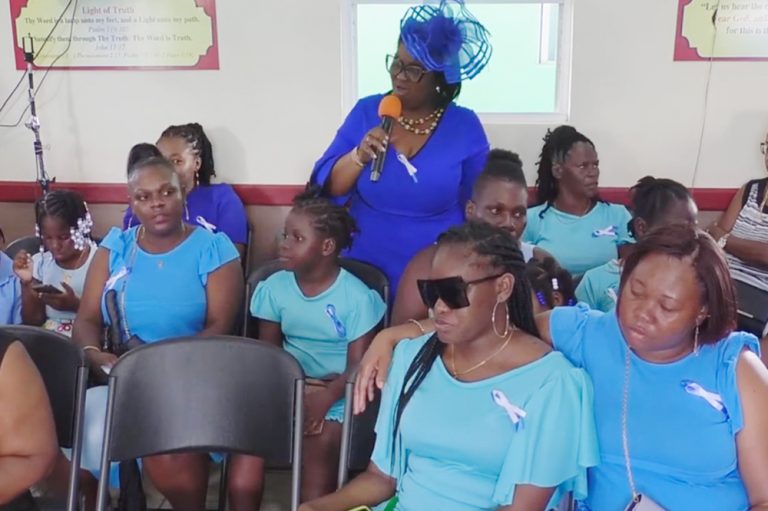 Front Page
February 7, 2023
Relatives send off Rayden Davis in a sea of blue
Turquoise, sky blue and royal blue – the funeral service for Rayden Davis was washed in a sea of bright colours when the toddler received his send-off following a months-long battle with an immune disorder.
He was laid to rest in a small Paw Patrol casket, his favourite television show, and dressed in a turquoise and grey suit.
The story of the sick toddler captured national attention last month, after his mother, Nadine Davis, vented her frustrations about the care he was receiving at the island's primary health care facility, the Milton Cato Memorial Hospital (MCMH). Medical staff were stumped for months trying to diagnose the health issues affecting the toddler and were not able to definitively state the cause of his illness.
Her social media posts rallied many to lend financial support for treatment of the three-year-old at an overseas hospital but this plan was hindered by the lack of a diagnosis. The toddler died on January, 18 at the Paediatric Ward of the MCMH.
Public outrage after Rayden's death was high, prompting the Ministry of Health to release a statement detailing efforts to properly treat the illnesses affecting Rayden which included infections of the blood.
Family, friends and the wider Richland Park community came out to the Church of God Seventh Day on Sunday, February 5, for the near three-hour service which featured tributes from the Guiding Light Preschool where Rayden attended and also from young and old family members.
Rayden's father, Randy Thomas delivered a special tribute to his late son, promising that the memory of 'Ray Ray' would never be forgotten. Thomas lived and worked in Canada for most of his son's life and in his speech he apologized to Rayden for being away.
"I am very sorry I was so far away… but I assure you that I was abroad making the arrangement that you would be with me someday. I wish we had more time…I would never recover from the loss of losing you. What brings me the most comfort is that you are no longer in pain. Even though you are not here with me in the body, I think about you all the time…you will never be forgotten."
Rayden was eulogized by relative, Shevone Samuel, who recounted the toddler as a playful and sometimes mischievous lover of "pizza and gummy bear candy". Samuel also commended Nadine on being a "supermum" to Rayden.
"The love they shared was unconditional…the super care you gave to him and the effort you made in documenting his every waking moment is now clear, as if these moments will now be a source of comfort to you and many others.
Member of Parliament for the area and Minister of Health, St. Clair Prince was also in attendance at the service.
Rayden was buried at the Richland Park Cemetery.
RELATED ARTICLE: Mom's fight to save sick toddler ends in grief