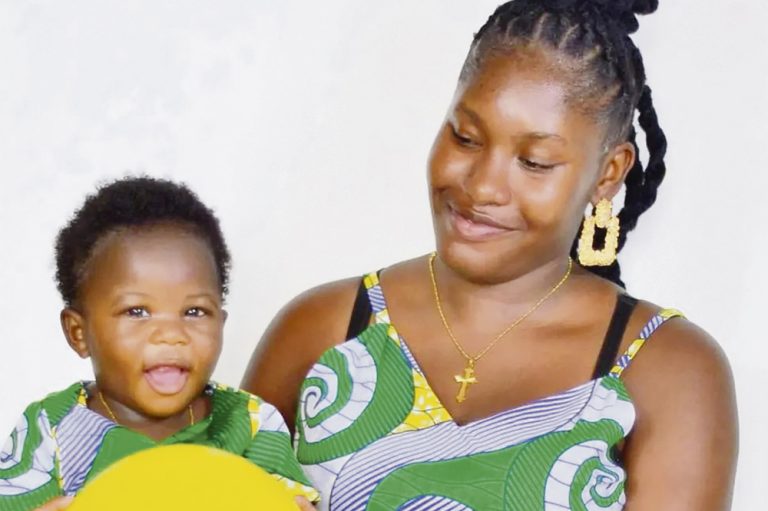 Front Page
January 20, 2023
Mom's fight to save sick toddler ends in grief
by Christina Smith
The last week of Rayden Davis' life was one filled with pain and suffering for the toddler as his mother, Nadine Davis, lay at his bedside stroking his head and speaking softly to him.
Rayden's almost nine-month medical battle ended on Wednesday, January, 18, at the Milton Cato Memorial Hospital (MCMH).
The toddler's medical troubles captured national attention recently after Nadine posted photos about Rayden's deteriorating condition showing the toddler with a distended abdomen, a swollen face and hooked up to tubes and an oxygen mask.
Nadine also posted information for a GoFundMe link to raise funds for his treatment overseas.
SEARCHLIGHT spoke to Nadine outside the Paediatric Ward of the MCMH hours before Rayden's death, where she said her son was in pain but "fighting" to stay alive, adding that she intended to continue to advocate for his medical care.
Nadine explained that her son was first hospitalised in June, 2022 with breathing problems. He was initially diagnosed with Sickle Cell disease and a blood infection. He was discharged after a month with medications; however Nadine said his condition never improved.
"…he stopped walk after that, he never walked again. So after that we were doing therapy and he never got better. When he came back, they did a couple more tests and sent [tests] away say it is only a trace of sickle cell he have, he don't have it full blown. So we were back at square one with that."
The uncertainties with Rayden's medical diagnosis continued with tests being conducted to determine if the toddler had leukaemia. That was ruled out and doctors said Rayden still suffered from a blood infection which led to him being hospitalised in October. He remained at the hospital from then up to the day he died. The mother said doctors suspected a disease which could be attacking the immune system of her only child. Testing continued but no definite diagnosis was given.
Attempts at overseas treatment:
As frustration mounted for Nadine, she had set her focus on securing placement for Rayden at a regional or international hospital, however, the issue of no diagnosis proved to be the hindrance to advancing Rayden's possible medical treatment abroad.
Desperate for answers and a cure, Nadine contacted hospitals in Canada, London and Trinidad and Tobago. She told SEARCHLIGHT that medical consultants in Canada agreed to meet virtually with doctors at the MCMH, however that meeting never materialized.
She also said a transfer to Trinidad was being considered by doctors, but this plan fell through due to the inability of local doctors to confirm a diagnosis.
"He [said] he wouldn't know how to treat the child so he wouldn't take him. That is why they cancelled."
While being interviewed by SEARCHLIGHT on the afternoon before Rayden's death, Nadine said she was informed by her son's father that doctors had made contact with the main hospital in Barbados.
"They (doctors) told his father that they contact Barbados, but Barbados wanted $200,000 upfront and they still not sure if they will take him."
At the time, an exhausted and overwhelmed Nadine said watching her son suffer in pain with no clear plan for his treatment infuriated her.
"The most frustrating part is that I cannot do nothing. You get days that I tell them just take off the things off of the child because he not getting no better, just antibiotics after antibiotics. The child was on three antibiotics for two weeks, then when the child come off and they test, they say he still get an infection. Three more antibiotics again. They say yes they identify it [infection], they say, yes, they using the right antibiotics, then when they test after that they saying another new infection again. Those [painkillers] like they not even working anymore."
Prime Minister weighs in:
During his appearance on Round Table Talk (RTT) on VC3 on the evening of Rayden's death, Prime Minister, Dr Ralph Gonsalves weighed in on the "troubling medical situation" affecting Rayden, saying that he had been informed about the child's condition and efforts were made by the government to seek care for him overseas.
"I understand that the mother came to see me but I wasn't there, or I wasn't available… we are willing at any time to send the child anywhere in the Caribbean where they will accept the child with the diagnosis," he said.
"Three weeks ago the Cabinet Secretary had made arrangements for the child to be flown out to Trinidad by air ambulance but he wouldn't be accepted in the hospital over there because they didn't have a clear diagnosis."
At the time, Gonsalves indicated that a statement from the Cabinet Secretary or the Ministry of Health, detailing the efforts made for Rayden's care, may be forthcoming.
Plans had also been made to host private events this weekend to raise funds for Rayden's treatment. Up to the time of publication of this article, the GoFundMe had reached almost Can$16,000.
RELATED ARTICLE: Grandmother seeks justice in toddler's death