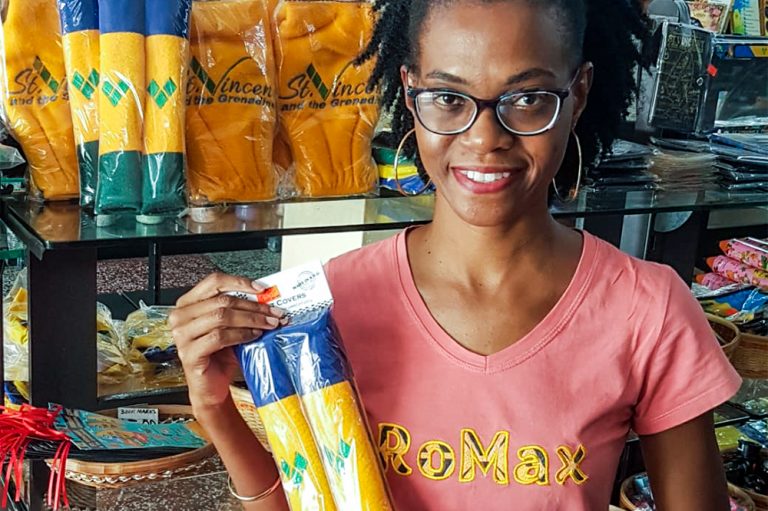 Front Page
February 7, 2023
Businesswoman encourages entrepreneurs to take advantage of social media
Notable entrepreneur, Roleza Samuel is encouraging aspiring entrepreneurs to take advantage of social media platforms rather than forcing themselves to conform to a traditional job.
Samuel is a fully self-employed retail business owner who makes much use of her passion and skills to create income and happiness for herself. Samuel told SEARCHLIGHT that in 2012 she purchased a vehicle but was repulsed by the state of the seat-belt covers, so she decided to create her own. In 2015 she transformed her skill into a side career and launched a small retail business called 'RoMax Customised Retail Accessories' where she makes and sells personalised seat belts, headrests, and steering wheel covers, including flag replica covers for most of the Caribbean Islands.
By 2017, Samuel had already redefined the car accessories market when she spoke to SEARCHLIGHT about being surprised at how well her business had taken off, but also the difficulty of managing a full-time job and her business, which suffered a blow in 2020 as a result of the COVID-19 pandemic. So she branched out and created a new aspect of her business. This aspect specialises in embroidered items such as throw pillows, baby items (blankets, pillows and onesies), tote bags, shirts, caps and general embroidery services such as business logos.
Now in 2023, Samuel, who is the recipient of a PRYME grant, is encouraging youths to pursue their passion as she believes that these times are the best to deviate from the traditional.
"If you're a young person fresh out of school, I would advise them to follow whatever are their goals or their passion or whatever it is they feel that brings them life. There's no reason why anybody needs to pursue- especially a young person fresh out of school… to find themselves in a traditional career that they are not necessarily going to be happy with," she told SEARCHLIGHT.
" Social media has made it way too easy for persons to promote either themselves or their product for persons to feel as though they have to go down the traditional route."
In fact, Samuel was able to propel her business when she obtained an embroidery machine that cost up to $10,000 from The Promoting Youth Micro Enterprises (PRYME) and Promoting Your Micro Enterprises (PRYME+) programme which awarded hundreds of Vincentians with grants ranging from $2,500 to $40,000 in order to assist them with their business endeavours. "Somebody who is already employed full time and who already has financial obligation same way in which I did, I would tell them that they have to be mindful of the time in which they do it. I'm not going to say no not to do it, but I would advise in cases, try to minimize before making that big jump."
Samuel also is encouraging aspiring entrepreneurs to have a range of products and services before going fully into business.
"…If I had decided to go fully into business with just RoMax vehicle accessories, then I may not have been comfortable in a sense because I would have been dependent on just one aspect of the business, so I would just advise to have a decent range of services before you decide to branch off on your own," she advised.
" I would also tell them that in cases where there's any opportunity [where] free money is available to capitalize on it. "Samuel however acknowledged that self doubt is a giant that every business person must overcome.
"You've already defeated yourself when you say, 'no I'm not going to get through, or this is for only certain kind of people'."
Samuel said she knew in the case of the PRYME grant, "a lot of people did not take it seriously until names on the list started coming out, and that is when people were scrambling to apply for it, but any opportunity that is out there for you to capitalize on grants, especially when you don't have to pay back any money, capitalize on those opportunities and you have to make the start, you have to take the initiative".
RELATED ARTICLE: 13-year-old producing his own shoe polish brand