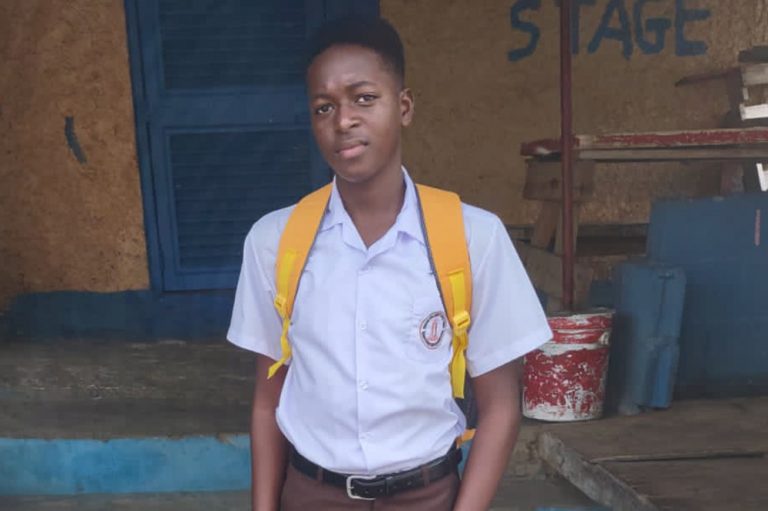 Front Page
February 3, 2023
13-year-old producing his own shoe polish brand (+video)
Since he was just a child, attending primary school, Carlisle Richards started showing an aptitude for business.
Now that he is in his early teens, Richards is making a name for himself by producing and selling his own brand, Lavish Black Shoe Polish.
In an interview with SEARCHLIGHT on Monday, January 30, the teen's mother expressed much pride in him, especially for his entrepreneurial spirit at such a young age.
Mom, Tirieann Mc Dowall said Carlisle is her only child and she is very proud of him.
At present, and still at secondary school, Carlisle is already earning an income, and hopes to earn more in the near future.
The San Souci resident said her son began showing off his business skills since he was a pupil of the Colonarie Government School.
"His father is overseas, and used to send snacks for him when he was younger," Mc Dowall related.
"He would never eat all; he will save some, package some, and carry them to school to sell," Mc Dowall recalled.
She said her son saved whatever money he made from his sale at school.
Now that he is in secondary school, Carlisle has embarked on another business venture which has tremendous potential.
Carlisle is now a second form student at the George Stephens Secondary school at Colonaire.
The young lad told SEARCHLIGHT that he started his shoe polish business during the first week of January this year.
"I have a pair of black Clarks shoes, and I wanted to find a way to get them well cleaned and polished," he explained.
"I went on the internet and I started to search." Carlisle found a site showing how they made black shoe polish from old vehicle tires.
"I tried this method, and I added my own twist to it, and it worked very well."
Realizing that he had struck a potential income earner, Carlisle's business sense kicked in almost instantly.
Within a short space of time, he was making more black shoe polish not just for himself, but for sale to his school mates and other persons.
Reflecting on the start of his new business, the secondary school student said that after everyone loved how his shoes were nice and shine "an idea popped up in my head, that I should start selling my polish."
"The kids at school used to ask me how my Clarks so clean," he shared.
The fast thinking youth said he then bought some small containers, made more polish, and began selling his product Lavish Shoe Polish.
At present, he sells a small container of polish for $5.
While he started off selling most of his polish himself, he now has other persons selling his product in Kingstown.
Carlisle also sees further growth for his business; soon he hopes to be able to produce the polish in bigger containers.
Asked if he is thinking about going into other colours, the young businessman said for now, it will just be black.
Apart from the old tires, which he gets from a tire shop nearby, Carlisle said there are other ingredients to the mix in making that perfect polish.
However, like a true business mogul, he is not revealing certain secrets about how he makes his shoe polish.
Looking to the future, the 13 year old also sees himself someday creating and owning his own t-shirt brand.
Carlisle may be young, but he has big dreams, and wants to be able to assist his mother.
Outside of academics and business, Carlisle is also into sports, especially the game of Cricket; he is encouraging other youths to stay in school, and to always strive for excellence.
By putting the old tires to use, Carlisle is proving that one man's trash, is indeed another man's treasure.
[[UPDATED on February 4, 2023 at 11:05 pm to state that Carlisle is a second form student.]]