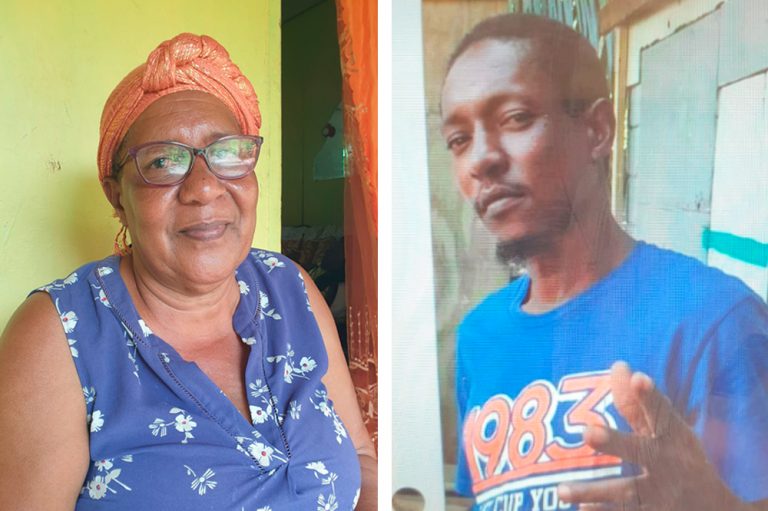 Front Page
January 31, 2023
Sion Hill gunshot victim had huge plans says Mom (+video)
Farmer, Daniel "Tiger" Isaacs had huge plans. Among them, moving his mother, Kerene "Aunty K" Isaacs from the house she now occupies into more spacious and posh accommodation.
But the 39-year-old's dream of a more comfortable life for his mother would never be made a reality through him, as Daniel lost his life on Sunday morning, January 29, when a hooded gunman shot him dead in Sion Hill.
Reports are that Daniel was at a shop in the East Kingstown community known as "Vegas", when a lone, hooded gunman shot him twice where he was standing and a few more times when he fell to the ground.
"He had big plans you know. Sometimes when he come down here, he would say 'ma, I moving you out of this old place ah nah, ma I moving you out of here', but ah, what you go do boy?" Kerene commented to SEARCHLIGHT on Monday while sitting on the porch of her Dascent Cottage home.
"It is a sad situation…I mean…I'm satisfied, I can't say anything more than to say I'm satisfied, because I don't know who do it and I mean he didn't have no enemies," she added while stressing that people always spoke well of her son.
"Yes we know we children have their good ways and bad ways but Daniel…boy I tell you…he was a loving child," she said.
Kerene said she last spoke to Daniel about two weeks ago when he returned from the mountains where he farms and at that time, he told her he was going to take something for a friend and return to bring her "a change", but she never saw him again.
"I always does tell him, 'go in Jesus name' and that is the key word from ever since," said the mother of seven children, Daniel being the fourth.
She said he was born on July 27, 1983, and is the father of two boys, Nickron and Darius.
"I can't do nothing. I can't say much so I just say well, I just satisfy, because the circumstances, whatever come, I just satisfy because there is nothing I can do. Yes, I will cry, but that can't bring him back.
"He was a loving child and everything he talk is 'ma'. Everything he say is 'ma' although he have some ways in him, but to be honest, he never cuss me," she related.
"Don't care what I tell him, he will just go, and sometimes when he get me vex I take he clothes and ah pelt them and say 'come pick them up' and he just pick them up and put them back," Kerene said of her son.
She added also that he would normally frequent the spot where he was killed to check a friend she knows as "Kaka".
"That was his liming spot," she said, while noting that he was originally from Kingstown Park.
"He was a cool youth. I don't think anybody have anything bad to say about him. Too many gun crimes, and he didn't deserve to dead so," Kerene stressed.
She said she has not yet seen his body and is waiting on the police for information on the autopsy and other matters.
Sunday's shooting takes the homicide count here for 2023 to six, this includes two men who were shot by the police.
RELATED ARTICLE: Ottley Hall man charged for December 2022 Paul's Avenue murder