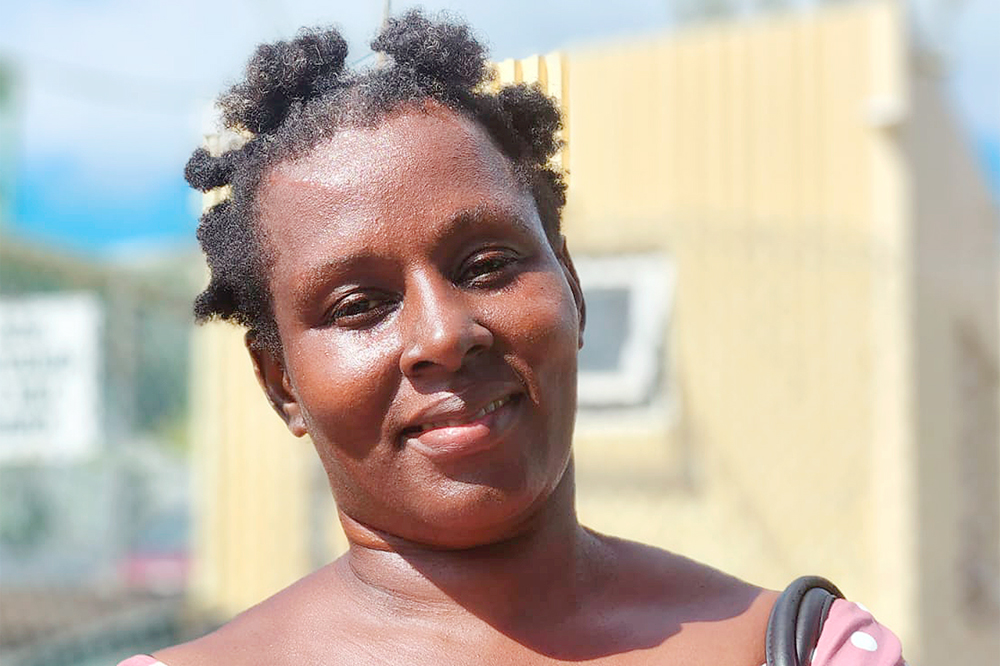 Front Page
January 17, 2023
Nursing School drop-out rebounding after nervous breakdown
Small business owner, Antonia Kemar, continues to thrive, but on the streets of Kingstown after dropping out of Nursing School following a nervous breakdown.
The 41-year-old who sells products on the street, spoke to SEARCHLIGHT on Friday, January 13, about the trauma of having to watch her education at the St. Vincent and the Grenadines Community College vanish after having suffered a nervous breakdown; and the shame that accompanied it.
"To tell you the truth, I don't even want to think about that sometimes because…a lot of people, a lot of family, stop seeing me the same because…you know when you done go [to] school…everybody done have their high expectation, you're going to become the doctor, the lawyer…some sort of politician or something like that…".
Kemar said that now it's as if she is being seen in reverse. This is particularly so for her younger sister who struggled to adjust to Kemar's new life.
"My sister…always used to look up to me, and she always used to say 'well I have this, I went there' because I used to travel a lot…but when you're just not that person any more to them, it's like they don't know…what to do…", she shared.
Kemar said that she backed herself into a corner as she felt alone and ashamed.
"I think I was responsible for myself there, because I was the one who chose to be ashamed and judging myself on what people would think. Pride would do a lot of things to people, you would think it's something simple, and then what you don't realize is how you would end up in the future when you don't make the right choice for yourself," Kemar continued.
Though she kept her struggles to herself, she is encouraging others to do otherwise.
"…You can't be somebody who is afraid to go and get help. Once you realize you need help, you go on, you get it, don't be ashamed, don't be afraid because guess what? When others might be talking and, maybe, laughing at you, they themselves may need help…and their parents may hide it, and they will carry them somewhere and where that leaves you? That leaves you to be the one without the help, who didn't get the help…"
However, Kemar is not wallowing in self pity herself. In fact, after her nervous breakdown, she participated in the Youth and Adult Training For Employment Programe(YATE) at the Kingstown Technical Institute in 2019, studying data operations. She said she pursued these studies just in case she might land an office job. Unfortunately, she only landed a few part time jobs.
So, she then decided to start her own small business where she bakes cakes and makes drinks such as coffee, punch de creme, and various wines. She has a stall at the new Down Town Market.
However, Kemar said that sales have significantly declined since moving into the facility, and that walking around Kingstown with a few snacks, which she still does, produces a larger profit than the goods she sells at the new market.
Still, Kemar does not see life as a street salesperson as difficult, as it is now becoming a part of daily life.
"It is something that you just have to get done because other than that, you have no home, so there's nothing. You have no food, you have no clothes…you have nothing! It's something that even though you don't like it at first, you have to grow yourself into loving it…"
She also spoke of the challenges she has had with fathers in her children's lives, saying that they often compliment her business, but leave whenever there is pregnancy. Kemar said she loves her children, but is suggesting to others not to have any. "Don't trust anybody, always make your own decisions, don't have any children, don't have man."
She also used the opportunity to encourage youths to be ambitious. "Always establish yourself, always find something to do, always find something to get done and get good at it, whether it's sewing, knitting, creating stuff, always find something to do," she urged "Don't be afraid to learn something, you might see something and wonder…how they are doing that…
Go on the internet and search, show it to [someone and say] I want to learn how to do it. Don't be afraid to ask questions…because when you're old and you reach them age here, you mightn't always be in the office work and…you might need to go and do some something off your own, what are you going to do when you can't do anything? When you can't make a jewellery? When you can't bead a jewellery? You can't stitch a shirt? Can't make a purse?" she questioned.
Kemar's baking business is a living example of the benefits of having a skill when all else fails.
RELATED ARTICLE: Message on World Mental Health Day