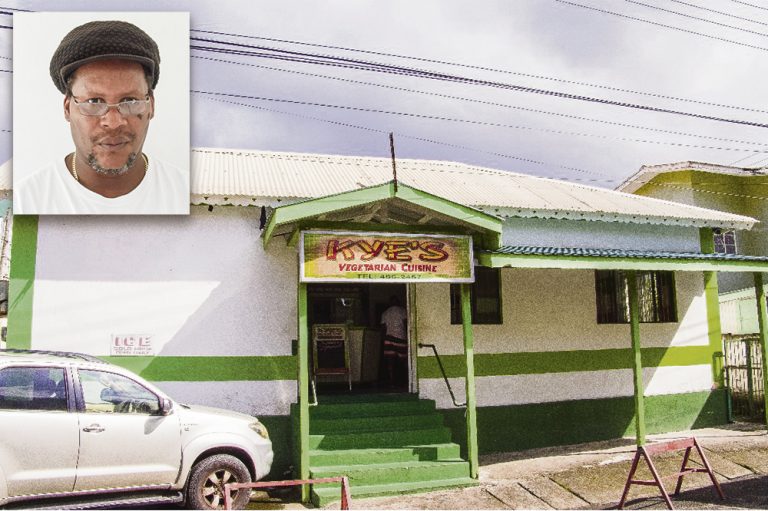 Front Page
January 13, 2023
Veteran restauranteur, 'Kye', dies at age 66
If a Vincentian mentions they are having "pie and peas" for lunch, chances are they are dining at Kye's Vegetarian Cuisine in Paul's Avenue.
Arguably one of the most popular food spots in Kingstown, the restaurant has lost its founder, Michael 'Kye' Sylvester, who passed away on Tuesday, January 10 at age of 66.
Sylvester left the shoemaking business for food operations back in the 1980's selling from a small alleyway in Paul's Avenue where he resided. As time passed and the popularity of the "pie and peas" menu option grew, Sylvester moved to a bigger location in the mid 1990's with a focus on vegetarian dishes, including pizza, burgers, chunks, roti and soups, as well as natural juices.
It was in 2012, that Kye's relocated to its current location, and the restaurant has been able to successfully navigate challenges which have been known to cripple businesses in the food service industry, such as the increasing cost of overheads.
The family tells SEARCHLIGHT that for Sylvester, price increases were a last resort considering that many of the restaurant's customers are school children.
During the COVID-19 pandemic, the restaurant faced difficult financial times, however, they were able to maintain the full staff complement despite experiencing significant declines in revenue and still having to pay rent and other expenses.
Family members described Kye's Vegetarian Cuisine as a "staple in the Paul's Avenue community adding to its rich history of sports, culture, academics and dining".
In light of Sylvester's death, the restaurant will continue to operate under the management of his wife.
Sylvester was a father of five children, with one deceased son who was shot and killed back in 2016.
RELATED STORY: Chef de Grill owners help youths establish car wash in Roseau