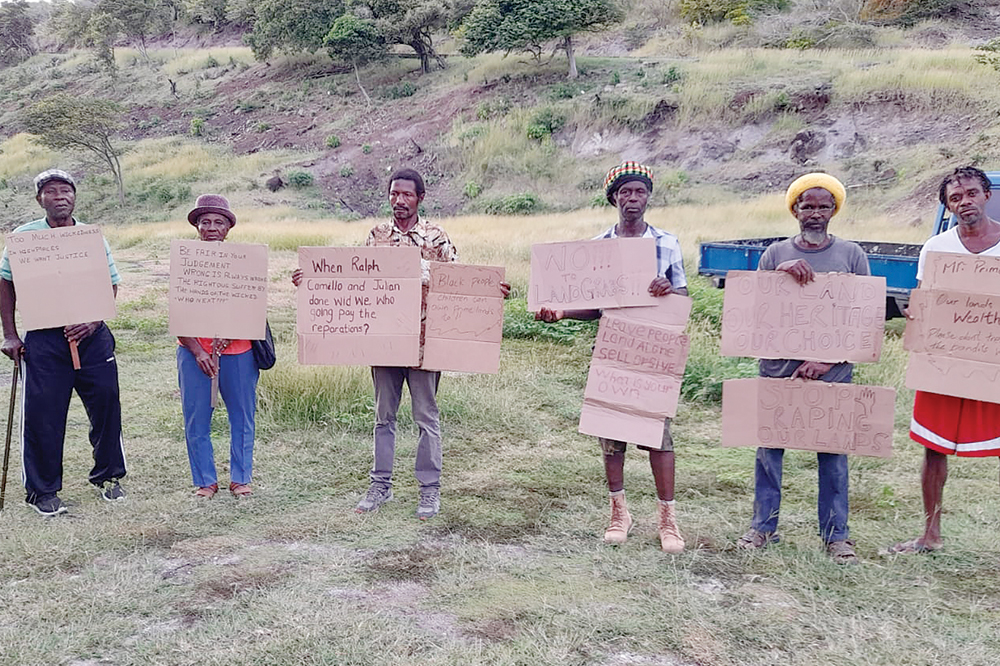 Front Page
December 9, 2022
Union Island residents protest Government's acquisition of 10 acres of beach front land
A picket mounted by a group of residents on Union Island last Sunday, December 4, to protest the acquisition by Government of 10.75 acres of beach front property appears to be in vain, because according to the Chief Surveyor, all that remains is for the previous owners to be paid.
But Fitzgerald Hutchinson, one of the persons directly affected by the acquisition said the protest was held to show the Government that they are "willing to fight for their future and the future of their children in relation to their lands."
The Government declared, in the October 18, and October 25, 2022 issues of the Government Gazette, that the parcels of land, belonging to Bert Davis, Grenadines Development Co. Ltd., Apollo Knights, Witcliff Hutchinson, Minors and CWSA and "whom else it may concern," would be acquired for "a public purpose, to wit, for hotel development" and would be vested "absolutely in the Crown".
Hutchinson, one of five children of Witcliff Hutchinson (deceased) said he and his relatives only learned about the acquisition of their three acres of land on November 14, describing it as "quite a big shock".
"We are quite surprised that our land…can be taken away from us to be given to someone else for development of a hotel….
"This is all we got, and we have to pass it on to our generation. As it was passed on from their forefathers to them."
He said he and other residents of the island have plans to develop the area and had already cleared the land and placed picnic tables there when they learned about the acquisition.
"We can develop this area just as much as anyone else," he declared.
Hutchinson told SEARCHLIGHT that they had been approached by developers who were interested in buying their land, but they declined. He suspects that now that the Government has acquired the land, it will eventually be sold to those same persons, who have already started developing adjoining land.
"We have worked our backs out in the sun to obtain such a piece of gold and now the gold seemingly wants to be snatched away under our feet? No, we have to do something about this!"
Wayne Regis, who was also on the picket line said he is disappointed in the manner in which "this so-called progressive government is treating its nation and nationals".
He said he had long warned residents of the island that they would be next, after the acquisition or sale of lands for tourism projects in Buccament, Canouan, Bequia, Mustique and Mayreau.
He said though they are few in numbers, their voice must be heard.
"We will continue to protest until something is being done. This is only the beginning, this is only the smoke of what is to come," Regis said.
Chief Surveyor, Keith Francis however told SEARCHLIGHT that the acquisition is complete and all that is left is for the owners to be paid for the land.
"We have completed valuations and requested that the 'owners' provide proof of ownership to the Attorney General so he can do the title searches," Francis told SEARCHLIGHT yesterday, December 8.
He said although the Government has a valuation for the property, it is a starting point for negotiations with persons who provide proof of ownership.
"… But the final figure can be adjusted, based on the outcome of the negotiations."
Francis said the "biggest issue" in this matter is that several persons have claimed ownership of the same lots of land.
He explained that hotel development is considered a public purpose for the purpose of acquisition based on rulings of the East Caribbean Supreme Court, with precedence being set in several Caribbean jurisdictions.
RELATED ARTICLE: The Union Island tourism Board kick-started the island's tourism season this year with a bang.