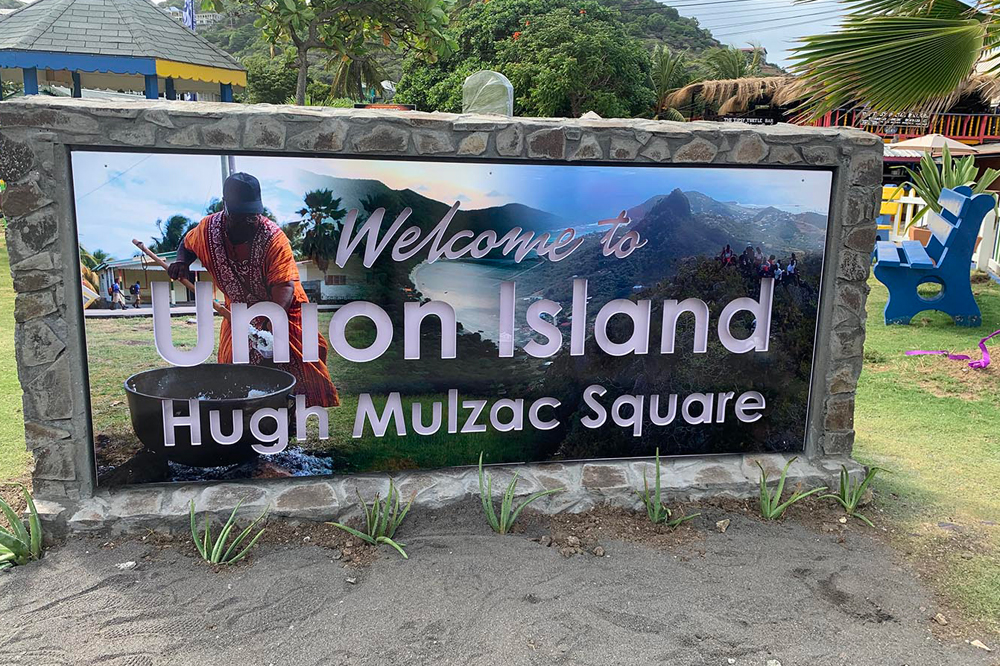 Union Island kicks off tourism season with business expo, unveiling of Hugh Mulzac cenotaph (+video)
THE UNION ISLAND tourism Board kick-started the island's tourism season this year with an expo, the unveiling of a 'Welcome to Union Island" sign, and the unveiling of a cenotaph in celebration of the late Captain, Hugh Mulzac.
The business expo which was launched last Friday, December 2 was to give entrepreneurs on the island the opportunity to showcase their products.
Caroline Samuel was among exhibitors at the expo. She told SEARCHLIGHT how her husband, George started making craft items from conch shells.
After the conch festival last year, a number of conch shells were left lying around and he decided to do something with them.
So, George began making pendants and other jewellery from the shells.
Caroline said that the business has been rather slow but she is hopeful that it will pick up now that the tourism season has opened.
Kathleen Samuel operates Kathleen's Baked Goods. The former educator told SEARCHLIGHT that baking had been a side business but it has now become permanent since she left teaching over the COVID-19 mandate.
She does pastries and cakes and would usually take orders for them. At the expo, Kathleen had coconut tarts, cranberry scones, oatmeal cookies with walnuts, and chocolate cakes on sale.
She thinks this year's tourism season will help to bring awareness to her business and is hoping to see increased sales.
Maria Alexander who operates 'Maria's Crochet' said she started her business many years ago making chair backs and hats. Today, her business has evolved and she now makes a variety of crochet items including bags, belts, bonnets, and clothing. She also makes baskets and bags from recycled tin caps.
She said her work doesn't take up much time because "once you know your work its okay."
Despite the challenges faced during the COVID-19 pandemic Alexander said that her business is coming along well and hopes that the tourism season well help give her an extra boost.
Millesia Gellizeau was also among exhibitors at the expo. She said that she began her key chain business in April, 2021. At first, she was doing if only for herself, her family and friends but then branched out to make different craft items.
Her craft is mainly beach themed made with sand and shells found on Union Island.
Gellizeau said her craft items can be used as gifts or souvenirs.
She said she has been getting a positive response since the business started and expressed being grateful for the exposure as not many people knew about her craft before.
Mazlin Lewis started operating her business along with five of her siblings.
The business is primarily focused on manufacturing by-products from sea moss and they have three lines of products.
There is food and beverage; cosmetics; and dietary supplements. Under food and beverage they do sea moss popsicles, a sea moss pan cake syrup, and a body builder tea as well as a detox tea.
The cosmetics comprise a turmeric body butter and a hair cream; while there are dietary supplements available for blood pressure care, blood sugar care, as well as natural sea moss capsules, weight loss capsules and sex health capsules.
Lewis, further said that the initiative to start the business came because of the need for employment. At the time they started only one of the six siblings was employed.
However, she said since the business started in September it has been tremendous, their main focus being to promote health and wellness.
SEARCHLIGHT also spoke with Dorette Cooper and Dana Prima who operate Dorette's Catering. Cooper said her signature dish is conch chowmein which is loved by many patrons.
The duo also had on display sponge cakes, coconut sweet bread, honey mustard ham and bread which were quickly sold out.
Cooper explained that she runs her business on Union Island but also does catering on mainland St.Vincent. She said business has been going well and she believes the taste is what captivates patrons as she loves cooking and ensures that everything is done well.
St. Clair Stapleton is a distributor of Red Leviv fruit herbal supplement made from Pomegranate, Acai Berry, Mangosteen, Gogi and Noni.
He said the drink has many benefits such as fighting fungi, viruses and bacteria; maintaining a healthy blood pressure; improving digestion; and generally preventing chronic illnesses.
Stapleton claims that the drink gives the body the power to heal itself and it has been helping a lot of people. He told SEARCHLIGHT that he also produces the green leviv which helps to detox; the cran aloe which helps ladies with menstrual pain and fibroids; as well as the pure noni for inflammation in the joints.
"They are all natural supplements and when you consume them you are going to experience goodness when it comes to your health" Stapleton said.
After the expo, a short ceremony was held by the Union Island Tourism Board to unveil the new tourism welcome sign and a cenotaph in honour of Caption Hugh Mulzac.
Mulzac was born on Union Island and rose to the rank of Officer on an English ship during World War 1.
He was also the first black man to earn a United States Merchant Marine Masters license.
At the ceremony Director of Grenadines Affairs, Edwin Snagg gave remarks and encouraged persons to keep the Hugh Mulzac Square clean and as beautiful as it is at present.
And, chairman of the Union Island Tourist Board, Stanton Gomes said his board is on an aggressive campaign to market Union Island.
Gomes referred to the slogan "Tourism is everyone's Business" as he urged those present that even though they might not be directly affected by tourism it is still their duty to protect the industry because somewhere along the tourism chain they may be impacted.
Anita Adina Regis, a senior resident of Union Island cut the ribbon to unveil the new tourism sign which was constructed from stone wall and sponsored by the Tobago Cays Marine Park.
And the cutting of the ribbon for the unveiling of the cenotaph was done by Margaret Wilson, the great niece of the late Hugh Mulzac.