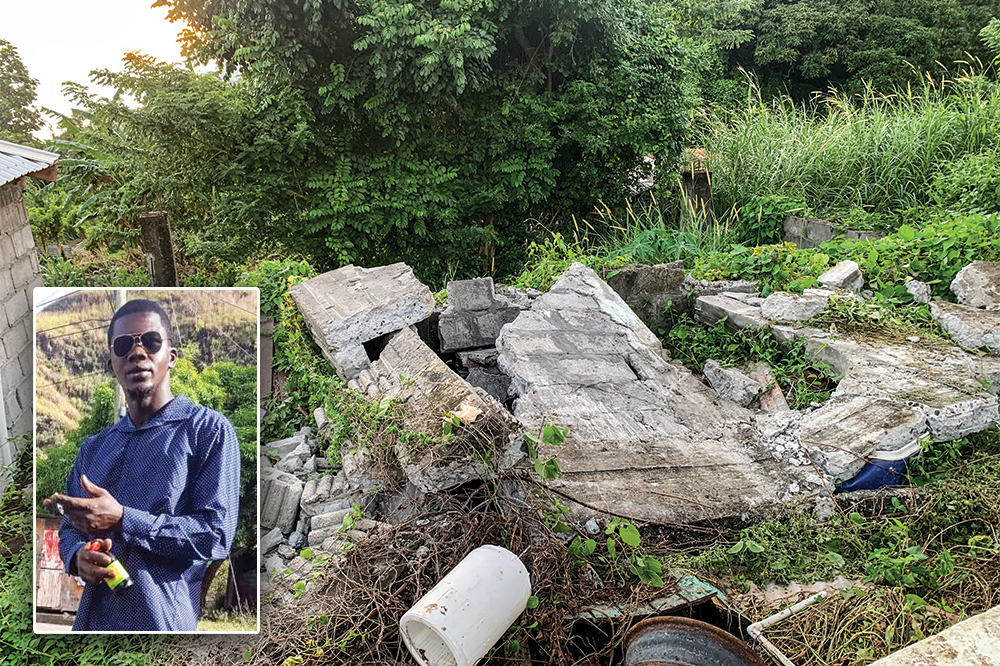 Front Page
December 2, 2022
Wall collapses killing 'Skilled tradesman' (+Video)
Edison 'Bumpin' Trimmingham was a tradesman with a hustling spirit and drive to succeed.
This is how the 29-year-old Clare Valley resident who died in a freak accident on Tuesday, November 29 is described by his mother, Mauritha Trimmingham.
Edison was crushed by a concrete wall while doing work at an unfinished and abandoned house in Lower Questelles.
SEARCHLIGHT understands that Edison was hired as a workman to fill the unpaved road with gravel as heavy rains over recent weeks, hindered the movement of vehicles in and out of the area.
The process, as was explained to the SEARCHLIGHT team, required Eddison to use a sledgehammer to break off pieces of the concrete wall from the unfinished house. He then chipped up the wall into smaller pieces and transported it off the property to the dirt road to fill the muddy areas.
The week of November 29 was Edison's second week on the job when, around 5:00 p.m, he struck the wall towards the front of the structure and it collapsed, crushing him beneath it.
The alarm was raised by a resident from the community and people went to assist the trapped man.
SEARCHLIGHT was informed that up to 10 men worked for over an hour to save Edison. Some lifted the wall while others inched Edison out. It was just after 6:00 p.m when the group was able to pull him out but by this time he had already died.
His mom told SEARCHLIGHT that on the evening of the accident, she was preparing to head home when she received the news.
"Me been going home yesterday evening when rain start to come. When me reach by the crossroads, cause me does sell down here in a ice box, a friend come and tell me they hear my son get in an accident and they not sure if he going make it. I go for my last daughter and we go over."
The mother of 10, with Edison being her fourth child, said when the family arrived at the site of the accident Edison had already been placed in a body bag and she was asked by police to identify him.
Trimmingham said Edison's siblings, the youngest aged 8, are heartbroken by the sudden loss of their brother.
"The first sister dey bawling still. He used to say that was the mother because when he ask for certain things and I don't have it to give him, the sister does give him."
She recalled the good times she spent with Edison's father while pregnant, noting that his size and stature made him fit for the hard work he did.
"Me and he father used to go river catch cray fish. I eat nuff callaloo and bread nuts and that is how he come big. Any work people call and tell him, him muss come work he always dey pun the hustling. He do all kinda thing."
Commenting on the recent tragedies affecting the Clare Valley community, including the deaths of the five men who died in a vehicular accident, Trimmingham said "Everybody have to be strong now and come together."
She revealed that Edison had recently lost his cousin, Moriesea Roberts who is also from Clare Valley, to an illness back in September.
SEARCHLIGHT was informed that Edison's cause of death was crush injuries.
RELATED ARTICLE: Survivor of collapsed rum factory wall needs help – Mother
Man killed in collapsed wall incident was set for marriage in August