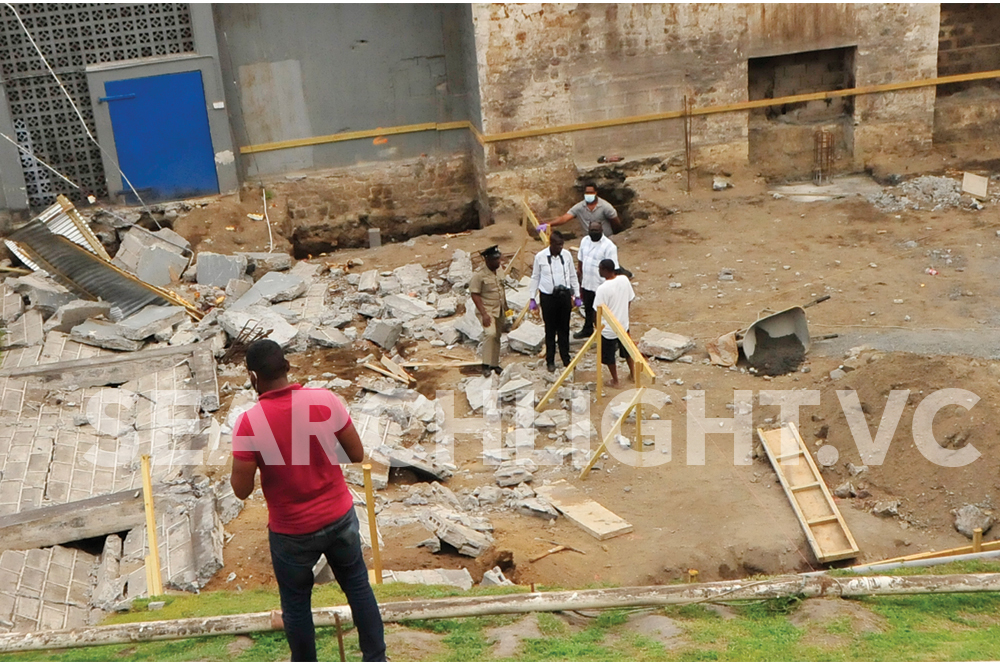 Man killed in collapsed wall incident was set for marriage in August
by Katherine Renton
A fatal incident at the St Vincent Distillers Ltd has resulted in a woman losing her beloved partner who she was supposed to marry in August, and a son losing his father.
The sole survivor, 20 year old Cameron Moore, remains unable to walk and has to be attended to 24/7 at the Milton Cato Memorial Hospital (MCMH).
Delarno 'Scrapey' Spencer, 44 years of New Adelphi, began his 13 year long relationship with Judy Prince in Tortola where he was working and she was on vacation.
They have been inseparable since, and have lived together for over 10 years.
"Baby love I coming home later for us to go pick the breadfruit," was the last thing that Spencer said to Prince before leaving to go to work on Monday, February 7, some minutes before 7 in the morning.
However, hours later Prince found herself having to find transportation to take her to the Distillery in Georgetown where Spencer's body lay broken beneath material from a collapsed retaining wall.
Prince and close friends and relatives were gathered at the couple's home on Wednesday, and spoke about the kind of person Spencer was.
They said that the whole community has been mourning for him.
"Everybody cry, everybody tears come from they eye," one man related.
They said that there was "no better person", who was willing to do anything for anyone once they asked. He was very popular.
"Every village you ah go they say 'Scrapey! What's up?' 'Cupcake man you nah sell today?'" a woman recalled.
He would sell the pastries that Prince and his cousin baked.
Speaking about the day of the incident, one woman said, "You know for the whole day, the day was dark, the country been dark.
Everybody been ah think ah Soufrière been erupt again ennuh."
They recalled that Prince felt unwell after Spencer's departure but she could not reach Spencer via the cellphone.
A woman explained that if Prince said some part of her isn't feeling well Spencer would stay at home from work.
"…If she been get Scrapey (on the phone), Scrapey woulda come home back. He woulda leave he work and come home after she nah feel good," one man noted.
It's a rough situation, he said, and they can't cope at all.
Prince has not found out what exactly happened as yet. She said that the person who gave Spencer the job told her that the information he got is sketchy and that when he has the full picture he can explain.
Fairhall resident Nigel 'Maxwell' Seales who is in his early 50s also perished on the spot.
Seales had apparently been living in Canada, and came back to St Vincent and the Grenadines(SVG) relatively recently.
He is described as a secretive person by his brother Richard 'Dreddy' Stapleton who told SEARCHLIGHT he last saw Nigel about three weeks prior to his death.
"One of his rasta partner came, his friend came. Well I didn't even realise it was that Max…" he said, because the name is common.
"And then my sister went home from here and then called back and say is our Max," he said.
Commenting on the incident, Stapleton explained that he used to work in Construction in Canada.
"I is a construction worker myself and I is a safety man," he explained, …so I know about precautionary measures first and foremost you know what I mean?
"It's vital to take precautionary measures with dilapidated buildings," he said.
'Dreddy' returned to SVG earlier than his brother, and operates a restaurant and bar in Calliaqua.
"He used to work with me in the construction up there (Canada) and then he went and do his own… cause he fraid ah heights, now he come down and do the same thing… Fraid ah heights bad."
Stapleton also said, "To me, as I see on the phone, that's a standing wall there just waiting to kill somebody. Okay you have that up but that don't have no jacks you know, to say well boy keep this up until we're ready to place another wall and then columns to keep it firm, you understand?
"That is a standing wall, a lone wall, waiting for chaos," he opined.
"Where we work up there in Canada, we work extra safe. We don't play. A safety man is always there," he said.
Seales apparently lived alone but he has a son who lives at Green Hill.
When asked what he would like to see happen now Stapleton replied, "Well his son being compensated and they give him a proper burial."
The SVG Distillers Ltd was contacted on Wednesday. The person who spoke over the phone said that the manager was not in and "we have nothing to say". They did not know if the manager would be in for the day. The following day the manager was still not in.
Cauldric 'Punty' Fraser, the proprietor of Fraser Construction, which was contracted for the job, told SEARCHLIGHT by phone yesterday, February 10, that he thought the best person to speak with would be project manager, Sendi Haynes as he is more present on the site.
"I'm [not] in a frame of mind to do much talking right now," he also said.
In terms of insurance and compensation, he also said that he cannot answer that right now.