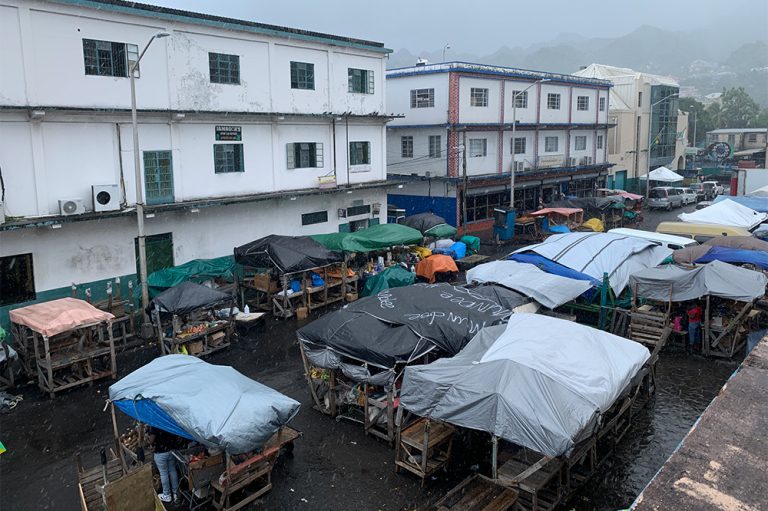 Front Page
November 11, 2022
Vendors outside P.H. Veira building worried they will be asked to move (+ video)
by Christina Smith
Rumours have been circulating about a move to relocate the vendors who ply their trade along the perimeter of the P.H.Veira Building in Kingstown.
And, those likely to be affected are anxiously awaiting word from the new management.
Last week the directors of P.H.Veira Company Ltd. announced that they were handing over operations to a new company. The switch over is expected to take effect on November 17, with all 77 workers to be rehired by the new owners.
SEARCHLIGHT spoke with the vendors outside the building located at the corner of Bay and Bedford Streets, who say they have been hearing reports that they will have to relocate from their usual place of business.
They think this will be done by the new owners.
And the vendors say they are concerned about their livelihoods being affected.
"I am concerned about it. I not working nowhere; my children going school and I just come on the street side to make a little money to send them school.
"Veira does 'low we because we have to live too. We waiting to see if them go tell we anything, we looking out still," vendor, Chermaine told SEARCHLIGHT.
One woman who declined to give her name said if the vendors are forced to relocate, they should not kick up a fuss.
"If them [new management] ain't want nobody next to the building … nobody can't vex with that."
P.H.Veira Company Ltd. has been operating from the location for 80 years, and Beverly Douglas said the previous owners did not raise issues with vendors operating from outside the building.
"We not obstructing them so if them move we, what are we going to do now? she asked.
"We here how much years with P.H. Veira and we have no problem, they have no problem with we. If the new management coming now, why they talking about moving us. This is our living. If they say we can stay here, I grateful for that."
Joan Frank told SEARCHLIGHT, she has been vending for over 30 years and she hopes that the new owners will allow the vendors to stay.
"Is here I make my income, is here I live by. So if new management decide that all who in the road and the side walk- they can tell them shift one side. Me ain't know, but we just going watch and depend on God."
The Ministry of Urban Development has announced that next Thursday, November 17, two new vegetable markets on Bay Street, Kingstown will be opened.
The opening of the uptown and down town markets, which will allow for the relocation of vendors from the streets and side walks of Kingstown is part of the clean-up plan which was announced by Minister of Urban Development, senator Julian Francis back in June this year.
RELATED ARTICLE: Vendors blame Kingstown Town Board for destroyed goods, produce (+video)