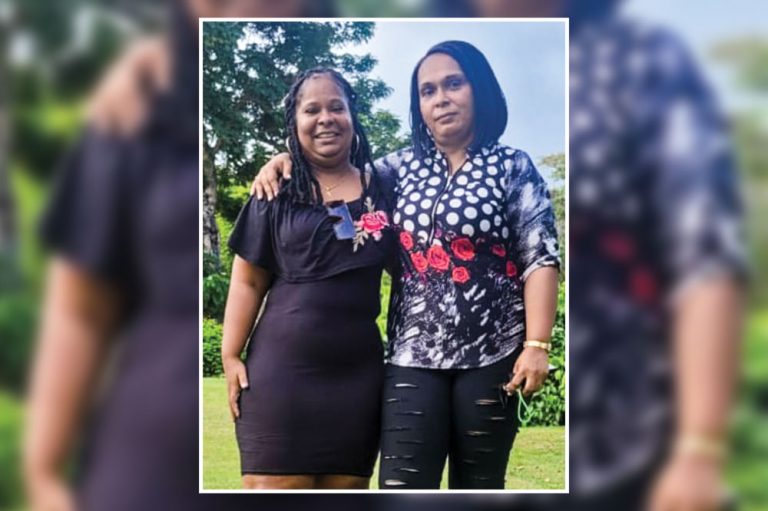 Front Page
August 5, 2022
Georgetown woman helping others to cope with Depression, Anxiety and Bipolar
Georgetown resident Rea Crichton is a living testimony that persons diagnosed with bipolar depression do not have to live in the shadow of this mental health condition.
Crichton was diagnosed with bipolar disorder in 2016, and the condition took her through some very dark phases in life, to the point where she attempted suicide and ended up as a patient at the Milton Cato Memorial Hospital.
But with the help of God, the support of her mother Coleen Russell, other relatives and friends and with medication, Crichton has been able to bounce back.
Now, she wants to give back, by helping other persons with bipolar and other forms of depression and anxiety to navigate life in a more meaningful way.
With the aim to help others, Crichton recently founded a group called Depression, Anxiety and Bipolar Support Alliance SVG (DABSA).
In an interview with SEARCHLIGHT on Monday August 1, Crichton said the group was formed in April 2022 with the aim of educating persons about the types of depression, share experiences and offer support to persons in need.
Crichton, who is the president of DABSA recalled that she was "deeply stigmatized" during her bouts of depression and when her bipolar condition manifested itself.
"If I did not educate myself about this form of depression, I would not have been able to bounce back," Crichton said. She added that she now want to help other persons with similar conditions, find their way back to reality.
"With this support group, persons with depression, anxiety and bipolar, will know that they are not alone."
"The group aims at providing a safe space, for people to open up and talk about their condition."
Crichton also stressed that the support group is also a place where confidentiality is in full effect, so members can share their thoughts or experiences freely.
"Research has shown that sharing with others who have had similar experiences can be very helpful."
"Some of the advantages of a support group like ours, is that it can show that you are not alone and it can help you to develop new skills in relating to others."
The young woman said that through this group, she has been able to "build more resilience."
"Even though I know by nature I am a resilient person, I am able to build more resilience and to build more coping skills."
During the time of Crichton's depression, her mother Coleen Russsell was a tower of strength and support for her daughter.
Russell is now working alongside her daughter, as the secretary of DABSA.
Giving more details about DABSA, Crichton said "we have a clinical psychologist, counselors, persons working in mental health," all lined up to lend support to the group.
"My main target are persons who suffer with these conditions, along with their family members and loved ones."
"It is a support group where we want persons to be mentally well."
"Our Mission Statement is to provide a platform that educates, inspires hope, support and connect people with bipolar and other forms of depression and anxiety disorders, and their loved ones, in order to foster their mental wellness."
Crichton, who is a graduate teacher, once taught at the Colonaire Primary and Georgetown Government Schools. She is now assigned to the Adult Education Department, where she teaches Social Studies to adults.
Since her bounce back from bipolar depression, Crichton has also started her own business, which is called Rea's Business Consultancy and Tutoring Services.
Crichton, who holds a Bachelor's Degree in Education, recalled that she was officially diagnosed with bipolar in 2016, "But I honestly think I was bipolar since in my teens."
The young educator recalls having "angry outbursts" as a result of stress factors in her early life.
"I did not have the proper coping mechanisms to deal with it," the Georgetown resident reflected.
She added that "mental condition, should be viewed as any other medical condition… "with bipolar and other forms of depression, you need to do a lot of self monitoring and you need to know what your triggers are," Crichton explained.
Speaking from experience, Crichton said the name bipolar is stigmatizing, because "when people hear the term mental health, the first thing they think is crazy."
However, she noted that "stress is a mental health issue, there are many mental health issues… and we have to deal with stress in our everyday life."
"You see that stigma, we need to remove it."
"People think that when you have depression you cannot achieve, and bipolar is a form of depression."
Using her business as an example, Crichton said it was started after her bipolar diagnosis in 2016.
"I tutor persons all over St Vincent and the Grenadines, and I have had so many success stories."
During her episodes of bipolar depression, Crichton said she often felt alone. "Even though there were persons around me, sometimes, they did not understand."
When asked about her advice to youths who are faced with many stress factors, Crichton said "reach out to persons who you can trust, and who you think understand you."
She said young people and teenagers are all welcome to be part of her support group. Now that she is on the road to recovery, Crichton wants other persons suffering with anxiety and depression to "seek help."
Crichton had her second public exposure as a person with bipolar on Saturday July 30 when she attended a mental health symposium. She was the feature speaker of the event which was organized by Lawyer and equal rights activist, Jeshua Bardoo and facilitated by Clinical Psychologist Kimmette Robertson.
Crichton spoke on the topic Depression and Mental Health, at Saturday's symposium.
After a diagnosis of bipolar depression, the road to mental wellness could be a very long and rough one.
Rea Crichton has walked that road before, and now she wants to hold someone's hand and show them the way. Persons seeking more information, or wishing to join DABSA SVG, can contact Rea Crichton at 1784 432-9719.