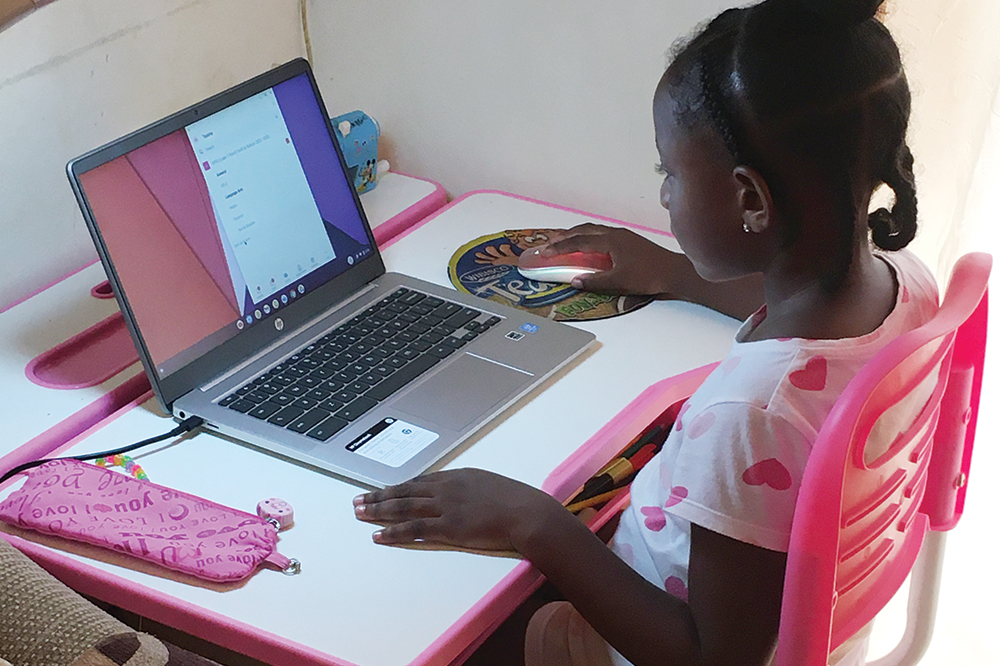 Front Page
October 8, 2021
Over 90 per cent teacher turnout despite union action– King
Teacher turnout for online teaching in St Vincent and the Grenadines was above 90 per cent at most schools on Wednesday, October 6, despite the decision taken by the St Vincent and the Grenadines Teachers Union (SVGTU),to withdraw their service on that day.
This is according to Minister of Education Curtis King, who gave an overview of the figures yesterday during the Morning Scoop programme on Star Radio.
The SVGTU issued a release this week, stating that teachers would stay away from online schooling for three days; Wednesday, October 6, and two days next week; Monday October 11 and Friday, October 15.
This decision was made at a virtual meeting held on Monday where the president Oswald Robinson said 183 members of the Union were in attendance. The action is in protest at the government's vaccine policy.
"Up to yesterday evening when I communicated with the officials, we had 38 primary schools who had responded and whom we had contacted directly, plus using our own means…the information that we have gathered is that of 599 teachers who should've been engaged in these 38 primary schools, 531 were actually engaged, which means that there were 68 reported absences," King said on radio.
Of those 68 absences, 10 were said to be on approved leave, whether sick leave; study leave; compassionate leave; maternity leave and general leave.
The education minister said that a few teachers among the remaining 58 indicated that they had appointments with their doctor but "I have not separated those because I don't know if persons were hiding behind such excuse".
"So that you're talking roughly about 96.8 per cent participation among teachers, of these 38 schools," he said.
King also described the turnout at secondary schools to be "extremely good", as his information shows that there were only two secondary schools that recorded low participation.
In those two instances, one school had a participation level of 60 per cent while the other had a participation level of 80 per cent.
"Every other school was 90 to 100 per cent. Several schools had 100 per cent participation and again, when you look at some of the reasons for absence, we could separate some as persons being absent for official reasons," the minister said.
He continued: "what I found of interest, quite a number of schools indicated that where some teachers were absent, they actually sent work so again, you don't know if those who did were hiding behind a general idea that 'boy, we are staying home but we don't want to make it official, at least let us make sure that our record is clean'".
King commended teachers for being steadfast and thanked them for "using their wisdom" in these times when the goal is to try to make things better for students, given the challenges within the last two years.
The retired educator and once active member of the SVGTU said it appeared as though when school is set to reopen in difficult times, there is always an issue that requires leadership to take action.
And he opined that the leadership of the Union should take care that they are not giving the public an opportunity to bash teachers.
"You are the leadership. It doesn't mean that everything one or two persons say on the floor, you then put to a vote and then you say you have a mandate because the majority of those present voted for whatever issue. Leadership requires that you consider all the issues, discuss them and as leaders, you have a position too. You have to provide guidance. You can't hide behind this idea that, 'well no, is not we, as the leaders, is the mandate'. It don't work so," King said.
The education minister also noted that given the nature of the membership of the SVGTU, where members are from primary and secondary schools and other institutions, it may be difficult to pull together a large number of members at any one time, in order to achieve a representative view.
While he agrees that the Union has an important role to play in the education sector, King said everyone has to accept that it will not always be able to agree with the government on every matter.
"They are not going to be in agreement all the time with the ministry of education and from time to time, you are going to have differences, but I am saying that these are times, not for posturing, these are times for us to look at the issues carefully and see how best we could arrive at a solution," he said.