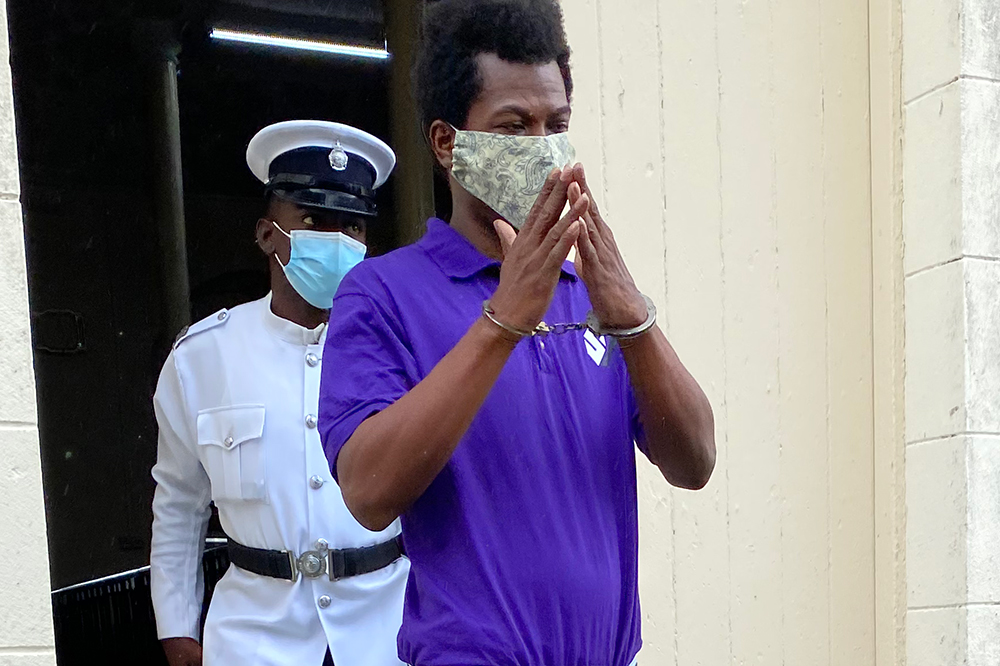 From the Courts
May 21, 2021
Gunman to serve 45 years for murder
Having gunned down a man in the capital in broad daylight and in full view of the public, a 35-year-old was last week sentenced to 45 years imprisonment for murder.
The figure of 45 years was arrived at by the use of sentencing guidelines, which various courts and Judges of the Caribbean are now using to encourage more uniformity in the approach to sentencing, and to help make the process more predictable.
However, in this case the defense counsel does not seem prepared to accept the decision.
The sentence, delivered by Justice Brian Cottle at the High Court last Friday, May 14, is ordered to be provided in written format for the benefit of offender Denzil Sam's lawyer, Kay Bacchus-Baptiste.
Bacchus-Baptiste has indicated that she will want to go to the Court of Appeal (COA) to challenge the sentence as well as the conviction.
"It is astonishing. I know that you are applying the guidelines, but the guidelines are astonishing," the lawyer told Justice Cottle, after the judge raised the matter of appeal.
The guidelines require a sentencing court to follow them, the Justice noted, "so until and unless we get something different, the sentencing court must do what the guidelines indicate. This is why I want to make sure that I give this to you in writing so that you actually have the document."
Bacchus-Baptiste said that the guidelines seem to require you to be a mathematician as well, and she does not think the accused should be put through that trouble during sentencing.
The accused man had a full trial before Judge and jury, which came to a close on April 1, 2021. A verdict of 'guilty' was returned by the 12-member jury on the counts of murder, and possession of a firearm with intent to commit an offence.
It was the case of the prosecution, led by crown counsel Rose-Ann Richardson, who was assisted by crown counsel Kaylia Toney that Sam was responsible for a shooting that occurred on October 1, 2015, in the vicinity of the Plant Shop at Lower Bay Street.
Sam claimed that he had been told that one Dexter Rodney had been hired to execute him. Sam discovered that Rodney was in Kingstown that day, and a little later on, he spotted his supposed would-be executor by the plant shop.
The then-29-year-old opened fire with a .38 calibre revolver, shooting Rodney in several places about his body. The wounded man was treated at the Milton Cato Memorial Hospital(MCMH), but the bullets left him a quadriplegic (affected by paralysis of all four limbs).
The patient named Sam as the person who shot him to a visiting Corporal, and additionally disclosed what gun was used. Although Rodney himself was unable to sign to this statement, the attending physician signed to say that she had witnessed it.
Rodney also relayed this information, and made a report to the investigating officer, who later visited him at the hospital.
After a prolonged stay at the MCMH, Rodney was discharged. At home he developed complications, and had to be taken back to the medical establishment. He died at the hospital on July 14, 2016.
Cause of death is determined to be generalised sepsis due to ulcers caused by the paraplegia, caused by the gunshot wounds.
In every case, the offender's personal circumstances are noted by the court during sentencing.
Bacchus-Baptiste therefore informed the court that Sam was raised in a single parent household, and did not know his father. Her client had told her, "…that he never really had an easy life, growing up without a father in a poverty-stricken environment; he says his life was real rough."
Sam, who left school in form three, and was working as a landscaper and a fisherman at the time of the offence, has two children- a 12-year-old, and a nine-year-old.
"He has had various challenges, dealing with persons attacking him and threatening him…and he is kind of fearful that life has given him some hard knocks and he does not get justice, in fact he says that he is actually serving a sentence for a crime that he did not commit," Bacchus-Baptiste also noted.
Mitigating in this case, she submitted is that her client feared for his life, and was being threatened.
In addressing his mind to sentencing, Cottle, referencing the sentencing guidelines for murder that he is mandated to use, noted that there were a range of possible sentences, including sentence of death, a whole life sentence, and a determinate sentence.
Following the guidelines led the judge to conclude that a determinate sentence should be imposed, "with an appropriate starting point of 40 years within the range of 30 to 50 years."
"Having chosen a starting point, the court must take into account any further aggravating or mitigating factors pertaining to the offence…," Cottle also noted.
"…The aggravating features in this offence was that it was committed in broad daylight, on a street in the capital Kingstown, in the full view of the public. By any measure, it was a brazen shooting," the Justice listed.
The offence was committed when Sam was on bail for another offence. The offender has 22 previous convictions, and his criminal activities began in 1997 when he was 13 years old.
"…He graduated from possession and acts of dishonesty, to possession of offensive weapons and possession of an unlicensed firearm and ammunition, drug trafficking," the court observed.
There were no features that the court could see in relation to either the offender or the offence that could be considered mitigating.
The court must keep in mind four general aims when sentencing: retribution, prevention, deterrence and rehabilitation.
"…I have given more weight to the need to protect the public. I think that this prisoner is a dangerous offender. Before this court he displayed absolutely no remorse, he has had many opportunities for rehabilitation, sadly it appears that he is unwilling to take advantage of them," Cottle concluded.
He was compelled, therefore, to move upwards from 40 years, to 45 years in prison.
Sam is currently serving a sentence for an unrelated offence, which was meted out to him in January 2016. In 2019 he was further convicted and sentenced to 16 years incarceration on a Marijuana drug trafficking charge.
As he was arrested for the murder on December 4, 2015, the only time to subtract was one month and 15 days he has already spent in prison for this offence. Therefore, for Rodney's death, he will have 44 years, 10 months and 14 days left to serve, when the time comes for him to do so.
His sentence of 18 years and nine months for possession of a firearm will run concurrently to the prison term for murder.
However, as it relates to the sentences he received before for unrelated offences, the court has stated that these will have to be served before this most recent sentence begins.
"This is a case where the prisoner shot a man in full public view. This type of conduct demonstrates an attitude displayed by some offenders who consider that the many witnesses to the offences would all be too terrified of possible reprisals, and they will never testify…" Justice Cottle stated.