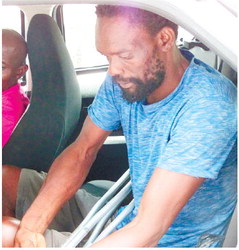 From the Courts
April 27, 2018
'King Kong' to spend six months behind bars
NEARLY THREE MONTHS after he was shot trespassing on the grounds of the Beachcombers Hotel, 'King Kong' limped in to court this Wednesday, alongside his reputation for dishonesty.
Raphael 'King Kong' Robinson was charged before the Kingstown Magistrate's Court this Wednesday, that he did on January 31, at Villa, enter onto the property of the Beachcombers Hotel with the intention to commit the offence of theft.
The 41-year-old Prospect resident sported a bandage to the back of his left leg, and used crutches to enter the dock. He pleaded guilty to the offence, and the story of what happened that
early morning was finally revealed.Apparently, watching over the hotel and its guests at 5:15 a.m.
were security guards from 'Guardsman SVG Ltd,' who were patrolling the compound. While going about their duties, a guard apparently spotted someone, who is now known to be 'King Kong,' dressed all in black, with a black t-shirt, long black pants and with a black bandana covering his face.
The security guard approached the figure, and spoke to him, asking him where he was going. He told the silent intruder that he ought to walk around the front, instead of at the back of the premises, but the intruder remained unmoving. Amidst the tension, the security guard pointed his weapon, a firearm, at the individual, while calling for his supervisor.
It was at that time that the defendant moved, and began advancing towards the security guard, a move that resulted in him being shot.Therefore, when the police responded to the call, they met the fallen 'King Kong' lying with a gunshot injury to his leg.
Recently discharged from the hospital, the defendant was hauled before the court to answer to the offenses. Prosecutor Corlene Samuel commenting to Senior Magistrate Rickie Burnett, "his antecedents speak for itself."Burnett began by asking the defendant, "When are you going to change your life?""I'm changing my life now," Robinson insisted.
This statement follows the defendant's train of offenses which stretch from 1993 to 2018.Whether a bullet has encouraged Robinson to change course, he continued to insist, "I'm trying my best."Unconvinced Burnett stated, "You're not trying your best," "you're a dishonest man – based on your record," he intoned. "You're lucky to be alive," the Magistrate stated. He noted, while sighing, that Robinson had also broken into the Young Island Resort.
Robinson was not to find salvation in the recommendation of the Prosecution either, as with a straight face Samuel voiced only one thought – a custodial sentence."If he's sent to the prison in that condition, he's going to be a burden," Burnett noted."Coming out of prison he is still going to be a burden," Samuel pointed out."Based on your record you're what we call a 'thief man'," Burnett stated, before sentencing the defendant."Society is better off when you're in prison…I am minded to send you to prison, gunshot or no gunshot," concluded the Magistrate."It is clear what you were going to do that morning," he said.'King Kong' will spend the next six months behind bars, as among all the circumstances there was "nothing to save him."The defendant's features remained unchanged throughout the proceedings, showing no emotion.( KR)
RAPHAEL 'KING KONG' ROBINSON seated in the back of a police transport