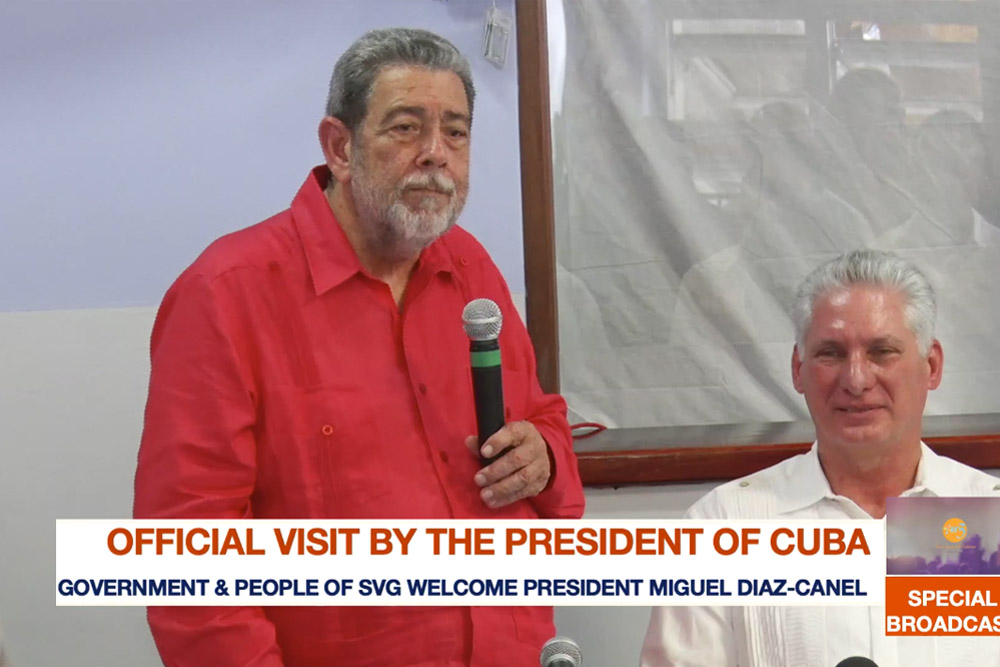 Breaking News
December 4, 2022
US must stop the lie that Cuban professionals are victims of human trafficking – PM
Prime Minister Dr Ralph Gonsalves has described as "a lie" the claim of the United States Government that healthcare personnel sent by the Cuban government to work in countries around the world are victims of human trafficking.
Speaking on Sunday, December 4 at the Modern Medical and Diagnostic Centre (MMDC) during a three-day visit of President of Cuba Miguel Diaz-Canel to St Vincent and the Grenadines (SVG), Gonsalves said the United States of America is not able to understand "the internationalist solidarity and selflessness" of the Cuban people.
"They tell the lie and they put it in their reports in congressional documents, in the State Department documents, that you the Cuban professionals who are here that you are victims of human trafficking," the Prime Minister said as he addressed an audience which included Cuban medical professionals working at the MMDC, a facility built with the assistance of Cuba.
Gonsalves said when the term "human trafficking" is used in that manner, international law on trafficking is distorted "into nothingness" to suit "ideological and hegemonic purposes", and a "genuine disservice" is done in fighting the international crime of human trafficking.
The Human Rights Foundation in a report published in August 2022 described the Cuban international medical missions as a "state-sponsored human trafficking scheme".
The HRF said the programme, which is widely-lauded, runs on "the exploitation of healthcare professionals, and serves as a major tool of international propaganda and an important source of revenue for Cuba's repressive Communist regime."
Gonsalves however said the Cuban workers here do so under very good conditions of employment.
"We request from time to time, the help of the Cuban Government and people and you come to us voluntarily and on very good conditions of work and employment, and the United States of America must stop this lie!"
He said if the US wants "to win affection in that regard", they should support a programme of Americans to provide a similar service to countries like SVG which may need that service.
Gonsalves referred to the decades-old programme of medical and surgical assistance provided by the World Pediatric Project (WPP) to SVG and other Eastern Caribbean countries. The WPP is an international non-profit organization that originates in the United States and has its headquarters in SVG.
"They come to us several times during the year and they provide freely to this country and others nearby … first class critical pediatric care which Americans have to pay for, but they get them free here through the World Pediatric Project."
The Prime Minister said it would be equally absurd if the Cuban government were to say that the WPP was engaged in human trafficking.
"They must stop these lies and badmouthing of Cuba as it is carrying out its selfless, internationalist duty to help humanity," he reiterated.
Gonsalves said the United States of America are friends of St Vincent and the Grenadines.
"We are friends of all and we strive for a better world.  But don't ask me; don't ask this government to embrace your follies, your absurdities which are determined not by any logic or common sense, but because of presidential senatorial, congressional and gubernatorial politics of Florida, especially South Florida, where there are a significant number of anti-revolutionary Cubans.
"So I make this plea to my American brothers and sisters. Leave Cuba alone in its humanitarianist, internationalist mission. I make bold to say, that since the dawn of civilization, there is no country  in the world, no people who have been as selfless as  revolutionary Cuba."
Gonsalves said the visit of Diaz-Canel to SVG was the fulfillment of a promise made by Diaz-Canel and also by the late Fidel Castro.
The three-day visit ends on December 5 when a special sitting of Parliament will be held.
RELATED ARTICLE: Hospital worker in custody as police investigate reports of possible human trafficking