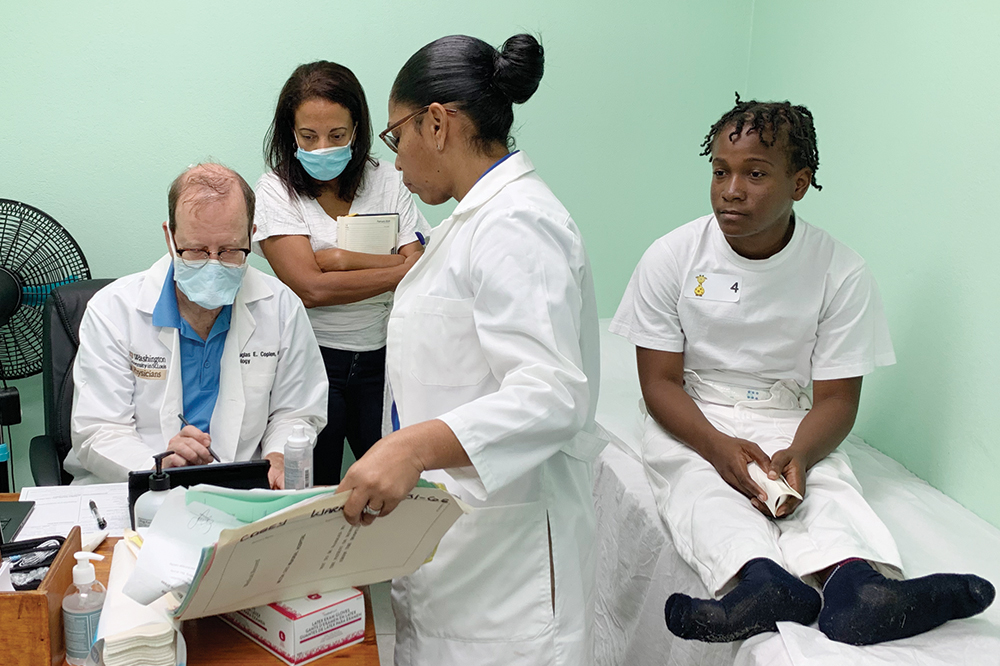 World Pediatric Project Urology Team back in SVG to conduct face to face evaluations
THIRTY-ONE CHILDREN were evaluated this week at a urology clinic held by a team from the World Pediatric Project (UPP) which travelled from St Louis, Missouri in the United States.
Of the 31 children evaluated, 15 were scheduled for surgery throughout this week. Ten of the patients are regional coming from Barbados, St. Lucia, St. Kitts, and Dominica.
WPP volunteer and Pediatric Urologist Dr. Douglas Coplen expressed great delight to be back after almost two years to see how things have progressed despite COVID-19.
During COVID-19 they were able to evaluate and provide technical support for some children via tele-medicine, assisting remotely over Zoom and other internet platforms.
Nevertheless, Dr. Coplen and the team are happy to be back conducting face-toface evaluations, providing the necessary care, and developing relationships with the families.
This year, Dr. Coplen is joined by WPP volunteer and theater nurse Joanna Thomeczek and anesthesiologist, Dr.Tom Bohannon. Local capacity for care has grown and Dr. Coplen encourages parents of children with urological complications to seek early care/assistance as it is imperative to the development and well-being of the child.
Additionally, WPP local medical professional, Dr. Jasmine Ellis- Davy was able to assist in both clinic and surgery and getting the families processed and situated as best as possible.
Families have expressed their gratitude to WPP for the care and treatment received and encouraged WPP to continue their work in helping more children of SVG and the region.
The next team scheduled to arrive on island is the Upper extremities mission led by Dr. Chuck Goldfarb and Dr. Lindley Wall. It will be held from November 5 to 15, 2022.
Individuals interested in supporting the work of WPP can contact the local office at 784-451-2989.
WPP continues to prioritize the medical needs of our children and enhancing the lives of their families ensuring no child is left behind.
The work of the WPP and its impact can be followed at www.worldpediatricproject. org .