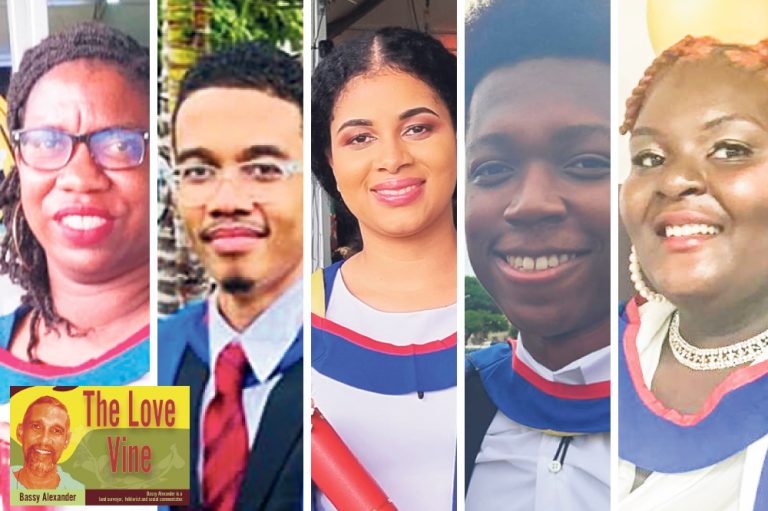 Bassy - Love Vine
October 26, 2023
Our UWI graduates did us real proud
Hats off to UWI Cave Hill Faculty foh hosting its 2023 Graduation Ceremony. Incidentally dis year de UWI celebrates ah Double Jubilee with two significant milestones. It is de de 75th Anniversary of de original Mona Campus in Jah-mek-her, dat opened its doors in
1948 wid 33 Medical Students; and dis year is de 60th Anniversary of Cave Hill Campus in Bo-bathe-us.
Presently UWI is comprised of five Campuses wid over 50, 000 students.
Some 800 students graduated last Sat-dey at Cave Hill, and dey were about 15 Vincy students, we were outnumbered. Would ah bin nice if de Vincy Student Association had organized foh those of us who journeyed to Bim to sit together like villagers to lend support to our beloved students. And we needed a UWI Cave Hill Vincy Class of 2023 photo.
Give de organisers credit foh ah smooth, well balanced package of events, We heard de Royal Police Force Band at its best, we heard de Cavite Chorale at its best. Ah high point of de Ceremony was de Conferring of the "Honorary Degree of Doctor of Letters of the University of de West Indies" on Alison Hinds-Walcott, Popular Bar-bajan Artiste, Caribbean Queen of Soca.
Ah tremendous gesture in keeping wid de new Carry-Beyond.
And den dey was de Grand Finale, de moment foh which all ah we parents, close relatives, villagers and of course de anxious Graduands had awaited. Dat 10 seconds walk from dey seat up or down de aisle and back, tek ah bow, smile den collect de well deserving Certificate. Very emotional as ah look around and saw lots ah folks wid Tears of Joy trickling down many cheeks.
Even Hurricane Tammy dat had promised to be in Bo-bathe-us at dat time, spared us wid only ah lickle puff! ah light Drizzle and ah soft Rumble! Thank God foh Jesus!
Having said all ah dat, our children, our young people did us Proud foh In-dip-and-Dance ! It was only after de ceremony ah realized how well our Vincy youths did. Ah mustered what info dat ah could get, photos and so on. Ah must apologize to those whom ah did not get, my short list is as follows:
Ms D'Carly Thompson BSc Chemistry; needs a job, daughter of one ah SVG's National Netball Stars and Captain, Dellarice "Delli" Duncan and Carlos Thompson.
Ms Heather Lakhram: First Class Hons Major in Bio-Chemistry; made de Dean's Honour list.
Lecturer at Community College. Daughter of Camille Lakhram, Head of UWI Global Campus in SVG.
Mateo Sam(son) of Dr Cleveland Sam and Sophia Bygrave; First Class Honours, BSc Double major in Computer Science; Made de Dean's list.
Tiany Sam LLB. Presently studying for her LEC at Sir Hugh Wooding in T'n'T. She is de Daughter of Anthony and Susan Sam of Green Hill.
Akeel Alexander: First Class Hons. Double Major In Math and Computer Science, son of Dollis and Bassy Alexander.
Ah remember my days in Grammar School widout ah Chemistry Teacher. One came from India, didn't stay, was followed by messers Mapp and Jean Smith. Was encouraging to note dat dey are two Chemistry Grads among dis year's batch of UWI Cave Hill Graduates,. Hopefully when de Pry Minister addresses de Nay Shun on Fry-dey, he recognizes dem and commit to find wuk wid good pay foh dem to repay de student loans.
And wid dat is gone ah gone again. Happy In-de-pen-dance.
One Love Bassy
Bassy Alexander is a land surveyor, folklorist and social commentator.