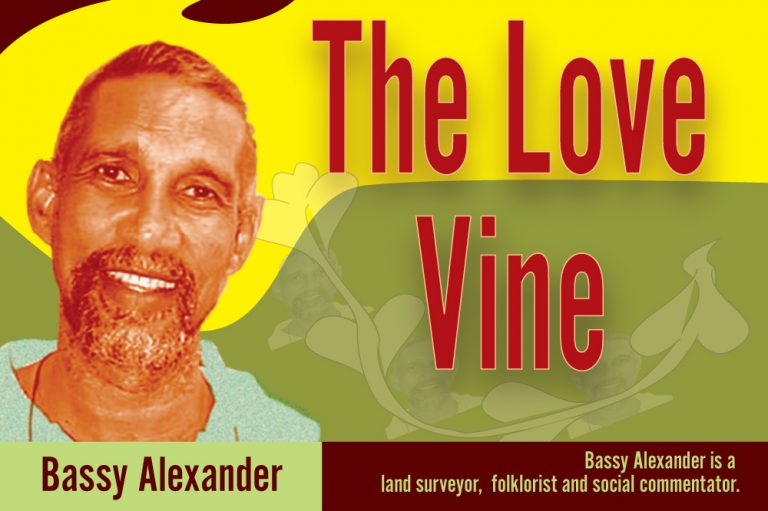 Bassy - Love Vine
April 8, 2022
Big Jobs
Allow me dis week to recognize ah piece of work done by my villager, Primary School class-mate and life-long friend, de Mighty Sheller, one of SVG's greatest Calypsonians. Sheller called to let me know he was celebrating de Fiftieth Anniversary of his Fifth Title as SVG's Calypso King that he won back in 1972.
Actually, de Mighty Sheller won de Monarchy in SVG six times, including ah Hat-trick and Beaver Trick. His winning years were 1965, 1966. He sang wid Mighty Sparrow's " Original Young Brigade Tent" in T'n't in 1968, was back on stage in SVG to win in 1970, '71,' 72 and1973 before migrating to de USA. In 1972 he won wid de Kaiso "Big Job/" De I-dare of dat song came about when he had to deliver documents to every Government Department. It was then he noticed de number of unfamiliar (far-rain) names of persons on de envelopes who held de top jobs in de Public Service. He was threatened dat as a Public Servant he would feel de wrath of "de Powers dat be" if he sang dat song. Mighty Sheller's mind was made up, come what may! Here is de Lyrics for de song: BIG JOBS
"St. Vincent is our land; So preference should go to we Vincentians.
But a notice it isn't so ; Foreigners holding Big Jobs everywhere you go.
Qualified Vincentians in the country, Can't get good jobs to maintain their family
Although they have qualification, All the Big Jobs going to people from other lands
Chorus:
The Senior Medical Officer from England, So he is an English Man. Tell me if Dr Cordice aint have enough qualification;
Dr Cyrus is a F.R.C.S. In the West Indies he is one of the best
That's why I will brag and boast' We have Doctors who could hold that post
Verse 2
I have something more to tell you; Don't doubt because everything is true.
They have a big fat Jamaican; Employed at Development Corporation.
The man ain't have a subject in G.C.E….He is no M.A  no B.A. or no B.Sc.
He resigned an getting pension; Yet he get another Big Job in our land
Chorus
We have two Trinidadians; who hold Big Jobs in our land.
First is the Crown Attorney; He used to cut cane home in Caroni
The Matron at the General Hospital; She ain't like Vincentian people at all/
Again I will brag and boast; Ah sure Sister Connell could hold that post
Verse 3
In our developing State today; Vincentians have a vital role to play.
That's why we should be given the opportunity; And priority to fill every vacancy
Oh my if foreigners continue to dominate; Other Nations will think we illiterate.
If we dont have skill men on the spot; We should send some to train and let them come back
Chorus
The Chief Technical Officer; In Public Works he come from Dominica
A fat Indian from Guyana; Is our present District Doctor.
Mrs. Keizer showed her interest and willingness, To act as the Girls High School Head mistress
Up to now I cant understand; Why they don't give the Post to that Vincentian
Verse 4
When foreigners holding office; They doing us all kinds of wickedness.
They nasty action it does make me bawl; Girls must make love with them or no Job at all
I know ah profit has no honour in his land; An that saying goes to every Vincentian.
I said it once and I will say it twice; St. Vincent is Foreigners Paradise.
Chorus
In the Premier Ministry; A Barbadian is Permanent Secretary.
A Jamaican is the Grammar School Headmaster; The Chief Magistrate come from Dominica
The Financial Secretary is a Kittitian; He couldn't get that job in his own homeland.
Ah want the Premier to  understand' Those Post should be held by BORN VINCENTIANS"
This song was composed and sung fifty years ago, If Sheller were to sing dat Kaiso today, not only would it be relevant, but he would ah bin fired and charged fo Sedition. And wid dat is gone ah gone again.
One Love Bassy
Bassy Alexander is a land surveyor, folklorist and social commentator.