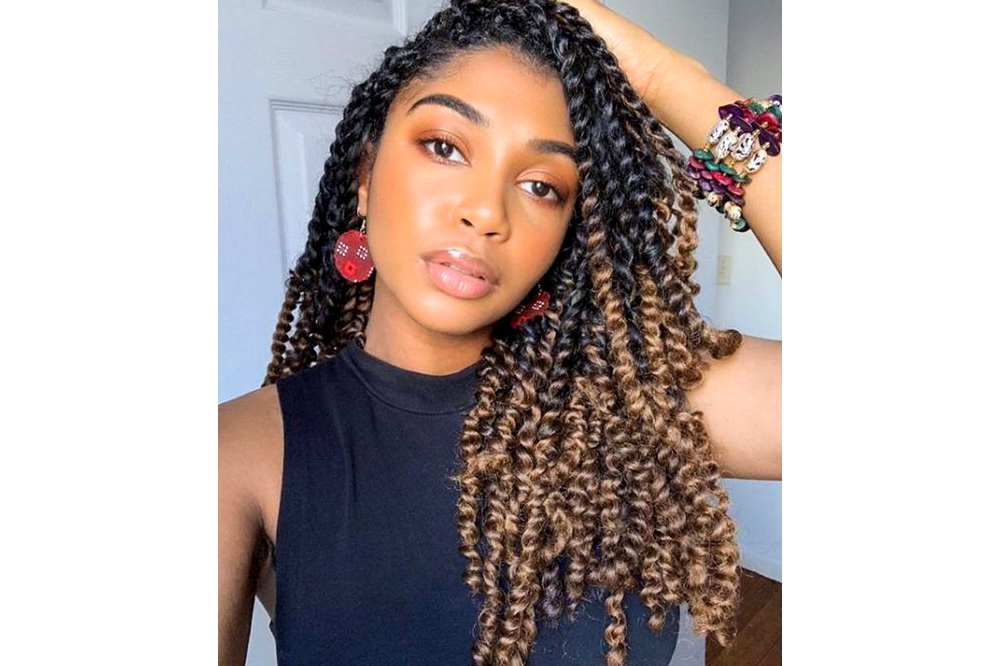 What's on Fleek this week
November 3, 2020
DIY Passion Twist
I got my hair done a few months ago with the passion twist style for the first time and I loved it so much and lasted quite a while. Fast forward to last month and I really wanted to put them back in, but was tight on cash for a hairdresser, so I said let me look at some tutorials to get it done. It was so simple and easy and came out amazing.
All you need are:
A crochet pin for hair
Rubber bands
Any hair moisturizer you use
Comb/brush
A few packs of Hair – It's best to use a curly hair type. I used a Bohemian Curl, colour MT1B/30 in the Urban Beauty Natural Braid brand. It's similar to the pic above. If you don't want them extremely long or large then about 3-4 pks should do. Separate the hair strands into the size curl you desire.
Now we get started. Path your hair out into the size and shape you want the hair in. Moisturize the hair heavily from root to tip. Comb and brush the hair, then put the sectioned hair into a rubber band as close to the scalp as possible. The tightness depends on you. You then take the crochet pin (latch open) and place it through the middle of the hair between the rubber band and your scalp. Hook the hair into the pin then close the clasp and pull the hair through leaving one on each side of the hair. Pull it to the desired length you wish to have. You then take your natural hair and divide it into two pieces. Combine your natural hair and the braid and start to twist the hair following the direction of the curl so you have a nice tight curl at the end. If it isn't uniformed you have twisted it against the curl pattern and need to redo it in the opposite direction. You repeat until finished. And just like that you have an amazing hair style that is low maintenance and cute.
Crochet Hair Pin