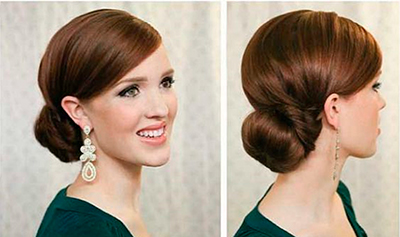 What's on Fleek this week
July 2, 2019
How to do an elegant side bun.
This is a great style that works for any hair type wither it be natural, relaxed or even braided.
All you need are:
Bobby pins
A pony ring
Brush and comb
Gel or hair spray for relaxed hair or a curl defining cream with hold for natural hair.
Bun filler
Start by loosely sectioning the hair into 3. Make sure the lower piece is the largest of the 3. Brush the largest piece smoothly and put the pony ring to hold it. Place the bun filler over it and brush the hair over it to make a bun. You can use the bobby pins to hold the hair around the bun or you can use another pony ring placed over the bun to do that as well. Just be sure to continue to push the are in a circular motion to complete the bun. Make a loose bun in the middle of your head, not too far from the larger bun and hold with bobby pins. Brush the last piece of hair to the side and over the middle bun then twist the hair around your finger until it is somewhat firmly around the bun. Take the twirled piece of hair and wrap it around the larger bun and secure with bobby pins. You can spray with holding spray at this point to hold. And there you have it, a beautiful hair do for any occasion.
For any questions or comments contact me at:[email protected] or address letters to On Fleek This Week C/o Searchlight Newspaper, Lower Kingstown Park, PO Box 152,Kingstown.