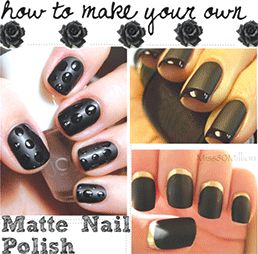 What's on Fleek this week
August 30, 2016
Do-it-yourself Matte Nail Polish
The popularity of matte nail polish is on the rise and more people are opting for the dry finish over the glossy finish of regular nail polish. However, matte nail polish is expensive, so you can try this method at home for the same results.{{more}}
Firstly, buff and file your nails before applying a thin base coat. While the coat dries, mix together with a toothpick a very small amount of cornstarch and your regular nail polish. The mix should be thick and should be applied as quickly as possible so that it doesn't dry out.
Apply the mixture to your nails as you would with normal nail polish and allow it to dry. When it dries, your nails will have a matte-dry, non-glossy finish.
Tip: Avoid applying a top coat to your nails, as this would give it a glossy appearance.
For any questions or comments contact me at [email protected] or address letters to On Fleek This Week C/o Searchlight Newspaper, Lower Kings­town Park, PO Box 152, Kingstown.