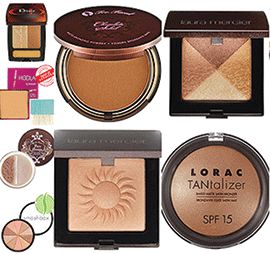 What's on Fleek this week
August 23, 2016
Why you need to love bronzers
We all want that fabulous sun-kissed glow and bronzers may be intimidating to some. Well, ladies, allow me to introduce you to the faux glow, using your trusted friend, bronzer.{{more}}
As the name says, bronzers are a shimmery tint that is great for any skin colour. They come in many different shades and styles, from loose to pressed powder. When applying bronzer, you want to use a bronzer brush to dust on both sides of your face. Think of it similar to contouring, and apply bronzer to the areas on your face where shadows naturally fall. Start at the top, sweep down near your temple, right under your cheekbone and then back down on the outer end of your jawline. Combined with a nice rosy glow dusting of blush to the apples of the cheeks, and your regular liner and mascara and you have an effortless beach girl glow. Make sure you blend the blush and bronzer well, so there aren't any lines or inconsistency between the two. Make sure that you don't use too much bronzer, so as to not look like a robot.
Bronzers are great, not only for your face, but also for your collarbone, cleavage and even your legs.
For any questions or comments contact me at [email protected] or address letters to On Fleek This Week C/o Searchlight Newspaper, Lower Kings­town Park, PO Box 152, Kingstown.