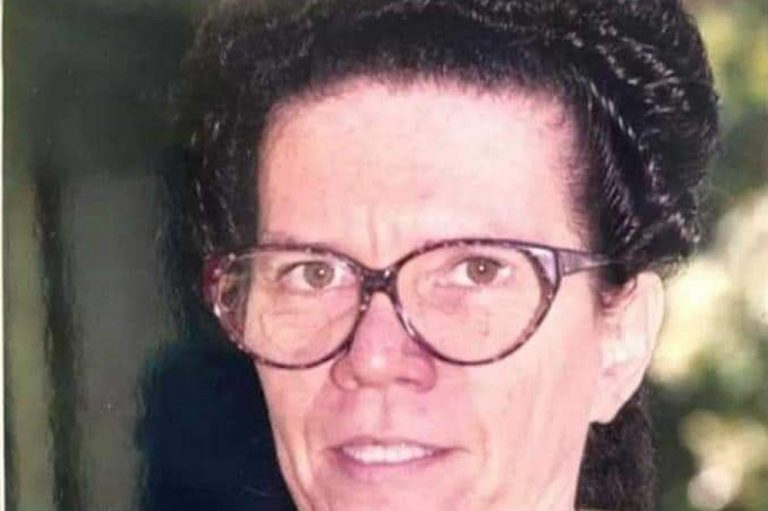 Tribute
September 6, 2022
Eulogy for Grace Eustace
By R. T. Luke V. Browne 
Funeral Date: 19th August 2022 (Note: Interment in Mayreau on 20th August 2022)
I believe the Heavens are rejoicing today. I think the angels are probably singing the song Amazing Grace. We know that "Precious in the sight of the Lord is the death of His saints" (Psalm 116:15), and that Ms. Grace Eustace was a saint of God. She had a passion for serving God, saving souls and educating the people of St. Vincent and the Grenadines. As an educator, she had a longstanding career that spanned many generations of students and touched countless lives and hearts. I regard her as one of the most outstanding and remarkable Vincentian women of our lifetime.
Ms. Eustace has finished her course and has gone on to attain her crown of righteousness. I believe that she will hear the words "well done thou good and faithful servant." I envision her walking with the angels and singing Hallelujah on streets of gold. Meanwhile, we will miss her in this earthly city.
I do not believe that there is any dispute about the fact that Grace Eustace lived a chaste and Holy life that was pleasing in the sight of God. She was the only child of the legendary Dr. J. P. Eustace and his dear wife Minnie Eustace nee Hubble. The spirit of the Lord was upon Grace's life. She was born into a ministry of education and edification. She was anointed to preach the Gospel and to teach our nation's children.
Grace followed in her father's footsteps. Dr. Eustace as we know was a pioneer in education without equal in this country. In my opinion, he is the Father of the Education Revolution. He opened several schools and churches. He also literally and figuratively opened the eyes of many Vincentians during the course of his professional career as an optometrist and optician. Dr. Eustace is widely considered to be the greatest Vincentian of the 20th century. I look forward to him being named as National Hero of St. Vincent and the Grenadines. Grace Eustace did not simply live in her father's shadow. She made a very important contribution to national development in the field of education in her own right. The apple did not fall far from the tree at all.
My family enjoys a close relationship with the Eustace family. My dad delivered the eulogy at J. P. Eustace's funeral in 1989. This relationship between our families had its inception about 70 years ago when J. P. Eustace saw my father as a young boy with potential and gave him the opportunity to attend secondary school and excel in life. If it were not for the intervention of Dr. Eustace, it is quite likely that my father would never have entered the doors of a secondary school let alone achieve a successful professional career. He might have simply ended up being a very good leader of a road gang. This theme of either J. P. Eustace or his daughter Grace Eustace giving a young person with potential access to secondary school education is commonplace in this country.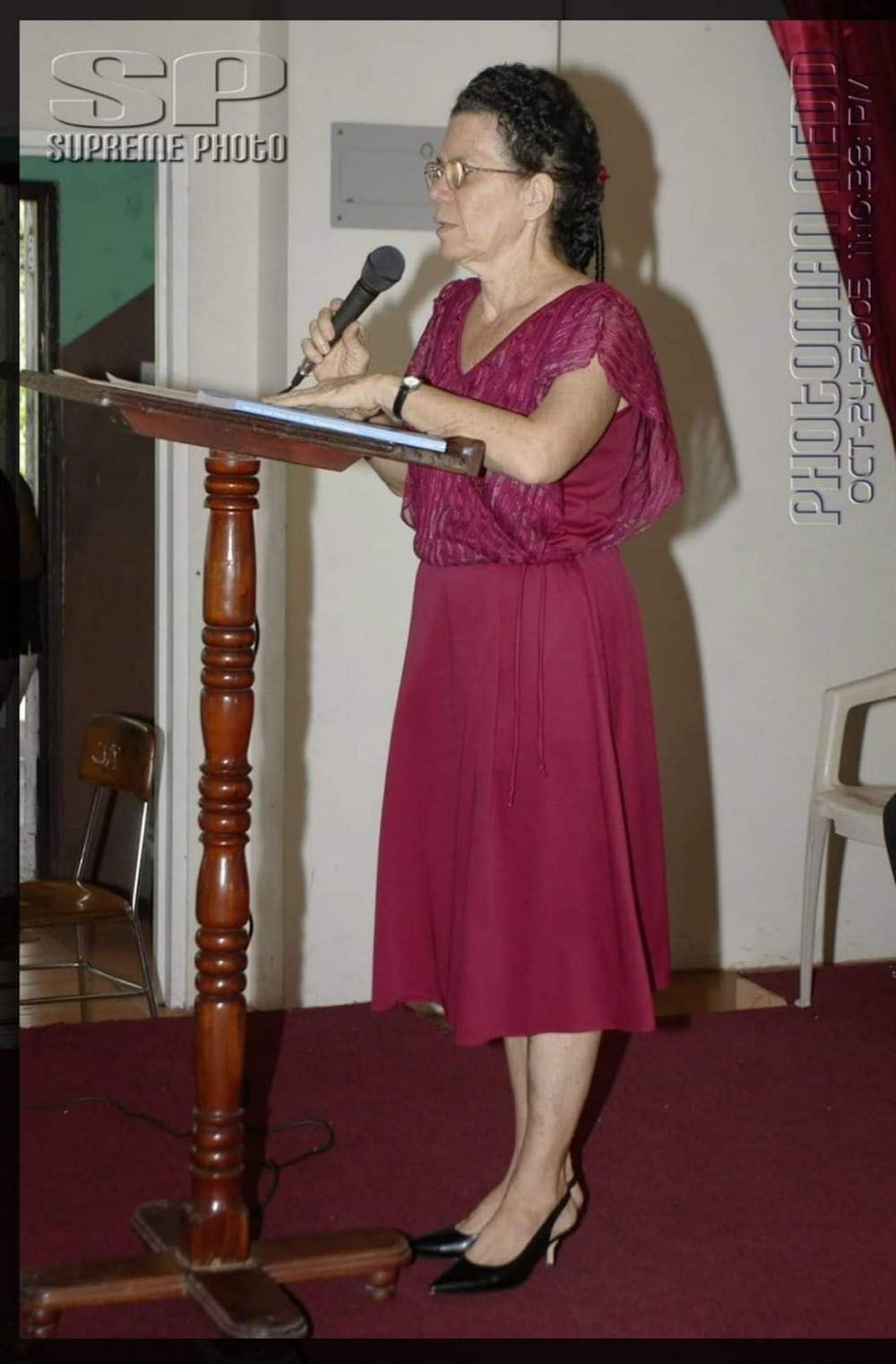 Grace was born on the 2nd March 1940. At the tender age of 1, she travelled abroad with her parents to the USA and took up temporary residence there while her father pursued studies in that country. The family returned to SVG upon the completion of those studies. Grace was raised in a home where the Bible, the Church and the School had pride of place.
The Emmanuel High School Kingstown (EHSK) was opened by Dr. Eustace in 1952 – the same year that Grace Eustace was due to enter secondary school. I do not think this was a mere coincidence. Naturally, Grace attended the EHSK you might say under the protection of her parents. Upon her graduation from the school, she immediately took up a position of teacher at the school. She taught Mathematics (Geometry, Algebra, Arithmetic and all other aspects of it), Spanish and Religious Education. She imparted subject-specific knowledge and also instilled godly principles. Cecil "Blazer" Williams was one of her early students at the EHSK.
Ms. Eustace was transferred to teach at the Emmanuel High School Mesopotamia (EHSM) when that school was opened in by her father 1963. She taught alongside my father and they were the only 2 teachers of the school at that time.
Ms. Eustace was a competent, compassionate and caring teacher. In teaching, she was clear with her illustrations and patient with her students. She presented the relevant principles in an understandable way. She also had a profound effect on what the students thought about themselves. She gave them a deep sense of self-worth. She gave them hope and the expectation or possibility of a brighter future. There is no medicine like hope. There is no incentive so great or tonic so powerful as the expectation of a better tomorrow. Ms. Eustace gave her students the licence to dream big dreams of success and achievement in life and empowered them with the confidence, self-reliance and determination required to make these dreams come true.
I found the following 2 testimonies from past students of the EHSM about Ms. Eustace on Facebook:
Clara James: "R. I. P. Miss I will forever acknowledge your kindness… you gave me hope when I was hopeless… your service to humanity will forever be embedded in our minds…" 
Albert Harry: "My condolences to the family. This was by far one of the best ladies I have met in my life. She was so simple yet so intelligent. She loved people, especially the poor and outcast. She went the extra mile for you when she knew you were poor and gave you a reason not to give up. In my time at ESHM she taught me to lead and to take risk. To her, even if I think I couldn't do it she will look at me and say "so why you think you cannot. I need it done, go and find a way." Rest peacefully Mrs Eustace, we love you in life and in death. Go on and continue to teach even in death. The book of Acts is still fresh in my mind even though you taught us many moons ago. It was a blessing to know and learn from you. Peace!" 
I think these testimonies convey a great sense of Ms. Eustace's essence. She was also a strict disciplinarian.
I suppose that Ms. Eustace was both a teacher and Administrator at the EHSM from the moment she took up her assignment at that school. I suspect that Dr. Eustace was the first official principal of the institution. We know that Ms. Eustace was formally appointed principal at the ESHM at some stage and that she occupied that position for several decades until her retirement in 2007. She led the school with distinction.
Ms. Eustace maintained the practice of daily devotions at the school and ensured that religious content and Christian values and principles were embedded in the curriculum. During her tenure, the EHSM produced academic superstars like my friend Mariscia Roache. The school also gave many students a second chance at an education after they were expelled from other schools. The EHSM is a bastion of excellence in remedial and technical education. The school has produced many outstanding sports personalities and cultural icons. The EHSM has carved out a special niche among the secondary schools of this nation.
Ms. Eustace was neither greedy nor materialistic. She was not at all motivated by money or profit. I was told by Mr. Jonathan Pitt that Ms. Eustace as Principal used to pay herself less than she paid some of the other members of her staff until he as Chairman of the School Board insisted that the situation should be regularised.
Grace Eustace had many achievements to her credit – she upgraded the school plant by building the Annex and at the same time the Hebron Gospel Chapel. The builders were the Burke twins who were known to be faithful men of absolute integrity.
She was frugal and a very resourceful person. She proved herself to be an effective fundraiser. I know that many people wondered how she did it. The school's fundraising events had to conform to the principles on which it was established – raffles which were seen as games of chance were expressly prohibited. I was told that Grace Eustace followed in her father's footsteps in many ways but that she "took her business attitude" from her mother. Doc was apparently a full blown philanthropist who would give away all his possessions if you gave him half a chance.
Ms. Eustace stood up as a bulwark against public officials who wanted to encroach on the EHSM and desecrate her father's legacy.
I taught at the EHSM in the academic year 2004-2005 when Ms. Eustace was still there as Principal.  She had a somewhat austere countenance. However, I ultimately found her to be a woman of good humor with a sharp and incisive wit and a source of positive encouragement, reinforcement and inspiration. At my first assembly at the school, she described me as the first 2nd generation teacher at the ESHM and made the point that I was following in the footsteps of my father. It was at that point that I realised that I was a part of a special story. I valued and cherished my relationship with Ms. Eustace and the Emmanuel High School. This is the most important school to me. Ms. Eustace spent her entire career at the ESHM. Upon her retirement, she handed the reins of the school into the capable hands of Mr. Curtis Greaves.
In addition to teaching, Ms. Eustace worked hard for the Church and missionary organisations. I actually believe she saw her involvement in the national education project as an outgrowth of her Christian Ministry. Ms. Eustace was a lifelong member of the Hebron Gospel Chapel. She had a packed extra-curricular routine that revolved around the Church as depicted below – Sunday morning service at the Hebron Gospel Chapel; Sunday Night and Wednesday at the New Prospect Gospel Chapel for Bible Study and Prayer meetings; Saturday Night for Youth Ministry at the School; Sandy Bay Gospel Chapel on special occasions; and organisation and participation in youth camps. Ms. Eustace kept going and going non-stop! She was a bundle of energy.
Ms. Eustace was involved in the work of the Inter-School Christian Fellowship (ISCF), Youth for Christ (she was at one point on its Board of Directors) and the Christian Education Trust. She supported the work of missionary organisations like Youth with a Mission (YWAM) and GLARCAY (God's Love Active Reaching Children and Youth) with land gifts and in other ways. We could see that Ms. Eustace's heart was in the missions since that was where she put her treasure, talents and time. She had a missionary heart. She wanted to save young people from both ignorance and hell. I suppose it was in her blood – her mother came to SVG from Canada on a mission trip and ended up staying here.
Grace had no biological children of her own. She lived like a nun. However, she took care of many children and essentially adopted Laurel Harry nee Lewis and Camari Thomas. Additionally, my friend Mariscia Roache lived with Ms. Eustace in Mesopotamia for the duration of her secondary school career at the EHSM. Mariscia told me that Ms. Eustace was very passionate about winning souls. I reckon that Ms. Eustace's favourite passage of scripture must have been John 3:16 because of its connection to saving souls.
Mariscia was from Mayreau. The Eustace family had a special historical connection to Mayreau. Mariscia was saved as a result of Sunday School that was organised by the Eustace family in Mayreau.
In the modern dispensation, Mayreau, as I know it, was originally owned by Ms. Eustace's Great-Great Grandfather (Paul Henry De Cotocheau de St Hilaire) who was succeeded in title by his son Henry Paul St Hilaire, who in turn transmitted it to his children Beatrice Alexandrine Eustace (nee St Hilaire), James Joseph Austin St Hilaire and Nathaniel Augustine St Hilaire. Beatrice bought out her brothers's share in the property and became the sole and rightful owner of the entire island (and some surrounding small islands) in 1942. Beatrice passed on the land to her children one of whom was Grace's father Dr. J. P. Eustace. Grace inherited land in Mayreau from her father's estate. Grace expressed the desire to be interred in Mayreau besides her paternal grandmother Beatrice upon her death. We will honour this request.
Grace fondly recalled many vacation trips to Mayreau with her parents when she was a child. She remembered their outreach in the community. Incidentally, sometimes they were delayed in getting back to the mainland in time for the start of the school term because of rough waters especially around January after Christmas.
Grace maintained her Mayreau links over the years and retreated to the island on a permanent basis at the first opportunity. After her retirement from the post of Principal at the EHSM, Ms. Eustace built a home in Mayreau and moved to live on that island. The home will be consecrated as the Grace Eustace Mission House tomorrow. I think that Ms. Eustace enjoyed the time she spent living in Mayreau – that period may have been the happiest days of her life. It seemed to be her natural environment. She only returned to St. Vincent after a medical mishap which left her somewhat immobilised. She remained here until the moment of her death on 3rd August 2022.
At the time of her death, Grace still owned a substantial amount of land in Mayreau. She left her property to a Foundation which she set up to continue supporting the causes in which she believed after her death.
The name Grace was no doubt inspired by the Scriptures. You may know that the idea or doctrine of Grace is one of the most important concepts of Christianity. In general, we get the sense that many of the names that were employed or utilised by Dr. Eustace (such as Emmanuel) had biblical motivation. I even realised the other day that the initials of the Intermediate High School which was started by Doc when he was just 20 years old stand for Jesus. The EHSM seeks to help students grow in the dimensions set out in Luke 2:52 – wisdom, stature, favour with God (spiritually) and favour with man (socially).
My dad in a recent interview said that Grace Eustace was not only a "say-so" Christian. She was a "do-so" Christian. In other words, she practised what she preached. I don't think anyone would accuse Ms. Eustace of being a fashion fanatic. She was comfortable in her own skin and clothes so long as they were clean and tidy. Grace Eustace was a remarkably consistent woman. She changed not. I heard people who knew her from the days of her youth say that she maintained the same demeanor, mannerisms, poise, dress code, appearance, behaviour and even hairstyle! She was a paragon of consistency and virtue. She also maintained the same blue van for an extended period of time.
Ms. Eustace was not a political person. However, she told me some political stories. For instance, she told me that her father had to name his first school an "Intermediate" School as distinct from a "High" school to circumvent the colonial policy of restricting access to secondary school education to the elites. She also told me that a local politician who boldly and proudly declared a lack of education on the political platform during a campaign speech was nonetheless elected to office and appointed Minister of Education. Additionally, Ms. Eustace mentioned that on the eve of the fire which destroyed the Emmanuel High School Kingstown in the 1960s a local politician seemed disturbed about the fact that the EHSK was at that time the largest secondary school in the country.
Ultimately, Grace Eustace would go down in the annals of our history as a good person who had a passion for Christ and was an excellent educator. We will remember her for her involvement with Youth for Christ and other organisations. She gave many Vincentians hope and opportunity for better lives beyond immediate horizons of drudgery. She made arrangements to ensure that the work of the mission continues after her death. She used her resources for the furtherance of the Kingdom of God on earth. She was not a fool – she gave what she could not keep to gain what she could not lose
I last saw Ms. Eustace alive about 1 week before she died. She had been rushed to the Levi Latham Health Centre because of a medical emergency. Daddy and I went to see her. I think we managed to lift her spirits with some old time stories and Scriptures. I remember reminding her about the passage in the Psalms which says that the Lord is a very present help in times of trouble. Ms. Eustace was discharged from the Health Centre that same night and we thought all was well. However, we received the dreadful and awful news on the evening of 3rd August 2022 that she had quietly and unexpectedly passed from time to eternity. At least we know that it was well with her soul and she was ready to meet her maker. As fate would have it, Ms. Eustace died in the 70th anniversary year of her alma mater the Emmanuel High School Kingstown which is now known as the Dr. J. P. Eustace Memorial Secondary School.  This lady dedicated her whole life to the work of the Lord and the work of the Emmanuel High School. She helped to make this world a better place. I believe that we can honour her memory by setting up an EHS Development Fund. I pray that she would rest in peace and that perpetual light will shine upon her. Thank you Ms. Eustace for everything. You were a great gift to the world. We will fiercely and fearlessly guard and defend your legacy. We will protect it and preserve it for posterity.
Truly, she was the daughter of God.