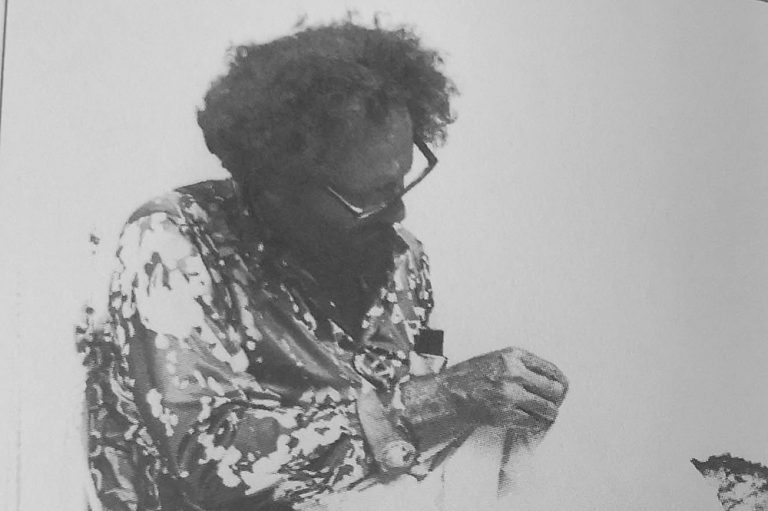 Tribute
December 17, 2021
James 'Son' Mitchell: Captain of the Ship of State
by RICHARD DEY
YOU WOULD NEVER know, sailing with Son Mitchell, that he was anything other than a literate sailor. Entirely at ease as skipper of his own yacht and at home on the sea as he drove across it, a true Bequia man, he mended a worn sail seam at the same time he recited poems such as Longfellow's "The Wreck of the Hesperus." (Anyone who doubts this need only recall his long friendship with Shake Keane.) Son loved the freedom one feels sailing, the horizon in his eyes, the salt spray in his face, the wind in his ear, penetrating his thoughts.
He could have been a charter boat skipper or more likely, a schooner skipper like his father, trading among the islands.
It was on 21 February 1979 that I sailed with Son in his 36-foot, fiberglass, bluehulled ketch Sapphire from Bequia to St. Lucia, departing Admiralty Bay at 0415 and arriving in Castries at 1715 hours. The thirteen hour sail was a fine one, beating to windward on the starboard tack under jigger, mainsail, and jib, staying far enough off the leeward coast of St. Vincent to benefit from the full force of the easterly Trade Wind.
I had first met the tall, lanky, bearded man in the summer of 1971 at the Frangipani, his family's harborside hotel and bar, when I was crew on a big ketch based in Bequia. I got to know him beginning a few years later when I lived on the island over winters. In those early years of my time on Bequia and in the Windwards, I published island-related articles and poems in American publications such as The Boston Globe, Sail and Harvard Magazine. Partly because of this, Son asked me to sail with him to St. Lucia for its Independence celebrations. It was on this sail that I took the photograph of him stitching the sail in his lap in his memoir, Beyond the Islands.
Son, of course, was not only a sailor who could recite poetry. He was James F. Mitchell, MP, of St. Vincent and the Grenadines, and a leader of the Opposition. He was on his way to a conference with a British minister to participate in a discussion about the new constitution and plans for the independence of St. Vincent, which would occur later that year, in October. Furthermore, John Compton, Premier and soon-to-be Prime Minister of St. Lucia, was a cousin and good friend—they in fact coowned Sapphire—as well as a political ally. It was Compton who wanted their sailboat in Castries to participate in a procession of yachts in the celebrations.
On reaching Castries, Son went ashore to stay somewhere, perhaps with his mother or one of his brothers, while I stayed on board. We met a number of times over the next three days, as at the formal reception for the new PM, and he introduced me to Compton and many others from St. Lucia and neighboring islands. Working as a photo-journalist, I kept busy. Photographing Princess Alexandria, a cousin of Queen Elizabeth representing the Crown, was a highlight. On returning to Bequia I wrote an article that ran in The Vincentian newspaper for March 2, along with four photographs. I wrote another for The Boston Globe.
A superior student, Son had, like others from the region, gone abroad to further his education. Unlike most of them, he decided in 1964 to return home and get into politics with the ambition of developing the islands. Managing the political transition and instituting land reform and the economic policies that would lead to the development was an enormous task taken on by many hands, and Son was one of them, a major player. He could have followed his father's sea-path and built and skippered trading schooners, but Reginald Mitchell was lost at sea in 1940, when Son was only nine. Partly because of this, he decided instead to help transform his country from a colonial backwater into a modern ministate. Finally elected Prime Minister in 1984, a position he held until 2000, this Bequia man was perfectly suited to personify the metaphor, hackneyed though it may be, of being captain of the ship of state.